When Microsoft launched Windows Phone 7 late last year, it was readily evident that they had a solid platform on their hands, but it was missing some critical details. Chief among them? Copy-and-paste, bringing back a frequent grievance from the early iPhone days. The platform's first update, codenamed "NoDo" (there's a story behind that), is now out, with copy-paste support in tow, along with much improved application loading and some general performance tune-ups in the UI.
At the same time, we decided to take a look at HTC's HD7, since it's been my day-to-day phone for a couple of months now. It's still the only Windows Phone you'll find in a T-Mobile store, so it's worth taking a look at, especially now that a very similar variant is due to hit AT&T in the coming weeks.
Meet the HD7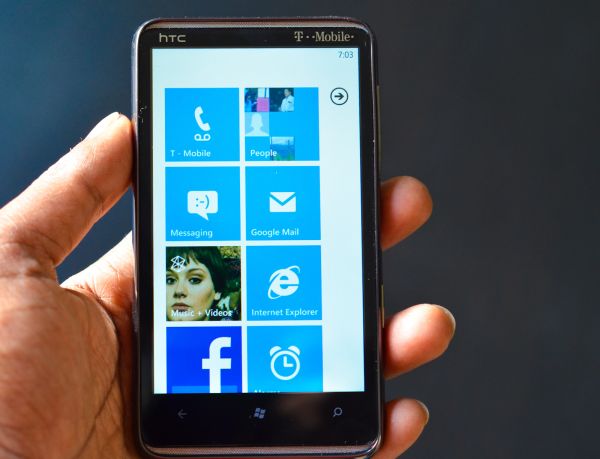 When HTC launched the HD2 in late 2009, it was one of the most technologically advanced phones on the market, with a 800x480 4.3" display and a 1GHz Qualcomm Snapdragon processor. This was well before everyone had a 1GHz phone—the HD2 was just the second Snapdragon-based device to hit market, after the European Toshiba TG-01, and was the first 1GHz phone on the American market. Unfortunately, for all the amazing hardware, it was saddled with Windows Mobile 6.5. Even with HTC's advancements to WM (capacitive touch, multitouch, the first implementation of Sense UI) it simply wasn't a viable platform at the time. A good comparison would be the N8—great hardware running a dead-in-the-water OS.

When Microsoft started releasing details about Windows Phone 7, it became clear that while fully capable of running the new OS, the HD2 would not be getting an upgrade. Microsoft indicated that the button layout did not conform to the guidelines given for WP7 handsets, which was true, but Microsoft really wanted to have a clean break from the previous generation of products, and that left the HD2 in a cold place (officially, at least—XDA and other developers have gotten everything from Froyo to WP7 to Ubuntu and Windows XP running on the HD2). HTC did the next best thing, and relaunched it's flagship Windows device as the HD7, with 7 indicating it's status as a WP7 device. In the process, it got a mild ID refresh and a few more features, but overall, it's very, very similar.
The first noticeable difference is the buttons—the five button array has been replaced by three backlit capacitive buttons—back, Windows, and search, as dictated by the WP7 design guide. The speaker and mic have been expanded to span the width of the device at the top and bottom edges, with an attractive metal grille covering them. The matte plastic on the sides of the phone has been replaced with a dark chrome band, which has an attractive but understated look. It's much more subtle than normal chrome brightwork.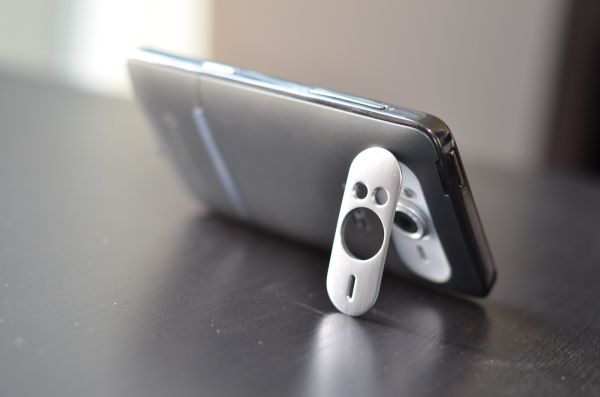 The curved back of the HD7 is rendered in a mildly rubberized plastic, with a brushed aluminum stand surrounding the camera. The stand, while a clever detail, is not actually that great—like the EVO 4G, it's prone to tipping over if not on a perfectly level surface, due to the location and shape of the stand itself. I like the Thunderbolt's stand better, it's sturdier and works in both portrait and landscape modes. But the biggest problem here is the battery cover. The soft touch plastic is great, but the cover itself feels cheap, and for good reason. The plastic itself is ridiculously thin, and there are large panel gaps—with the battery cover mounted, you can actually see a bit of the SIM card. In addition, the panel gaps let in a lot of dust. It's a blemish on an otherwise well designed device.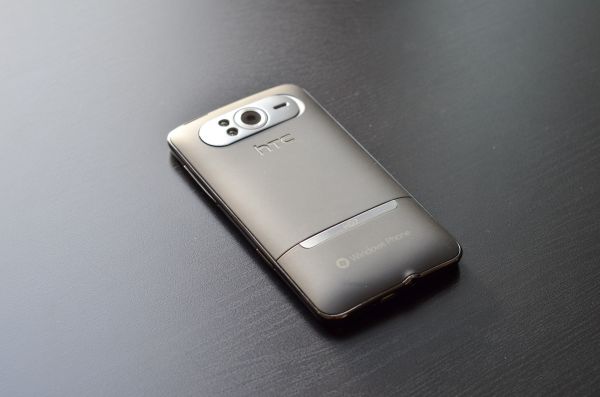 The interesting part hidden in all this is that given HTC's current lineup, the HD7 feels a little bit last generation. HTC has moved to a very consistent design language across all of it's devices, as noted by Brian in his Thunderbolt review. It started with the Desire HD, which was an update of the Nexus One/Desire industrial design, and HTC has since expanded the design language to (long list alert!) the Mozart, the Surround, the Trophy, the Thunderbolt, the Sensation, and the Desire S (or the Incredible S for VZW). The HD7 is a holdover from the old days, when HTC had more slab sided designs, with less curves and less metal. Most of the recent HTC designs have basically pointed towards aluminum unibody construction, and the HD7 unashamedly differs from that. I'd expect the next revision of the HD7 to fall much more in line with the rest of HTC's recent phones, possibly based on the Desire HD chassis.
Physical Comparison
HTC HD7
HTC Surround
LG Optimus 7
Samsung Focus
Dell Venue Pro
Height
122 mm (4.80")
119.7 mm (4.71")
125 mm (4.92")
122.9 mm (4.84")
121.0 mm (4.76")
Width
68 mm (2.68")
61.5 mm (2.42")
59.8 mm (2.35")
65 mm (2.56")
64.4 mm (2.54")
Depth
11.2 mm ( 0.44")
12.97 mm (0.51")
11.5 mm (0.45")
9.9 mm (0.39")
14.9 mm (0.59")
Weight
162 g (5.71 oz)
165 grams (5.82 oz)
157 grams (5.54 oz)
119 grams (4.2 oz)
176 grams (6.21 oz)
CPU
1GHz Qualcomm QSD8250
1 GHz Qualcomm QSD8250
1 GHz Qualcomm QSD8250
1 GHz Qualcomm QSD8250
1 GHz Qualcomm QSD8250
GPU
Adreno 200
Adreno 200
Adreno 200
Adreno 200
Adreno 200
RAM
576MB LPDDR1 (512 system, 64 GPU)
512 MB LPDDR1 (448 system, 64 GPU)
512 MB LPDDR1 (448 system, 64 GPU)
512 MB LPDDR1 (448 system, 64 GPU)
512 MB LPDDR1 (448 system, 64 GPU)
NAND
16GB integrated
512 MB integrated, 16 GB (Internal Class 4 microSD)
16 GB integrated
8 GB integrated
8 or 16 GB integrated
Camera
5MP with autofocus, LED flash, 720P video recording
5 MP with autofocus, LED flash, 720P video recording
5 MP with autofocus, LED flash, 720P video recording
5 MP with autofocus, LED flash, 720P video recording
5 MP with autofocus, LED flash, 720P video recording
Screen
4.3" LCD 800 x 480
3.8" LCD 800 x 480
3.8" LCD 800 x 480
4" Super AMOLED 800 x 480
4.1" AMOLED 800 x 480
Battery
Removeable 4.55 Whr
Removable 4.55 Whr
Removable 5.55 Whr
Removable 5.55 Whr
Removable 5.18 Whr

At 162 grams (5.7 ounces), the HD7 is a pretty hefty phone, and the size and weight give it a substantial feel in-hand. Battery cover notwithstanding, it feels very well put together and very familiar at the same time. The HD7's similarities with the EVO and HD2 are not just limited to physical attributes; all three share variants of Qualcomm's first generation Snapdragon SoC. The GSM-only HD7 has the QSD8250, as with all other WP7-based handsets, to go along with 576MB RAM, 512MB ROM, and a built-in 16GB SD card. It's no longer cutting edge, but Microsoft is fairly limiting as far as what they allow handset makers to use—you can get a WP7 device with any CPU as long as it's a 65nm Scorpion, Ford Model T-style. We'll get to the application performance in a bit, specifically the NoDo update and the performance improvements it brings, but for now, let's take a look at the display and camera performance.