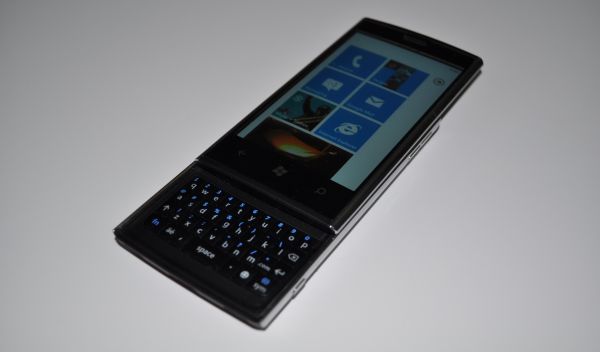 When we first looked at the retail Windows Phone 7 devices back in September of last year, we had one general takeaway - the hardware, regardless of manufacturer, was fairly conservative. Samsung's popular Focus is basically just a respecced version of the Galaxy S phone template, while HTC ended up giving the HD2 a mild refresh to create the HD7. The launch was focused on Microsoft's shiny new OS, but there was one handset that stood out to me - Dell's new Venue Pro.
Dell has been getting serious about returning to the handheld game, starting with the 5" Streak last year, and now with their stable of smartphones and tablets releasing this year. The Venue Pro was the first to hit market, and it's a very strong first strike. It's a portrait slider with a QWERTY keyboard, a 4.1" AMOLED screen, and Snapdragon underhood, and I think it's the most compelling Windows Phone 7 device released thus far.

The underlying hardware is similar to the rest of the Windows Phone 7 handsets - you get a Snapdragon QSD8250, with the now-standard 1GHz 65nm Scorpion core and Adreno 200 graphics on-board. Beyond that, the spec sheet reads pretty well - there's a 5MP camera with autofocus and LED flash, 720p video recording, 8GB or 16GB of onboard storage, and a removable 5.18 Wh battery. The curved AMOLED display has protective Gorilla Glass and a WVGA resolution, and the 4.1" diagonal size puts it squarely between the Focus/Galaxy S and the HD7/EVO 4G.
Physical Comparison
Apple iPhone 4
HTC Surround
LG Optimus 7
Samsung Focus
Dell Venue Pro
Height
115.2 mm (4.5")
119.7 mm (4.71")
125 mm (4.92")
122.9 mm (4.84")
121.0 mm (4.76")
Width
58.6 mm (2.31")
61.5 mm (2.42")
59.8 mm (2.35")
65 mm (2.56")
64.4 mm (2.54")
Depth
9.3 mm ( 0.37")
12.97 mm (0.51")
11.5 mm (0.45")
9.9 mm (0.39")
14.9 mm (0.59")
Weight
137 g (4.8 oz)
165 grams (5.82 oz)
157 grams (5.54 oz)
119 grams (4.2 oz)
176 grams (6.21 oz)
CPU
Apple A4 @ ~800MHz
1 GHz Qualcomm QSD8250
1 GHz Qualcomm QSD8250
1 GHz Qualcomm QSD8250
1 GHz Qualcomm QSD8250
GPU
PowerVR SGX 535
Adreno 200
Adreno 200
Adreno 200
Adreno 200
RAM
512MB LPDDR1 (?)
512 MB LPDDR1 (448 system, 64 GPU)
512 MB LPDDR1 (448 system, 64 GPU)
512 MB LPDDR1 (448 system, 64 GPU)
512 MB LPDDR1 (448 system, 64 GPU)
NAND
16GB or 32GB integrated
512 MB integrated, 16 GB (Internal Class 4 microSD)
16 GB integrated
8 GB integrated
8 or 16 GB integrated
Camera
5MP with LED Flash + Front Facing Camera
5 MP with autofocus, LED flash, 720P video recording
5 MP with autofocus, LED flash, 720P video recording
5 MP with autofocus, LED flash, 720P video recording
5 MP with autofocus, LED flash, 720P video recording
Screen
3.5" 640 x 960 LED backlit LCD
3.8" LCD 800 x 480
3.8" LCD 800 x 480
4" Super AMOLED 800 x 480
4.1" AMOLED 800 x 480
Battery
Integrated 5.254 Whr
Removable 4.55 Whr
Removable 5.55 Whr
Removable 5.55 Whr
Removable 5.18 Whr
At 176 grams, the Dell is hefty on paper, but when you pick it up it feels lighter than you expect it to. One thing that's very clear though, whether in pictures or in the hand, is that the Venue Pro is huge. The easiest way to describe the Venue Pro's size is that it's roughly as big as the Samsung Focus/Galaxy S and 50% thicker. You get a keyboard out of the bargain, and it's about as thick as some of the landscape QWERTY devices like HTC's G2 and EVO Shift 4G, but the Venue Pro is a pretty beefy phone regardless of how you slice it.

Dell did an excellent job with the industrial design, there is no other way to put it. As far as the new line of Windows handsets go, the Venue Pro is easily and by far the best looking of the lot. The glossy black body is nicely offset by the chrome trim on the sides and the buttons, and the design comes across as very high class. As my best friend put it, the Venue Pro is the smartphone a mob boss would carry. The material quality is first rate, with the glass-covered screen, metal sides, and neatly textured plastic back panel exuding a very high quality feel. The weightiness gives the phone a very substantial feel, backed up by the solid spring-loaded action of the slider.
Overall, there's only a couple of problems with the hardware. The lock button is a small, recessed circular button at the top of the device. It's a pain to press, and is occasionally unresponsive. The camera button is also small, recessed, and difficult to press, but I'll get to that later on. Overall though, other than those two or three minor ergonomic mishaps, the Venue Pro hardware is pretty striking.