The 6-series Platform
At launch Intel is offering two chipset families for Sandy Bridge: P-series and H-series, just like with Lynnfield. The high level differentiation is easy to understand: P-series doesn't support processor graphics, H-series does.
There are other differences as well. The P67 chipset supports 2x8 CrossFire and SLI while H67 only supports a single x16 slot off of the SNB CPU (the chip has 16 PCIe 2.0 lanes that stem from it).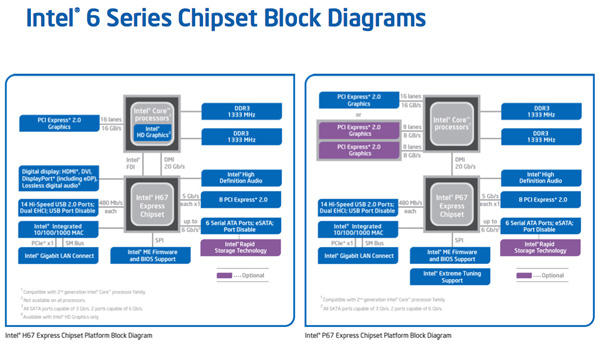 While H67 allows for memory and graphics overclocking, it doesn't support any amount of processor overclocking. If you want to overclock your Sandy Bridge, you need a P67 motherboard.
6Gbps
Had SSDs not arrived when they did, I wouldn't have cared about faster SATA speeds. That's how it worked after all in the evolution of the hard drive. We'd get a faster ATA or SATA protocol, and nothing would really change. Sure we'd eventually get a drive that could take advantage of more bandwidth, but it was a sluggish evolution that just wasn't exciting.
SSDs definitely changed all of that. Today there's only a single 6Gbps consumer SSD on the market—Crucial's RealSSD C300. By the middle of the year we'll have at least two more high-end offerings, including SandForce's SF-2000. All of these SSDs will be able to fully saturate a 3Gbps SATA interface in real world scenarios.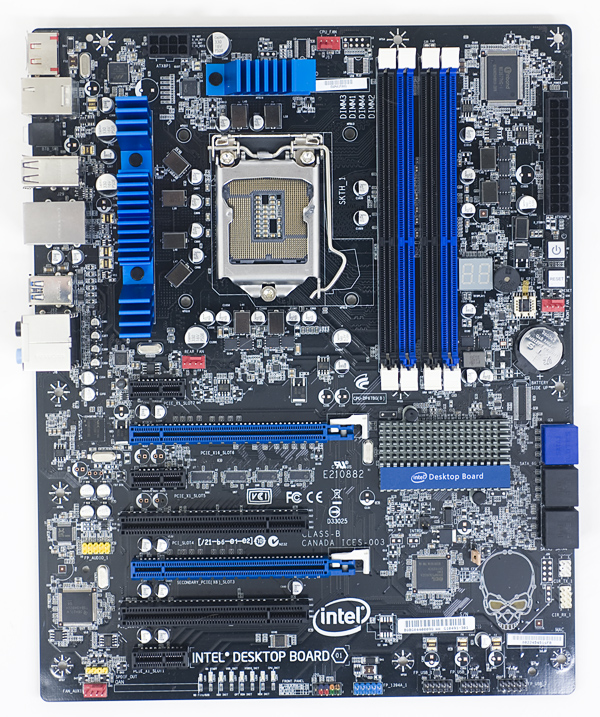 Intel's DP67BG—The blue SATA ports on the right are 6Gbps, the black ones are 3Gbps
To meet the soon to be growing need for 6Gbps SATA ports Intel outfits the 6-series PCH with two 6Gbps SATA ports in addition to its four 3Gbps SATA ports.
I dusted off my 128GB RealSSD C300 and ran it through a bunch of tests on five different platforms: Intel's X58 (3Gbps), Intel's P67 (3Gbps and 6Gbps), AMD's 890GX (6Gbps) and Intel's X58 with a Marvell 9128 6Gbps SATA controller. The Marvell 91xx controller is what you'll find on most 5-series motherboards with 6Gbps SATA support.
I ran sequential read/write and random read/write tests, at a queue depth of 32 to really stress the limits of each chipset's SATA protocol implementation. I ran the sequential tests for a minute straight and the random tests for three minutes. I tested a multitude of block sizes ranging from 512-bytes all the way up to 32KB. All transfers were 4KB aligned to simulate access in a modern OS. Each benchmark started at LBA 0 and was allowed to use the entire LBA space for accesses. The SSD was TRIMed between runs involving writes.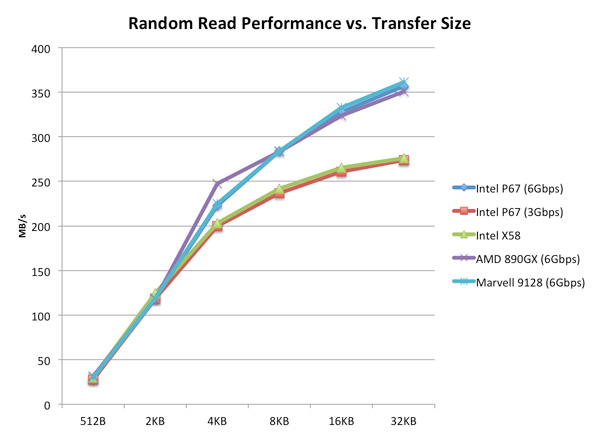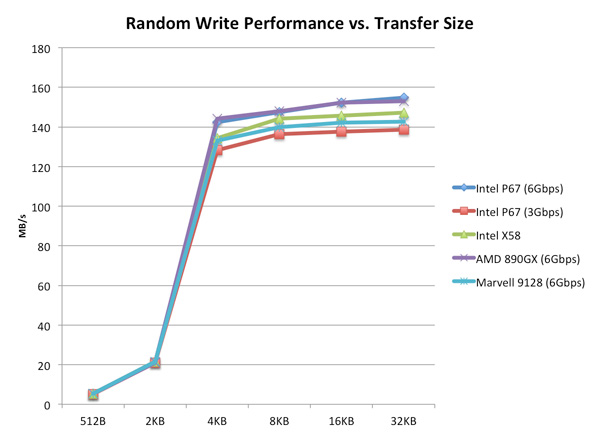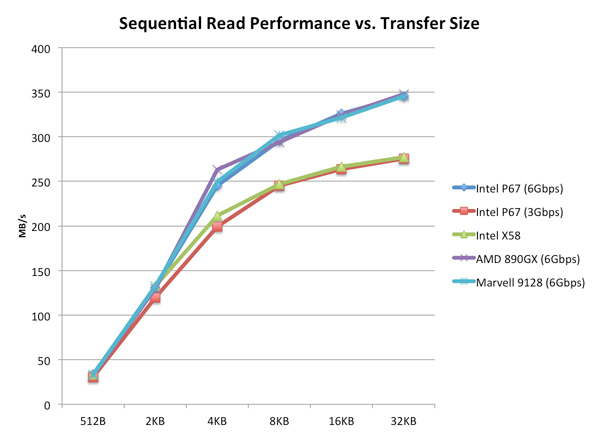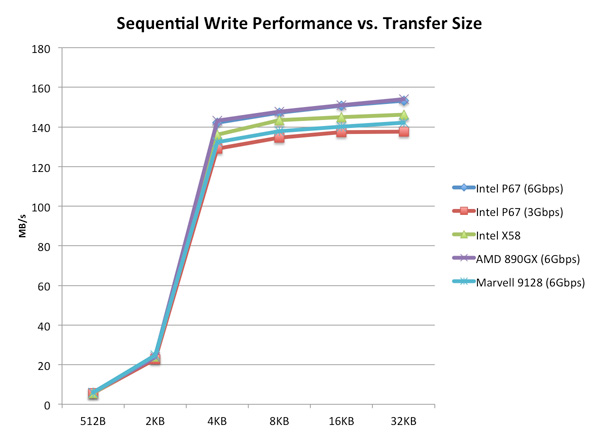 Among Intel chipsets I found that the X58 has stellar 3Gbps SATA performance, which is why I standardize on it for my SSD testbed. Even compared to the new 6-series platform there are slight advantages at high queue depths to the X58 vs. Intel's latest chipsets.
Looking at 6Gbps performance though there's no comparison, the X58 is dated in this respect. Thankfully all of the contenders do well in our 6Gbps tests. AMD's 8-series platform is a bit faster at certain block sizes but for the most part it, Intel's 6-series and Marvell's 91xx controllers perform identically.
I hate to be a bore but when it comes to SATA controllers an uneventful experience is probably the best you can hope for.