Hardware Impressions and Specs
If there's one thing I've learned doing display reviews, it's that the 30-inch segment represents (as it should) the best of the best. Entries here have the most input options, features, best panels, and the highest resolution you can get for the money. It's a breath of fresh air to play with a real 16:10, 2560x1600 display after toying with 1080P monotony for so long. If the displays industry worked anything like the CPU industry, we'd have 300 PPI displays with no response lag, infinite contrast, and all for way less than we're paying now. If there was a new year's resolution display manufacturers should make, it's that they stop making 1080P panels in 2011.
Anyhow, today we're talking about the Dell U3011. I got the chance to review HP's 30 inch monitor, the ZR30w, back when it launched, and will use it as a mental comparison. The Dell U3011 is a refresh of the Dell U3008WFP, and brings a 10-bit per color panel with 12-bit internal processing, more input options, factory calibration (more on that later), and is supposedly 1 ms faster in the response time department.
The specs for Dell's new 30 inch display are in the table below:
Dell UltraSharp U3011
Video Inputs
2xHDMI, 2xDVI-D w/HDCP, 1xDisplayPort, VGA (D-SUB), Component
Audio Output
3x3.5mm audio jacks (5.1 audio out supported)
Panel Type
H-IPS with CCFL Backlight (Panel: PH5NY07U076L)
Pixel Pitch
0.2505 mm
Colors
1.07 billion (30 BPP color - 12 BPC internal processing)
Brightness
370 nits (typical)
Contrast Ratio
1,000:1, or 100,000:1 (dynamic)
Response Time
7 ms (GTG), 17 ms (GTX max)
Viewable Size
30" (756.23 mm)
Resolution
2560 x 1600 at 60 Hz
Viewing Angle
178 degrees horizontal and vertical
Power Consumption (operation)
250 watts (max), 110 watts (typical)
Power Consumption (standby)
2 watts standby, 1 watt off
Screen Treatment
Matte/Anti-Glare, Hard Coating
Height-Adjustable
Yes: 3.55 inches travel
Tilt
Yes: 10 degrees - 20 degrees
Pivot
No
Swivel
Yes
VESA Wall Mounting
Yes: 100 mm x 100 mm
Dimensions w/ Base (WxHxD)
27.34" (694.5 mm) x 22.5" (571.3 mm) x 8.32" (211.3 mm)
Weight
27.72 lbs (12.6 kg) with stand, 20.40 lbs (9.3 kg) without stand
Additional Features
Integrated USB 2.0 hub with 4 USB ports, 7 in 1 media reader, 5.1 audio pass through, factory calibration
Limited Warranty
3 years - repair or replacement
Accessories
Power, DVI, DisplayPort, VGA cables. Factory Calibration Report.
Price
U3011: $1349.00
So first up is the display itself. Aesthetically it's almost exactly what you'd expect from Dell in a monitor, and follows their relatively consistent industrial design quite well. The display bezel is entirely black plastic just like we've seen with almost every other Dell, and there's a huge square black stand.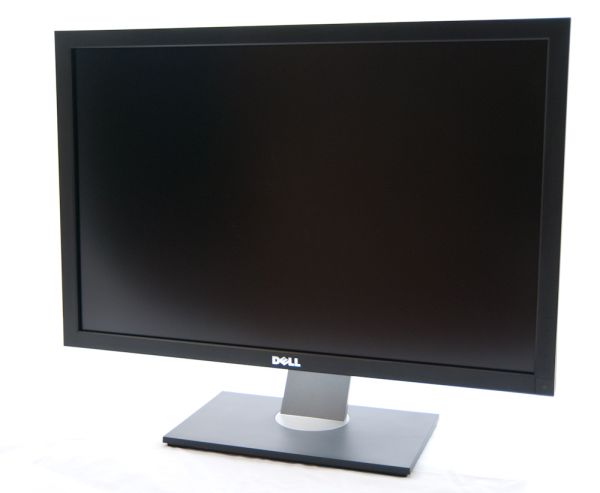 The U3011 has a silver-colored strip that runs around the outside of the display, much like the ZR30w has. However, unlike HP's metal strip, Dell's is plastic. The display bezel on the U3011 is just under 1 cm thinner at the edge than HP's, though both get much thicker at the center.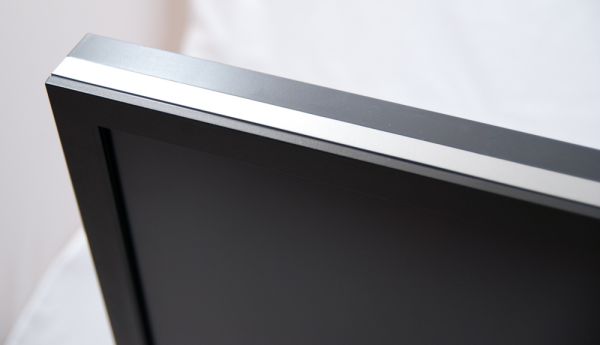 The stand the U3011 comes with is decently sturdy, providing tilt, rotation and height adjustment, but no pivot. Height on the U3011 can adjust from about 3 cm to 12 cm from the top of the plastic stand to the bottom of the bezel. Dell advertises 10 cm of travel - I can definitely see that much travel, which is definitely welcome. The other added bonus is that HDMI, DVI, and DisplayPort cables don't crash into the plastic base and bend worrisomely even with the display at its lowest height adjustment setting. I wish the U3011 went up a bit higher, because it seems like I inevitably use the highest adjustment point whenever I'm connecting cables, but too lazy to rotate the whole monitor. It's just shy of being tall enough where I can squeeze my head underneath - oh c'mon, everyone does that, right?
There's also about 30 degrees of tilt in the up direction, and about 5 degrees downwards.
Rotation on the base is about +/- 30 degrees, which is more than sufficient. Thankfully, the base on the U3011 is nice and smooth through the rotation, with no annoying backlash or chatter which generally makes entire displays and desks shudder.
Dell has placed the 7 in 1 card reader (xD/SD/MS/MMC) on the left side of the U3011. Down below it are two of the four USB 2.0 ports connected to the U3011's internal hub.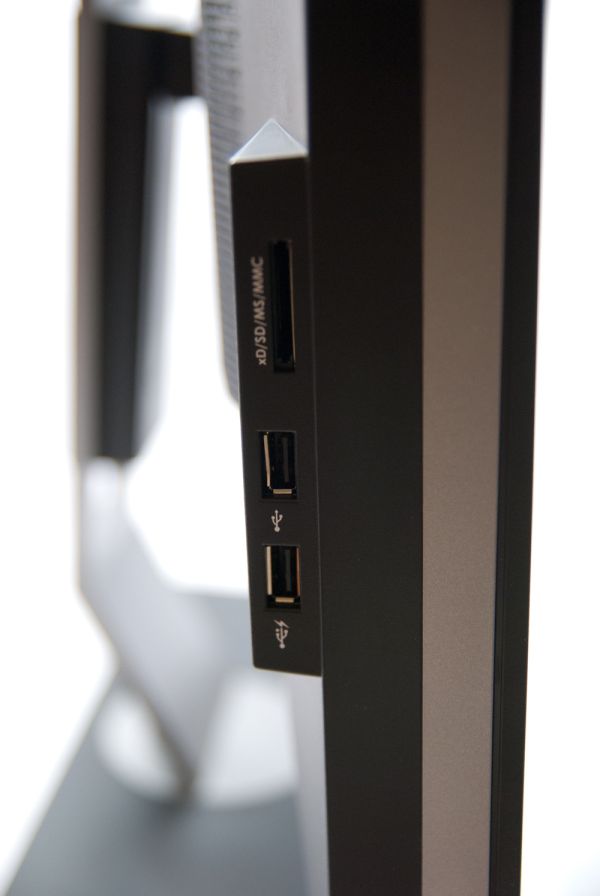 The lower one has a power symbol which indicates that it's capable of supplying more current - 1.5 amps of it to be exact, for 7.5 watts of charging power. Though that should be more than sufficient to charge an iPad, connecting one resulted in the same "Not Charging" behavior one would see from a normal 500 mA port. It's unclear to me whether the USB charging specification is being implemented correctly on the display or not. Other devices charge fine, but likewise do so on normal 500 mA ports. In addition, the USB ports only provide power when the upstream USB-B port is connected - you can't use the ports to just charge devices without connecting the hub to something. I tested a 32 GB SD card in the reader, which worked just fine as well.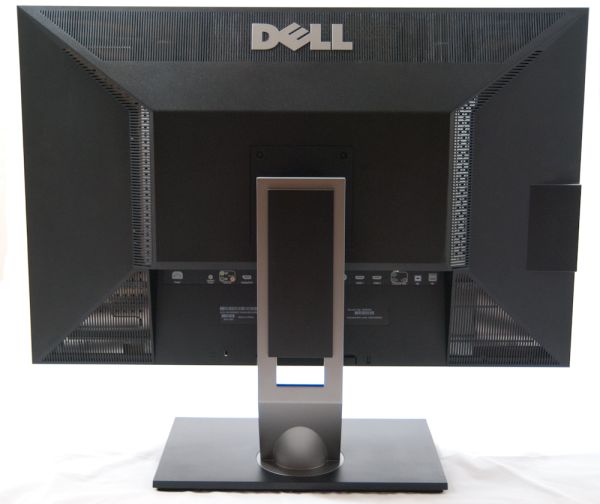 The backside of the U3011 is nothing new or special if you've seen Dell's other recent display designs. It's just scaled up to be larger, and looks the same. Personally, I find it classy and applaud the consistency, even if the Dell logo up top is positively gigantic (but then again, everyone does that). The stand has a cable routing port, but lacks positioning clips or guides like I've seen on other displays.

Finally, the I/O ports on the U3011 are where they should be at the base of the display, but high enough up that we don't run into cable routing issues. The U3011 also has a nice sticker facing outwards with all the ports positioned appropriately - something super useful when connecting things up from a weird contorted angle. The U3011 provides a ton of input options - two DVI-D ports, two HDMI 1.3a ports with Deep Color support, D-SUB for VGA, DisplayPort, and component video in. Moving along are the two remaining USB 2.0 downstream ports, USB-B upstream port, and lastly three 3.5mm audio out jacks for doing 5.1 audio pass through from HDMI. Oh, there's also a DC power jack in case you're using the Dell speaker bar with the U3011 which is an added accessory - we didn't get a chance to try that. I'd say the input options on the U3011 are impressive overall, just like we expect from a 30-inch display.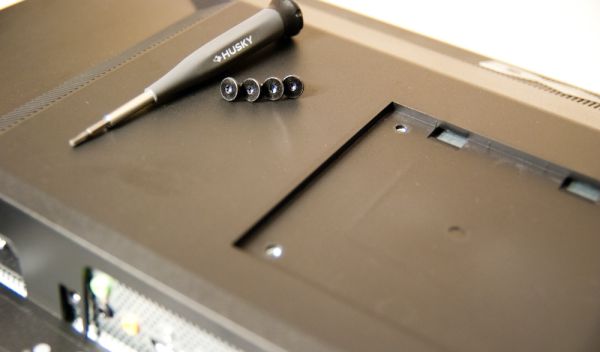 If you use your own VESA mounts with displays, the U3011 will work as long as you get one beefy enough for it. The weird part about the U3011's mounting arm is that it connects to the 100 mm VESA mount on the backside of the display with 4 T-10 Torx screws. That just seems like an obtuse choice for something which should be easily user-accessible. It's a small nit to pick, but this choice just really puzzles me since I doubt average users have all the Torx bits sitting around.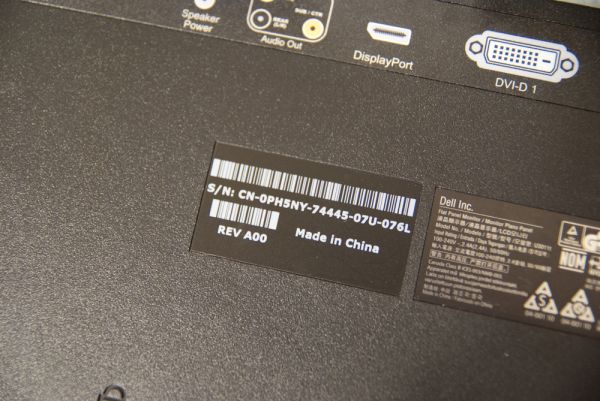 The U3011 is supposed to come calibrated from the factory, accompanied by a calibration report showing Delta-E tracking averaging below 5.0. Our U3011 came with no such report, and as we'll show later also didn't perform very well out of box in our color tracking validation test. We later learned that this is because our U3011 is a pre-production sample which is identical to the shipping model, just without factory calibration. In addition our panel was the A00 revision.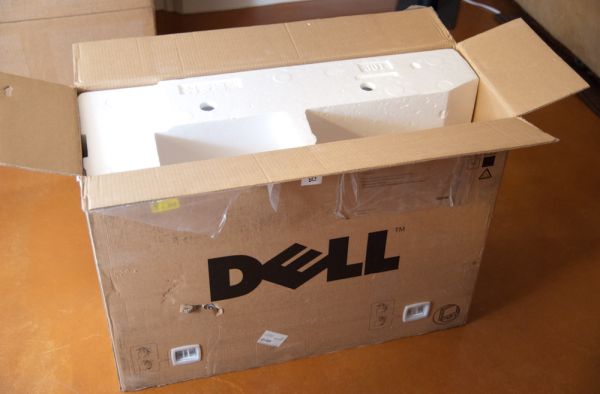 Last but not least is packaging. The U3011 packaging is generic and doesn't draw attention - there's Dell written on it, and U3011 on the corner. It's like the other Dell packaging I've seen before. What I found interesting is that the U3011 comes fully assembled and in one piece inside the box. The mounting arm is preattached, and two styrofoam pieces at top and bottom which hold it securely. The U3011 packaging is actually far smaller than HP's for the ZR30w.
More shots of the U3011 in our gallery below: