The other offering from Biostar comes in the form of a micro-ATX board and the TH67XE. This board has visually changed since Computex, sporting less SATA 3Gb/s ports, smaller heatsinks and a different position of the 24-pin power connector. The PCB itself is a little busier than the P67 variant, but it comes with a few video out connectors. There's still a few flaws to point out though.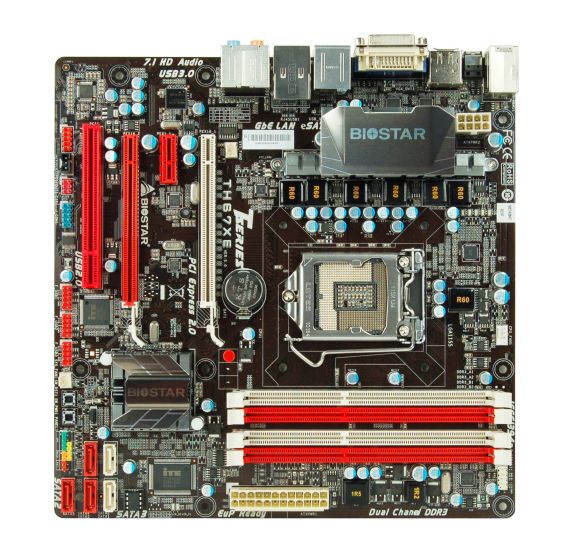 First of which is the positioning of the SATA 6Gb/s ports. Because they're coming out of the board, rather than 90º to it, the minute a user decides to stick in a long card into the second PCIe slot , both of those ports will be covered by the card, leaving only three SATA 3Gb/s ports available. Using both the large PCIe slots with dual slot cards will result in the PCIe x1 and the PCI being unavailable.
If you use only single slot PCIe, this motherboard could probably cater for your needs. A similar back panel arrangement to the P67, though with a few less USB 2.0 ports in exchange for your D-Sub, DVI-D and HDMI connectors. USB 3.0 via the NEC controller is still there, along with onboard 7.1 HD Audio, gigabit ethernet, four USB 2.0 ports, firewire and e-SATA. On the board itself, there's enough headers for six more USB 2.0 ports, (again) a sole non-CPU fan header as well as easy power/reset switches. No debug error code display this time though, but with this board, we wouldn't really expect it.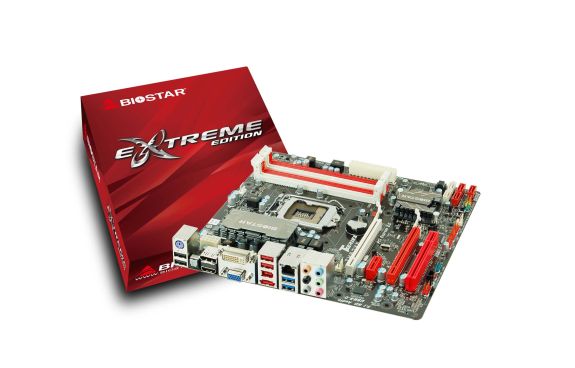 Kudos to Biostar for giving the community something to dissect. If these are indeed final production boards, we look forward to seeing improved layouts over future iterations over the socket lifetime. Then we'll come and tackle your BIOS and performance.