General Performance – Targeting CULV
Our performance testing begins as usual with PCMark Vantage and 05, two comprehensive system benchmarks that stress all areas of performance. As such, it's not only the CPU that but also the hard drive, memory, and graphics chip that determine the result. To go along with PCMark, we have several other general performance tests that focus more on CPU performance. We've included results from a variety of ultraportable laptops for reference. We also have the last gasp of NVIDIA's IGP represented by the old Dell Studio 14z, with a 9400M and P8400 CPU. It doesn't reach the same level of efficiency in terms of battery life (thanks to the non-ULV processor), but keep an eye on its results elsewhere and you can mourn its passing. Intel has ditched the FSB architecture (not a problem, since the FSB was old and in need of an update), but in the process that kills NVIDIA's chance for a current generation IGP supporting modern Intel CPUs.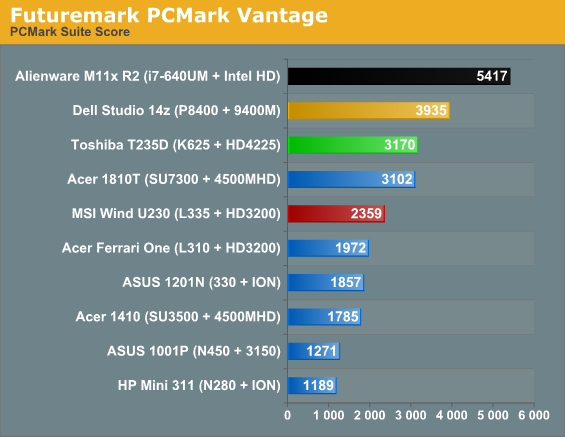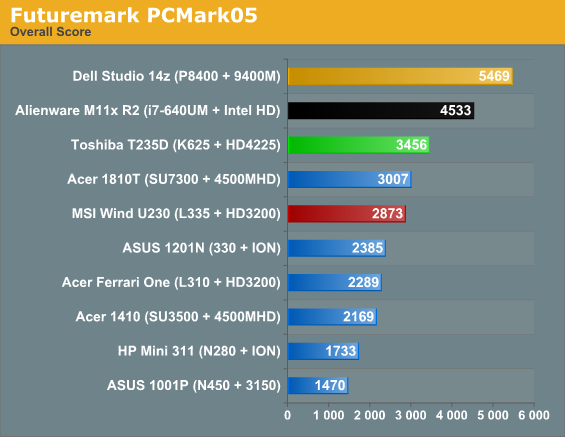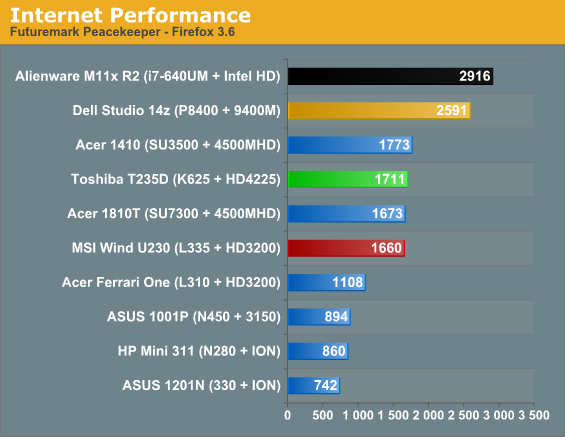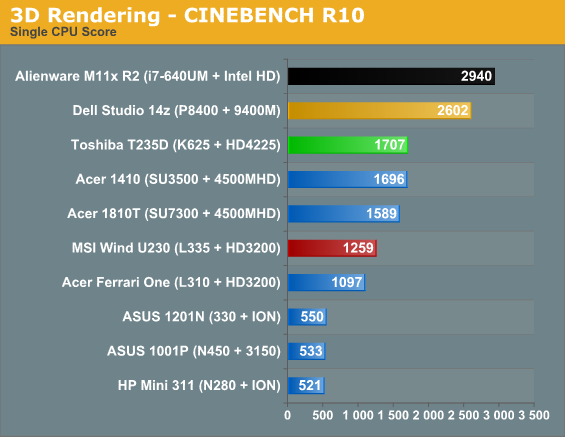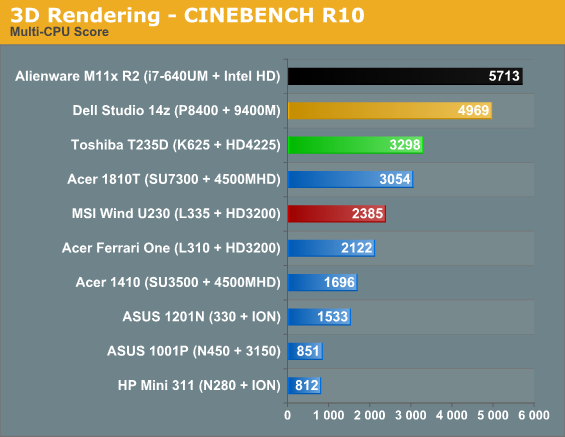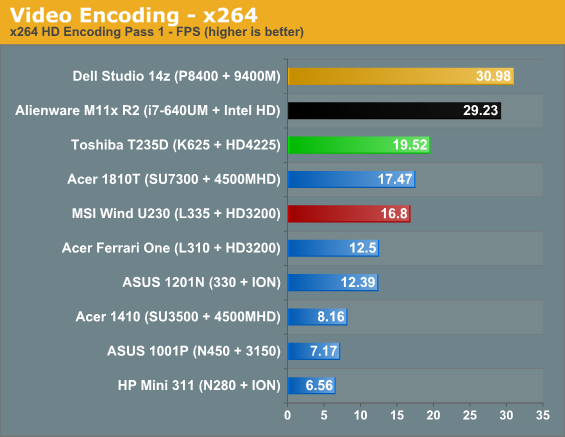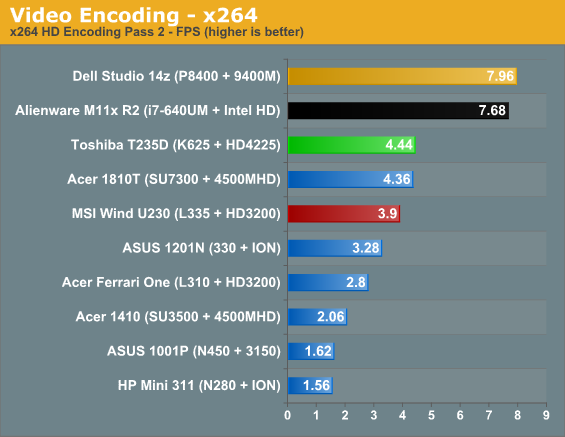 Right off the bat, we can see where the Nile platform (K625) improves over the old Congo offerings. Compared to the slightly faster clocked (1.6GHz) L335 in the Wind U230, the K625 (1.5GHz) in the T235D is at worst equal to Congo (i.e. Peacekeeper), and at best it's around 35% faster (PCMark Vantage and Cinebench). For typical tasks, then, somewhere between 15 to 35 percent faster is a pretty good boost in performance. And Atom is naturally down in the cellar, providing less than half the performance of K625.
Comparing the T235D to the old Intel CULV platform, represented by Acer's 1810T with an SU7300 (1.3GHz), things are closer but the K625 certainly holds its own. Peacekeeper, PCMark Vantage, and x264 (second pass) are basically tied, while Cinebench gives AMD a 7-8% lead and PCMark05 is a 15% lead. Clock for clock Core 2 Duo still looks like it has a small lead, but it's also important to remember that CULV is saddled with a really slow IGP (more on that next). Of course, the competition now isn't between CULV and Nile; instead we have to look to Intel's newer Arrandale ULV parts.
For that comparison, we have the Alienware M11x R2, but with the GeForce GT335M forced off. In this case we're looking at what is practically the top Intel ULV part (the i7-660UM is slightly faster), so this certainly isn't a "fair" comparison. An i7-640UM will run around $300 while the K625 appears to cost closer to $150. Obviously, the M11x R2 is a far more expensive laptop, and the performance bears this out. It's 70% faster in PCMark Vantage (helped no doubt by the 7200RPM HDD), but even when other peripherals aren't involved the i7-640UM is substantially faster than the K625. Cinebench, Peacekeeper, and x264 (second pass) all have the M11x leading by 70 to 75 percent. Intel's Turbo Boost does its job and keeps clocks well above the base 1.2GHz even under heavy loads. So not surprisingly, the expensive i7-640UM blows the K625 away in raw computational performance.
Given the price disparity, it's important to look at other options. We just received an ASUS UL80Jt with an i3-330UM (overclockable, just to make things interesting), and we'll have to wait for that review to get into other Arrandale ULV options. However, we can say that initial testing suggests a stock i3-330UM (1.2GHz but with no Turbo Boost) will be similar to the K625 in lightly threaded loads, while maintaining a 10 to 20 percent lead in heavily threaded benchmarks where Hyper-Threading comes into play. Perhaps even more interesting is that at first glance it appears battery life will be somewhat comparable between the two platforms. When we start to talk about pricing, AMD really has a case to make, but we'll save that for the conclusion. Suffice it to say that in terms of pure application performance, AMD's Nile platform is at least a viable alternative to Intel. It's slightly faster than the old CULV with slightly better pricing, and it's generally less expensive than the Arrandale ULV laptops we've seen so far.