AVADirect was kind enough to provide us with our testing unit, a specially equipped Clevo W880CU, and a refresher of the notebook's configuration is below:
AVADirect Clevo W880CU Specifications
Processor
Intel Core i7-820QM
(4x1.73GHz, 45nm, 8MB L3, Turbo to 3GHz, 45W)
Chipset
Intel PM55
Memory
2x2GB DDR3-1333 (Max 2x4GB)
Graphics
NVIDIA GeForce GTX 480M 2GB GDDR5
(352 CUDA Cores, 425MHz/800MHz/2.4GHz Core/Shader/RAM clocks)
Display
17.3" LED Glossy 16:9 1080p (1920x1080)
Hard Drive(s)
Seagate Momentus XT 500GB 7200 RPM Hybrid Drive
(additional empty bay with RAID 0/1 capability)
Optical Drive
Blu-ray Writer
Networking
Gigabit Ethernet
Intel Centrino Ultimate-N 6300 (a/b/g/n)
Clevo Bluetooth
V.92 56K Modem
Audio
Realtek ALC888/1200 HD Audio
4.1 speakers with line-in, mic, optical, and headphone jacks
Capable of 5.1
Battery
3-Cell, 12V, 48Wh battery
Operating System
Windows 7 Home Premium 64-bit
Pricing
$2936.80 as configured from AVADirect
We ran the W880CU through our usual lineup of Futuremark synthetic benchmarks, bouncing between four different versions of 3DMark and two different PCMarks. The matchup you'll want to watch is how the W880CU compares against the W860CUs; these three units are all equipped with an Intel Core i7-820QM processor and 4GB of DDR3, making them fairly ideal comparisons. The only difference that may effect scores is the use of the Corsair Nova SSDs in the W860s.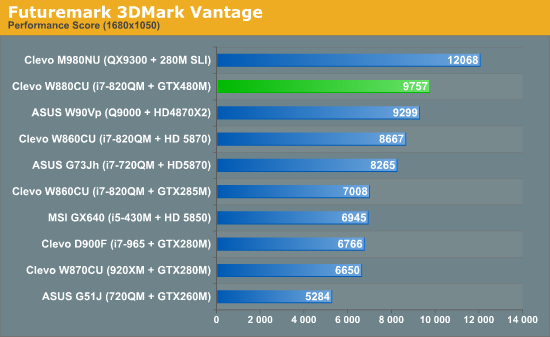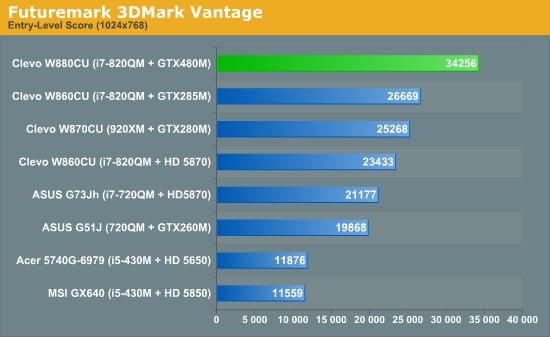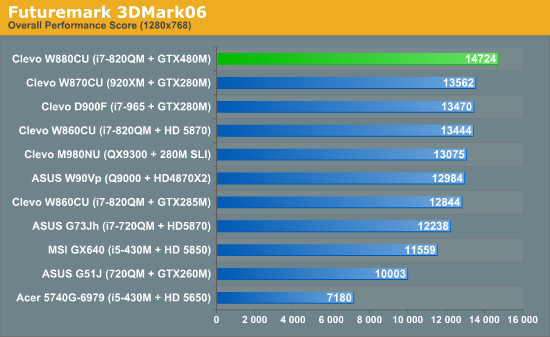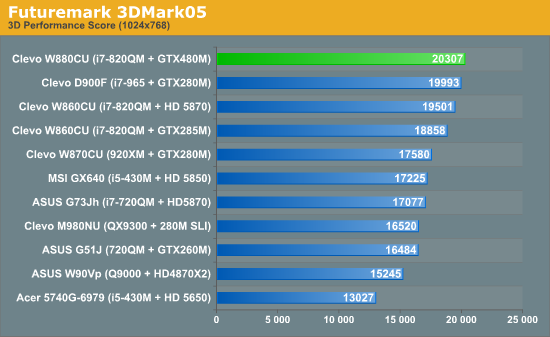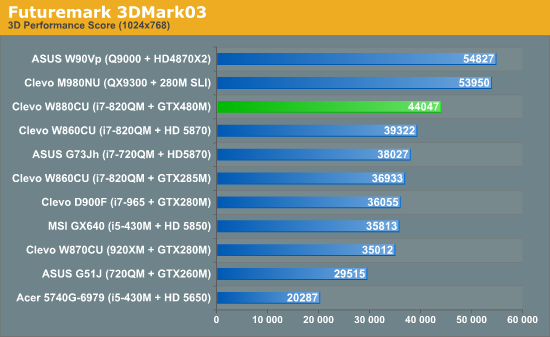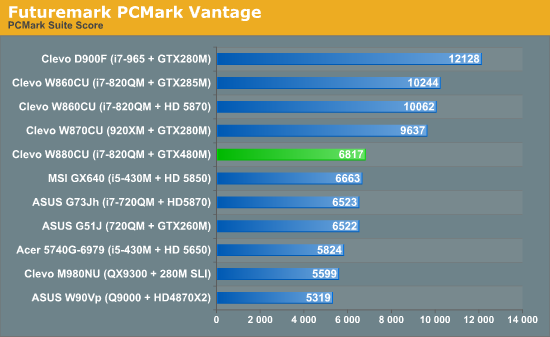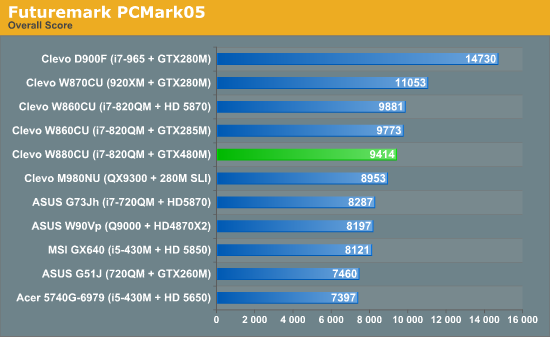 The first thing to notice is that the GeForce GTX 480M takes the W880CU to the top of the class in almost every 3DMark benchmark; in fact, the newer the 3DMark gets, the wider the 480M's lead. The only exceptions are units equipped with dual-GPU solutions. PCMark is much less favorable, but the reduced scores are very likely attributable to the SSDs used in the higher scoring test systems.
So how does the GeForce GTX 480M fare in actual gaming scenarios?