Test Bed Setup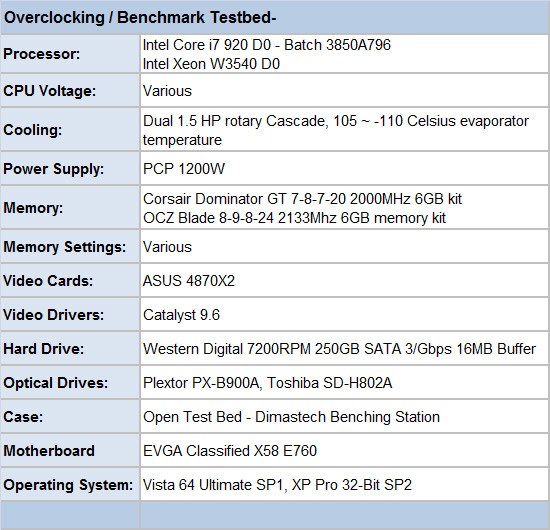 Windows XP is still the preferred operating system for 90% of the synthetic and 3D programs when benchmarking. We also utilized Vista 64 Ultimate to confirm memory stability in some of the 3D benchmarks with the entire memory footprint mapped and available. This allows us to find bandwidth limits at heavier system loads than those imposed by Super Pi under XP Pro.
We ran each benchmark five times with the high and low scores tossed out and the remaining scores averaged. We utilized fresh operating system installations for each memory kit. We reboot the system between each benchmark program change, clear the prefetch folder, and then defragment the drive between reboots to ensure the results are consistent.
We've got a choice of 3 sub-zero temperature friendly CPU's in the labs (all D0 stepping). Surprisingly enough the 975 D0 taps out earliest, and just about crawls to 5GHz providing the QPI link frequency multiplier is left at the lowest possible setting. We had expected this processor to give us the requisite flexibility of pushing these kits to the pinnacle of their ability, but the i7 920 and W3540 Xeon proved to be the better choice for raw bandwidth on both sides of the bus.
We matched memory sub timings on both modules, right down to Round Trip latency parameters in a bid to ensure that maximum frequency scaling is not hindered by incorrectly sensed values. EVGA's Classified E760 motherboard provides BIOS level overrides for almost all memory parameters as well as auto presets for all available sub-timings based on SPD information.