What Intel is Offering
So what are Intel newest offerings and how do they compare to AMD? First, since power consumption is more important in servers than in high-end desktops, Intel selects the 2.93GHz Nehalems with the lowest power consumption (less than or equal to 95W TDP) and sells them in the server market. The 95W-130W TDP parts are for the desktop market. There is a 3.2GHz Xeon W5580 at 130W, but it's only targeted at the workstation market.
Processor Speed and Cache Comparison
Xeon model
Speed (GHz)
Max. Turbo
Max. Turbo
4 cores busy
L3 Cache (MB)
TDP (W)
X5570
2.93
3.33GHz
3.2GHz
8MB
95
X5560
2.8
3.2GHz
3.066GHz
8MB
95
X5550
2.66
3.066GHz
2.93GHz
8MB
95
E5540
2.53
2.8GHz
2.66GHz
8MB
80
E5530
2.4
2.66GHz
2.53GHz
8MB
80
L5520
2.26
2.4GHz
2.33GHz
8MB
60
L5510
2.13
No turbo
No Turbo
4MB
60
E5520
2.26
2.4GHz
2.33GHz
8MB
80
E5506
2.13
No turbo
No Turbo
4MB
80
E5504
2
No turbo
No Turbo
4MB
80
E5502
1.86
No turbo
No Turbo
4MB
80
Notice that the fastest 95W parts are able to boost their frequency with two 133MHz increments even if all four cores are busy. In reality, we have noticed that with most business workloads a 2.93GHz Xeon X5570 is running at 3.066 most of the time and from time to time even at 3.2GHz, but relatively rarely at 2.93GHz. In other words, you get a bit more clock speed than advertised. In rendering we noticed that peaking at 3.2GHz was rather rare, so the workload really determines how high the CPU will clock.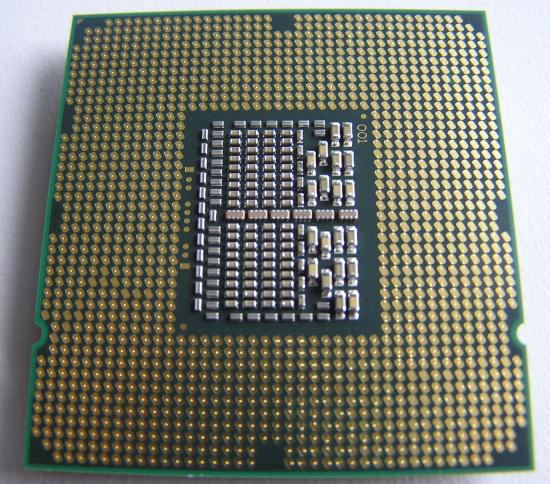 1366 pads make contact with the new Xeon motherboards
The E5520 to E5540 Xeons boost their clock speed by only one increment if all cores are busy. The E550x versions are really the low end: they get no Hyper-Threading (SMT) nor are they able to boost their clock speed (Turbo mode).