OCZ Technology recently released their DDR2 PC2-9200 Flex II series kit that consists of two 2GB modules. OCZ rates these particular modules at DDR2-1150 with timings of 5-5-5-18 at 2.10V on higher end P35 and X38/X48 motherboards. Besides the impressive speed ratings, these modules feature a revised thermal management system that consists of a new heatspreader with dedicated cooling channels directly over the ICs along with two 1/4" ID barbs for attaching a liquid cooling setup. The kit contains 3/8" and 1/2" barb adapters, four-way manifold barb, and 40" of plastic tubing for those who want to cool the memory a different way.
The cooling channels and manifold are made from aluminum so a user with copper devices in their water cooling system will need to use an inhibitor to ensure the differing metals stay at détente during operation. Due to the size of the heatspreaders, the modules cannot be placed side-by-side, thus limiting memory capacity to 4GB on most boards.
In practice, we found utilizing air-cooling was just as effective for reaching our maximum clock speeds as using chilled water, even though temperatures were up to 6C lower when chilled. The primary reason for this is the maximum voltage guaranteed by OCZ is 2.15V. The ICs are from PSC and OCZ highly bins these particular chips to ensure DDR2-1150 capability on supported boards. As such, any voltages over 2.10V in testing did not result in any additional speed increase or timing decrease. In fact, our maximum voltage utilized at DDR2-1200 was 2.08V on the ASUS P5Q Deluxe board.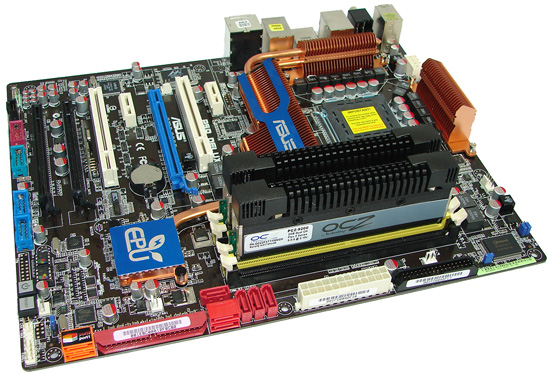 We are going to cut to the chase with today's sneak peak and will only be presenting our maximum stable clock results with the PC2-9200 Flex II 4GB kit on the P5Q Deluxe board sporting the new P45 chipset. During testing for our 14 module, 11 different suppliers 2x2GB DDR2 roundup, we had a couple of kits that stood out from the rest; this kit was one of them from a clocking standpoint.
We also had success with running this kit at low voltages up to DDR2-900 (1.7V at 5-4-4-10), but will save those results and others for the roundup. Today's preview will just answer the maximum clock question and ensure that OCZ's DDR2-1150 claims are indeed true. Our system setup consists obviously of the Flex II kit, Intel E8500, ASUS P5Q Deluxe, WD 640GB HD, a couple of optical drives from Sony, and our lab favorite Zotac 9800GTX AMP! Video card. Cooling our E8500 at 4.3GHz on a 24/7 basis was not going to occur with the retail heatsink, so we employed the CoolIT Systems Pure CPU cooler, which surprised us by keeping our CPU significantly cooler and quieter than our standard heatsink.
Let's take a quick look at our maximum clock results today.