When Smaller is Better
Specification
WD VelociRaptor
WD3000BLFS
Western Digital Raptor
WD1500ADFD
Western Digital Raptor
WD740ADFD
Capacity
300GB
150GB
74GB
Interface
SATA 3 Gb/s
SATA 1.5 Gb/s
SATA 1.5 Gb/s
Rotational Speed
10,000 RPM
10,000 RPM
10,000 RPM
Buffer Size
16 MB
16 MB
16 MB
Average Latency
2.99 ms (nominal)
2.99 ms (nominal)
2.99 ms (nominal)
Read Seek Time
4.2 ms
4.6 ms
4.6 ms
Write Seek Time
4.7 ms
5.2 ms (average)
5.2 ms (average)
Transfer Rate
Buffer to Disk
120 MB/s (sustained)
84 MB/s (sustained)
84 MB/s (sustained)
Number of Heads
4
4
4
Number of Platters
2
2
2
Command Queuing
Native Command Queuing
Native Command Queuing
Native Command Queuing
Acoustics - WD Spec
Idle - 29dBA
Seek Mode 0 - 36dBA
Idle - 29dBA
Seek Mode 0 - 36dBA
Idle - 29dBA
Seek Mode 0 - 36dBA
Warranty
5 - Years
5 - Years
5 - Years
Power Dissipation
Read/Write
6.08 Watts
10.02 Watts
10.02 Watts
Idle
4.53 Watts
9.19 Watts
9.19 Watts
Standby
0.42 Watts
2.66 Watts
2.66 Watts
.
The new VelociRaptor's 2.5" design utilizes two platters sporting 150GB each compared to the 74GB platter designs on the third generation product. These smaller higher areal density platters are beneficial in reducing the area the drive heads need to cover. This leads to an advantage in seek times and random access abilities of the drive when comparing it to its cousin, the Raptor WD1500ADFD.
We see a reduction in read seek times to 4.2ms and write seek times to 4.7ms. The one disadvantage is the drive's much smaller outer track diameter can potentially produce lower sequential transfers if not handled properly. Even with this potential pitfall, the drive's sustained transfer rates have increased from an estimated 84 MB/s to 120 MB/s.
Power dissipation improved across the board compared to the previous drive with a mere 6W or so needed to operate the drive during normal usage. Acoustic specifications remain the same, though this drive's noise characteristics are much improved, as we will see shortly.
While the hot option on the latest 750GB~1TB drives is a 32MB buffer, WD is once again staying the course with a highly optimized 16MB cache. WD states they did not see any advantages to a 32MB cache on this drive and instead spent their engineering resources on optimizing the cache algorithms.
The other big change is the move to a SATA 3GB/s interface from the older 1.5 GB/s setup on the previous generation drives. Although that was never a performance issue, it is nice to see the latest specifications on the marketing checklist. Western Digital claims a MTBF rating of 1.4 million hours and provides their standard enterprise warranty period of five years.
Pricing is estimated at $300 for the VelociRaptor and the drive will be available in retail channels in the latter part of May. If you just cannot wait, Alienware will build you a system utilizing this drive starting next week. Western Digital has discussed the possibility of additional drives in the family utilizing single-platter designs based upon market demand. Our question was if the capacity could be increased; we did not get an answer, but we did detect a smirk from our contact.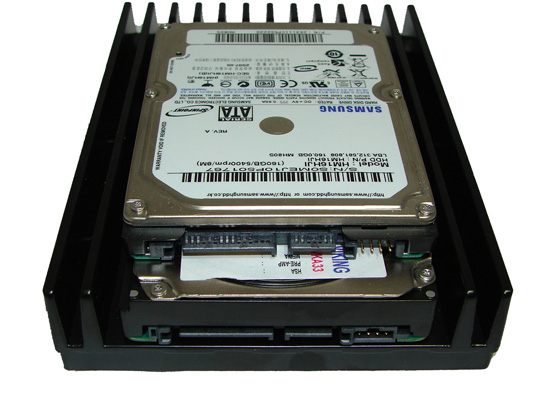 The 2.5" form factor that WD utilizes is 15mm thick compared to the standard 9mm option found in the majority of notebooks. This means the drive will not work in the majority of notebooks available today, although we would not be surprised to see a DTR design utilizing this drive in the high-end market. However, the form factor matches that of Seagate's Savvio enterprise drives and should easily plug and play where those drives are utilized.