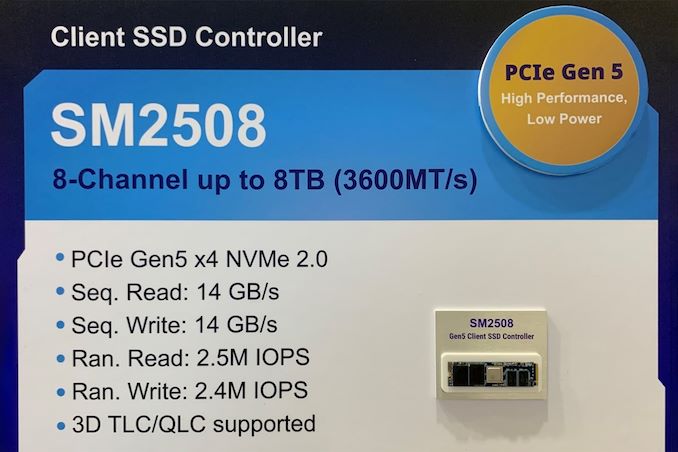 UPDATE 8/24: As it turns out, the 3.5W figure referes to power consumption of the controller alone, not the whole SSD. The story has been updated accordingly. We also clarify power consumption of Phison E26-based drives.
Virtually all PCIe Gen5 SSDs released to date are relatively power-hungry and require a massive cooling system, effectively preventing their installation into compact desktops and notebooks. But Silicon Motion's next-generation SM2508 SSD platform promises to change that and enable ultra-high-performance drives with a PCIe 5.0 interface and lower power consumption due to a controller that consumes 3.5W. The company is showcasing prototypes of its PCIe Gen5 client drives at the Flash Memory Summit 2023.
The Silicon Motion SM2508 SSD controller features eight NAND channels supporting interface speed of up to 3600 MT/s per channel and capable of delivering sequential read and write speeds of up to 14 GB/s as well random read and write speeds of up to 2.5 million IOPS, which is comparable to capabilities of enterprise-grade SSDs with a PCIe 5.0 x4 interface.
Perhaps the most critical aspect of the SM2508 controller is its reduced power consumption, which is around 3.5W, according to Silicon Motion. SMI does not disclose whether 3.5W is idle, average, or peak power consumption of the controller. But reasoning things out, 3.5W seems to be too high for peak, and even if it is average power consumption, it is considerably lower when compared to the average power consumption of PCIe Gen5 SSDs based on the Phison PS5026-E26 controller (around 10W), which is obvious given that we are comparing consumption of the controller to power consumption of a drive. Phison says that its E26 controller consumes around 5W and another 5W is used by 3D NAND chips and DRAM, so the difference between power consumption of the controllers is not that significant. Meanwhile, it will be interesting to compare power consumption of actual drives based on the SM2508 and PS5026-E26.
The fastest 3D NAND flash memory devices currently feature a 2400 MT/s interface. Using such memory is crucial to fully saturate a PCIe 5.0 x4 interface and deliver sequential read/write performance of 13 – 14 GB/s. Support for a 3600 MT/s ONFI/Toggle DDR interface will allow the building of ultra-fast SSDs without using many memory devices, which is essential as next-generation 3D TLC devices are expected to have capacities of 1 Tb and larger.
Silicon Motion does not disclose many details about its SM2508, but we know from unofficial sources that the chip is made on TSCM's 12FFC (12 nm-class, compact low-power production node) and has been sampling since January 2023. Meanwhile, the company has targeted late 2023 – early 2024 as the launch timeframe for its consumer PCIe Gen5 SSD platform.
In addition to demonstrating its first client PC-bound SM2508-based SSDs at the FMS 2023, Silicon Motion is showcasing its MonTitan turnkey enterprise PCIe Gen5 x5 SSD solutions based on its SM8366 controller introduced last year. The SM8366 controller features 16 NAND channels at 2400 MT/s and can enable SSDs with capacities of up to 128 TB that offer up to 14 GB/s sequential read/write performance and up to 3M/2.8M random read/write performance. Samples of MonTitan SSDs will be demonstrated at the FMS 2023.
Source: Silicon Motion