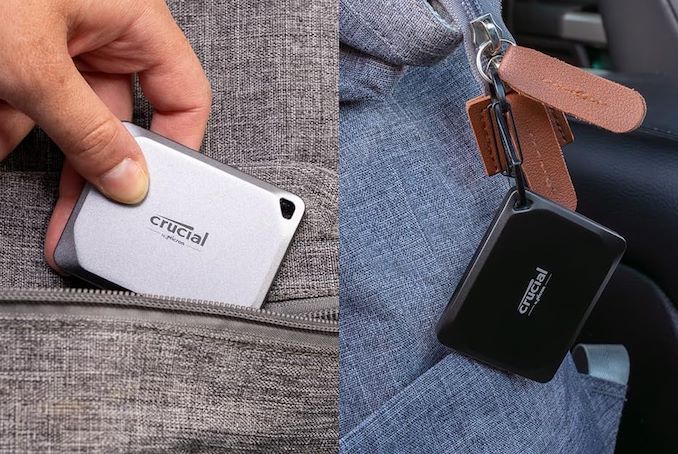 Crucial's X6 and X8 Portable SSDs have been attractive budget options for the mainstream consumers looking to purchase high-capacity direct-attached storage drives. The company has been delivering some industry-firsts in these drives. However, these drives use QLC and are not particularly attractive for power users (such as content creators) who require writing vast amounts of data as quickly as possible.

Over the last few quarters, the company has been actively trying to introduce high-performance flash products in the client market. As an example, Crucial's T700 Gen 5 internal SSD is the only M.2 SSD available in retail to reach the 14 GBps mark. The company is introducing two new products in the PSSD category today - the USB 3.2 Gen 2 X9 Pro, and the USB 3.2 Gen 2x2 X10 Pro. These 1 GBps and 2 GBps-class drives come with a Type-C port and a Type-C to Type-C cable (Type-A adapter sold separately). The performance specifications of these two products indicate suitability for power users - for the first time, the company is quoting write speeds for their PSSDs in the marketing material.
The X9 Pro is a 38g 65mm x 50mm USB 3.2 Gen 2 PSSD made of anodized aluminum. It includes a lanyard hole (with the LED near the hole, rather than near the Type-C port) and a rubberized soft-touch base for protection against bumps. The sides are slightly recessed for better traction during handling. It is IP55 rated, and drop-proof up to 7.5'. The PSSD supports hardware encryption (Windows BitLocker-compatible, but Crucial's own software to set passwords will become available later this year). The company claims speeds of up to 1050 MBps reads and 1050 MBps writes, with a minimum of 970 MBps for a whole drive fill using sequential writes.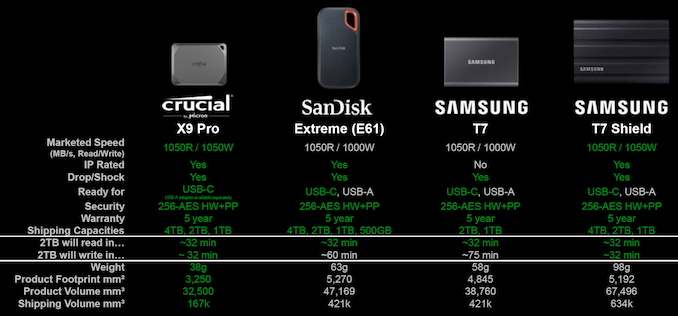 Micron's Competitive Positioning of the X9 Pro (Vendor Claims)
The X10 Pro is a 42g 65mm x 50mm USB 3.2 Gen 2x2 PSSD, with a very similar industrial design to the X9 Pro (retaining almost all of the features). The extra weight is contributed by some internal changes for a better thermal solution. Read speeds of up to 2100 MBps and write speeds of up to 2000 MBps are claimed, though there is no minimum sequential write speed guaranteed.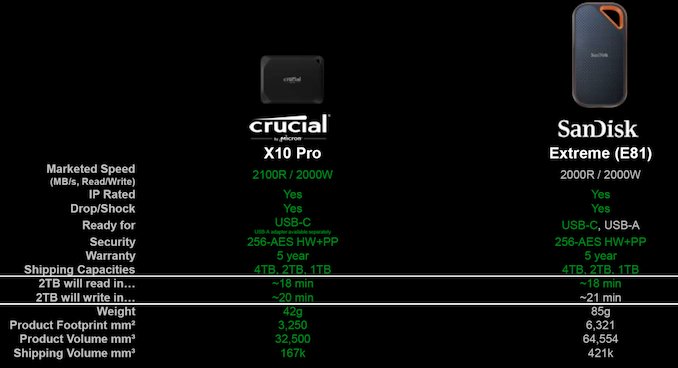 Micron's Competitive Positioning of the X10 Pro (Vendor Claims)
The X9 Pro and X10 Pro both utilize the Silicon Motion SM2320 native UFD controller. We had previewed its performance (and that of the Kingston XS2000 based on it) using Micron's 96L 3D TLC NAND. More recently, the Transcend ESD310C was evaluated with the same controller and Kioxia's BiCS5 112L 3D TLC NAND. Micron is able to claim much better long-term performance consistency compared to these products because of the use of their 176L 3D TLC NAND. The form-factor and size do point to the possibility of thermal throttling, which is possibly the reason for Crucial not claiming any minimum sustained write speeds for the 20 Gbps product. We will get to know further during the course of our hands-on evaluation.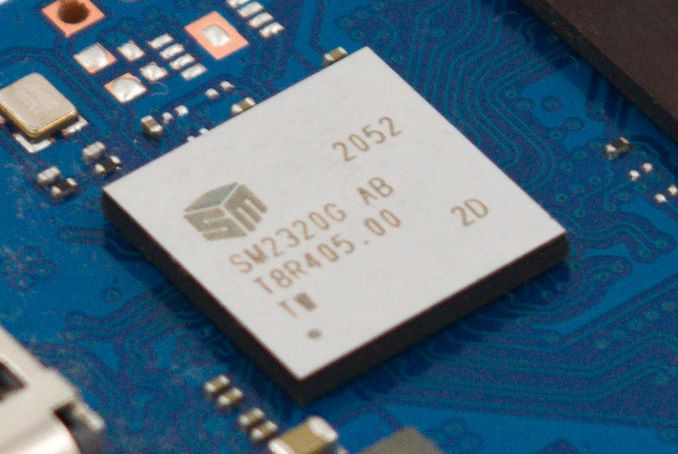 Seagate was one of the first vendors to bundle a free month of Adobe Creative Cloud and Mylio Photos with select direct-attached storage drives. Micron is adopting the same value additions for the X9 Pro and X10 Pro, and also including a copy of Acronis True Image for Crucial for free.
Crucial X9 Pro and X10 Pro Pricing
X9 Pro SKU
Product Link
X10 Pro SKU
Product Link
CT1000X9PROSSD9 (1 TB)
$80
CT1000X10PROSSD9 (1 TB)
$120
CT2000X9PROSSD9 (2 TB)
$130
CT2000X10PROSSD9 (2 TB)
$170
CT4000X9PROSSD9 (4 TB)
$240
CT4000X10PROSSD9 (4 TB)
$290
Pricing varies from $80 for the 1 TB version of the X9 Pro to $290 for the 4 TB version of the X10 Pro, and the drives are available for purchase today. The flash industry is currently in a bust cycle, and pricing is quite low. While that is not great news for the manufacturers, it is good news for consumers. The introduction of the X9 Pro and X10 Pro at attractive price points finally brings some competition to the SanDisk Extreme / Samsung T7 Shield in the 1 GBps category and the SanDisk Extreme PRO v2 in the 2 GBps category. While the SanDisk offerings with a bridge-based design will probably perform better for a wider variety of workloads, the Micron offerings are bound to have an advantage in terms of physical footprint and power consumption.