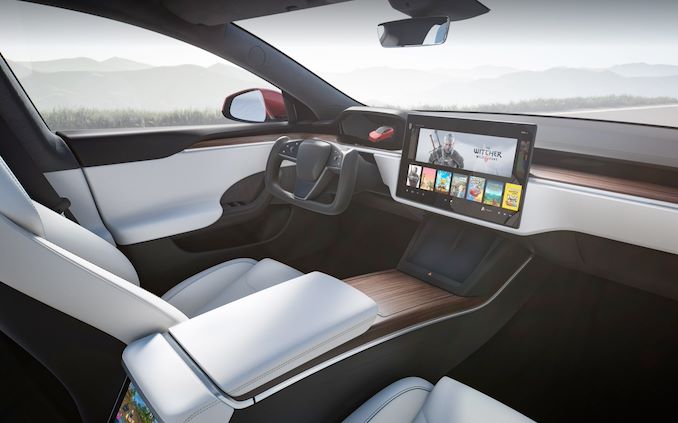 As the final set of announcements from this week's North American Technology Symposium, TSMC closed out their fab roadmap updates with some fresh news on their automotive-centric processes. For their automotive customers, TSMC is gearing up to deliver a pair of new specialized process nodes for the market, N4AE and N3AE, which are aimed at delivering early versions of TSMC's forthcoming automotive-grade process nodes for use by clients who need to get an early start with design and/or production.
The automotive industry is notoriously conservative when it comes to chip manufacturing, as automotive products are expected to meet a much higher bar in terms of safety and reliability. For good reason, the automotive industry is traditionally a generation or so behind in terms of the silicon lithography process nodes used, as they wait for them to become truly proven processes. With that said, the trend towards software-defined vehicles is driving a quick ramp-up in demand for more performant processors – and more chips altogether – which has been spurring the industry to close the gap a bit and transition to newer nodes sooner.
In order to meet that expected demand, this week TSMC announced its Automotive Early (AE) fabrication processes, which are aimed at helping automakers start earlier on the design of new chips for leading-edge nodes. Essentially stepping-stone nodes along the path to developing a full, automotive-grade N3A process, TSMC's N3AE (3nm class) and N4AE (4nm class) technologies are slated to offer consumer-grade reliability and will come with automotive-specific process design kits (PDKs) based on N3E and N4P respectively.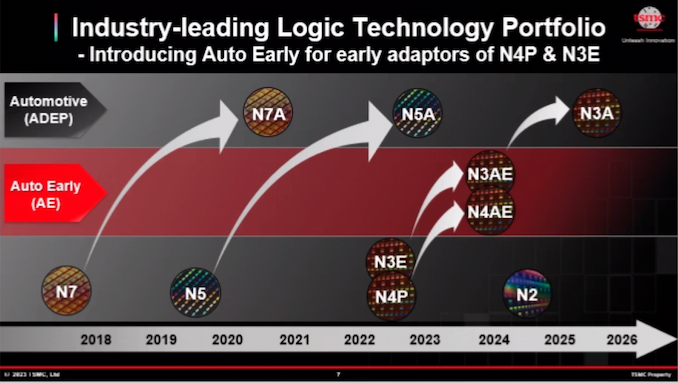 For customers who need a traditional, high-reliability automotive-grade chip, N3AE can be used by chip designers later this year to start developing automotive grade products that, in turn, will be fabbed on the fully-qualified automotive-grade N3A production node in a couple of years. Alternatively, customers who want to bring chips to the market sooner to drive less critical systems in a car – such as digital cockpits and other non-critical systems – can plan to go into production with N4AE. Production on an Automotive Early node means forgoing some of the benefits of a fully qualified automotive process node – essentially building chips that are closer to consumer grade – but it will allow chip designers to get their chips in production on cutting-edge nodes upwards of a year sooner.
Traditionally, automakers and developers of automotive-grade electronics demanded their chips to be qualified for quality and reliability both in terms of functional safety (classified by ASIL system) and physical robustness (classified by AEC-Q100 standards). Improving the physical robustness of chips requires process technologies and design rules that have been specifically developed/tweaked meet those higher requirements, and typically it takes foundries and their automotive chip partners two or three years to develop an automotive-grade process technology. For example, TSMC has been making chips for smartphones and PCs on its N5 (5nm-class) fabrication process since 2020, but automotive grade N5A is only finally set to be ready this year.
At the same time, not all systems inside a vehicle need to comply with the most stringent integrity and reliability standards. For example, chips powering infotainment, digital cockpit, and advanced driver assistance systems (ADAS) do not have to be AEC-Q100 Grade 1 (handle temperatures between -40°C and +150°C). These systems also tend to require a lot of processing horsepower, leading to them significantly benefiting from leading-edge nodes.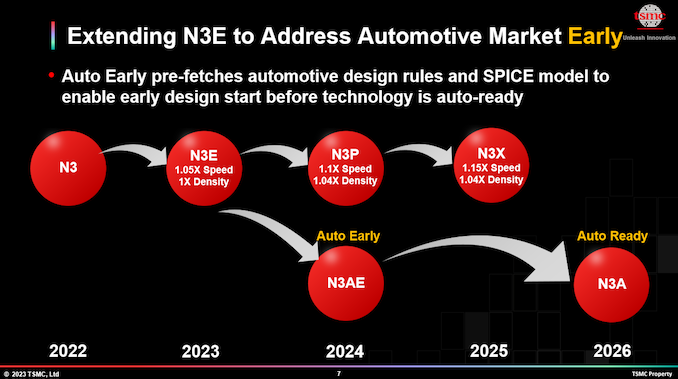 TSMC said that its N3AE (3nm Auto Early) will be launched in 2023 and will provide automotive process design kits (PDKs) based on N3E. It will enable customers to initiate designs on the 3nm node specifically for automotive applications, ultimately leading to the N3A process, which is expected to be fully qualified for automotive use in 2025.
Meanwhile, customers in more of a hurry will also have N4AE as an option. N4AE is based on TSMC's existing N4P process technology, and customers will be able to start risk production on N4AE a year sooner, in 2024. Presumably, given its heritage from N4P, N4AE would also be a good candidate for incorporating IP already designed for N4P (which there is already piles of), further reducing the time to market.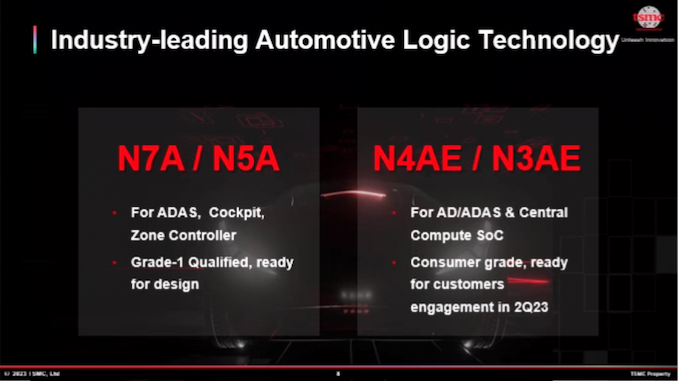 TSMC did not touch upon which of its customers are interested in using its N3AE and N4AE process technologies for their automotive SoCs, but there are several usual suspects that have been offering high-performance feature-rich automotive SoCs for years.
Source: TSMC