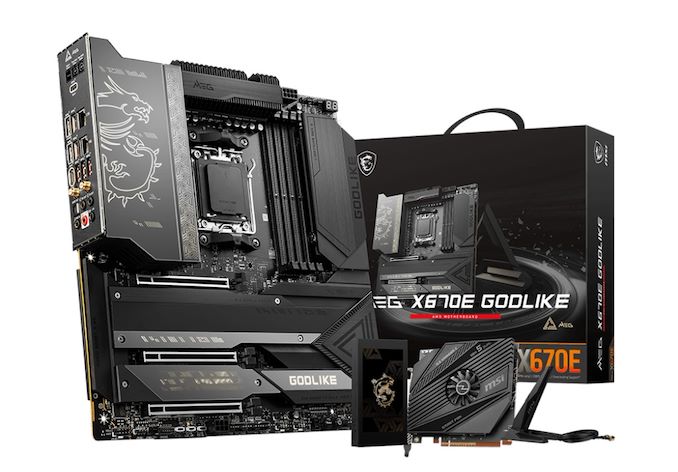 In response to recent reports of AMD's Ryzen 7000X3D processors being damaged, MSI has announced a wave of firmware updates to address potential issues. The highlight of MSI's new wave of BIOS versions for its AM5 motherboards is that the company is further locking down the voltage controls for X3D chips, removing support for positive offset voltages. Going forward, it will only be possible to use negative offset voltages on X3D chips, ensuring that the sensitive V-Cache-equipped X3D chips can't be overvolted and put at risk of damage.
Over the last couple of days, there has been concern across various social media platforms, such as Reddit, about reports of AMD's Ryzen 7000X3D processors spontaneously 'burning out.' Multiple users have posted issues where their Ryzen 7000X3D processors with 3D V-Cache have been dying – and curiously, all when using ASUS motherboards.
Perhaps one of the most recognizable images over the last few days has been via a Reddit post by Speedrookie. In the image above, the user uploaded a photo that shows his AMD Ryzen 7800X3D and ASUS ROG Strix X670E-E Gaming motherboard with very noticeable scorch marks within the CPU socket itself, as well as a very large bulging on the CPU contact pads.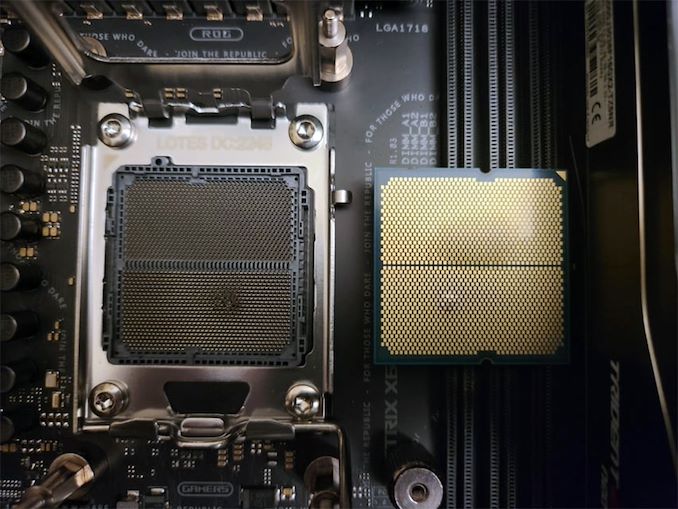 Image credit: Speedrookie/Reddit
There is little concrete information about where the issue lies – whether it's even a systemic issue, or just a statistical fluke – but it would seem that MSI considers it an important enough matter to take immediate action via new firmware versions for its AM5 motherboards, including those with X670E, X670E, B650, and A620 chipsets.
Announced via a post on Reddit, the company is releasing new BIOSes for all of its AM5 platform motherboards. The new firmware from MSI specifically targets overvolting Ryzen 7000X3D CPUs or restricting the ability to do this. The new firmware from MSI essentially locks down any options or settings related to voltage adjustment. This includes blocking positive voltage offsets, as well as direct voltage adjustment. Consequently, with the new BIOSes it's only possible to use offering negative offset voltage settings on X3D chips
These updates don't just impact the firmware itself, but MSI has also restricted overvolting through its MSI Center application. So, much like their firmware, MSI Center won't allow users to add any additional CPU VCore to the processor when used on any the Ryzen 7000X3D processors such as the Ryzen 9 7950X3D and the Ryzen 7 7800X3D which we've both reviewed recently.
Aside from the MSI Pro X670-P WIFI and MAG B650M Mortar WIFI motherboards, the rest of MSI's line-up has new firmware available for users to install and flash over the current BIOS version. MSI states that the remaining two boards will soon have a new firmware version. It should also be noted that on the official product pages for each motherboard and its corresponding BIOS version, these new BIOSes are listed as 'Beta'.
Meanwhile, for users still looking to squeeze a bit more out of their X3D processors, MSI is directing users to utilize the Enhanced Mode Boost option within the firmware, which essentially optimizes the Precision Boost Overdrive (PBO) settings without making manual voltage adjustments.
As the situation develops, we expect to hear more from other vendors and users expressing issues. In the meantime, if you use an MSI AM5 motherboard with a Ryzen 7000X3D processor, these new BIOSes likely warrant a good look and a quick installation.
Update 04/28: MSI has released a new statement in relation to its latest AGESA firmware designed to mitigate any potential issues with AMD's Ryzen 7000X3D and Ryzen 7000 series processors. The statement is as follows:
"MSI has been in close contact with the AMD and has referred to their official technical guidance to provide users with a safer and more optimized hardware environment. To achieve this goal, MSI will release a new list of BIOS updates specifically for the AMD RyzenTM 7000 series CPU.
According to AMD's design specifications, the RyzenTM 7000X3D series CPU does not fully support overclocking or overvoltage adjustments, including CPU ratio and CPU Vcore voltage. However, AMD EXPO technology can be used to optimize memory performance by appropriately increasing the CPU SoC voltage to ensure system stability when operating at higher memory frequencies.
In the confirmation report from AMD team, it is recommended that the maximum limit of the CPU SoC voltage should be set at a safe range for RyzenTM 7000X3D series CPU to mitigate potential CPU damage caused by inappropriate overclocking or overvoltage. With the same safety concern, we'll also adjust the CPU SoC voltage for the regular RyzenTM 7000 series CPU.
For the new BIOS release, MSI will prioritize this limitation on the CPU SoC voltage. We strongly recommend that users using RyzenTM 7000 series CPU update their BIOS and use sufficient CPU cooling, such as 280mm or higher AIO cooling, to achieve optimal performance.
At the same time with this update, MSI is also announcing the support of up to 192GB DDR5 memory capacity across all AMD's AM5 Series motherboards. The update is to ensure that the all-new 24GB and 48GB-based DDR5 memory module kits can fit a maximum of 192GB on all 4 DIMMs or 96GB on 2 DIMMs slots flawlessly across AM5 Series motherboards. The new DDR5 memory modules offer a combination of raw speed and maximum capacity for professionals, creators, and others who rely heavily on multitasking daily and could benefit significantly from better efficiency improvements without affecting overall system latency. MSI has committed to providing the best performance and compatibility to all DIY enthusiasts."
Source: MSI (via Reddit)