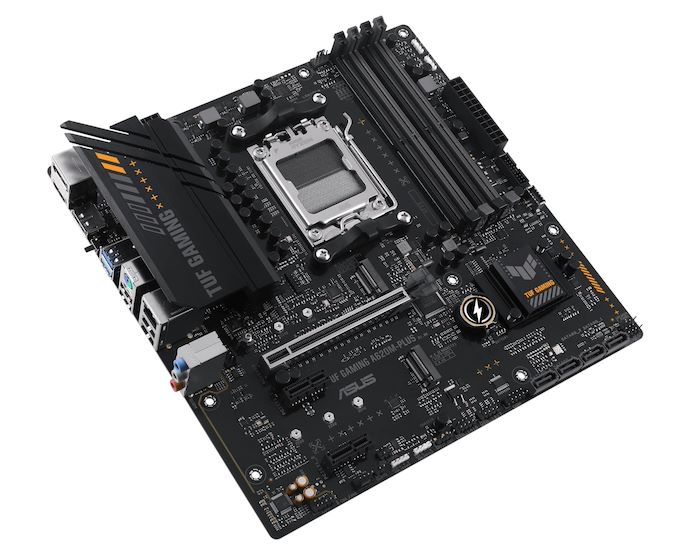 AMD has introduced its entry-level A620 platform for AM5 processors. The new platform is designed to power inexpensive PCs that use AMD's CPUs in AM5 packaging based on the Zen 4 microarchitecture and to cut down costs; it omits support for overclocking, PCIe Gen5 connectivity of any kind, and USB 3.2 Gen2x2. Most importantly, base AMD A620-based motherboards will not support higher-wattage CPUs.
Disabling some connectivity is meant to simplify testing and validation procedures and the design of actual motherboards. On the platform hardware side of matters, the AMD A620 chipset uses the same Promontory 21 silicon as the more expensive B650 and X670 chipsets, but in this case, AMD cut down some of the features supported by silicon. In particular, A620 does not support 10Gbps USB 3.2 Gen2x2, only supports eight PCIe 3.0 lanes (depending on the exact motherboard configuration, the number of enabled lanes may vary), only supports two 10Gbps USB 3.2 Gen2 ports and two 5Gbps USB 3.0 ports.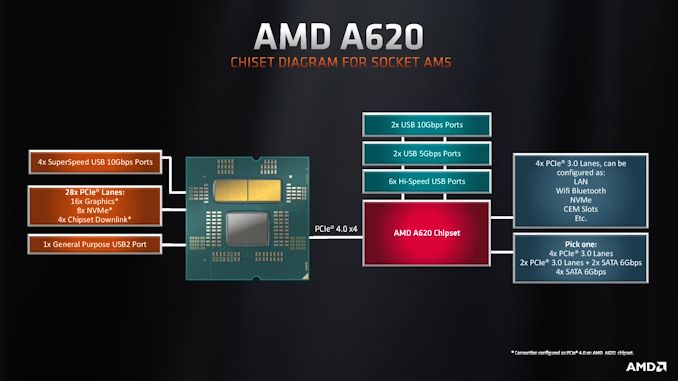 Regarding motherboard design, AMD also does not mandate that its partners support processors with a TDP higher than 65W (88W PPT), so in many cases (if not most of them) A620-based mainboards will not be able to operate Ryzen 7000X or Ryzen 7000X3D CPUs at their full power limits. Our colleagues from Tom's Hardware note that AMD does not explicitly prohibit motherboards makers from supporting high-wattage gaming processors on A620-powered motherboards, but since the platform is meant to be cheap, we can only guess whether there will be many A620 mainboards that feature a sophisticated voltage regulating module for higher-end CPUs.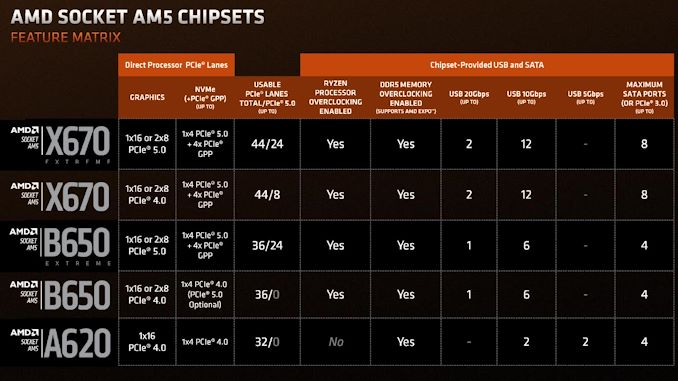 On the bright side, A620-based motherboards support factory-overclocked memory with EXPO profiles up to DDR5-6000; it is uncertain whether further manual memory tuning is permitted.
Also, A620 platforms do not support CPU-enabled PCIe Gen5 x4 and x16 interconnections and only feature PCIe Gen4 speeds, which lowers production costs. Yet, they will support four 10Gbps USB 3.2 Gen2 ports enabled by the CPU.
Given the absence of client GPUs supporting a PCIe 5.0 x16 interface, which is unlikely to change for at least a year, and the minimal advantages of PCIe 5.0 x4 SSDs over those with a PCIe 4.0 x4 interface for DirectStorage-enabled games, it seems that opting for PCIe 4.0 speeds instead of PCIe 5.0 for cheap platforms is reasonably practical.
Speaking of cheap AMD AM5 platforms in general, it should be noted that AMD only has three AM5 processors with a 65W TDP, including 12-core Ryzen 9 7900, eight-core Ryzen 7 7700, and six-core Ryzen 5 7600. The latter currently costs $229, which is not particularly cheap.
As for prices of actual A620 motherboards, only ASRock currently offers two of such platforms in the U.S. One costs $86, and another is priced at $100 over at Newegg. Meanwhile, it remains to be seen how cheap or expensive similar A620-based platforms from such makers as Asus, Biostar, Gigabyte, and MSI will be.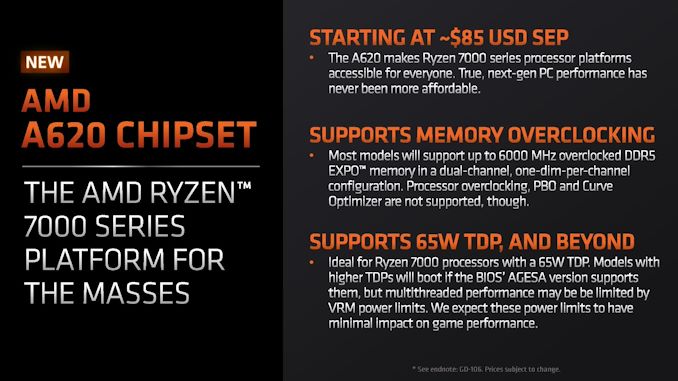 Over time AMD will, of course, release inexpensive AM5 APUs with more powerful built-in graphics, and this is when its A620 platform will undoubtedly come in handy. But for now, AMD's Ryzen 7000-series processors mainly target gamers, and the latter are more likely to opt for a Ryzen 7000X chip with enhanced performance and overclocking support or a Ryzen 7000X3D processor with expanded cache for superior single-thread performance, which is going to benefit from more advanced B650-powered motherboards. That said, we can only guess how popular will AMD A620 platform will be before AMD rolls out cheaper AM5 processors.