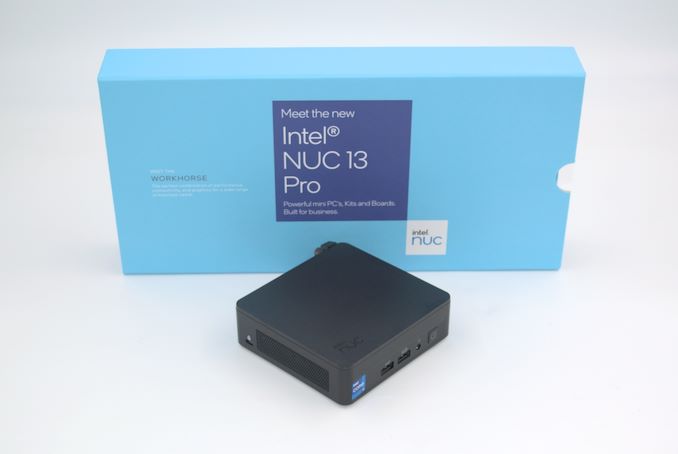 Ultra-compact form-factor PCs have emerged as bright spots in the PC market over the last decade after Intel introduced the NUC. The NUCs started out as replacement for bulky tower desktops in applications where the physical footprint and system capabilities were significantly more than the actual requirements.
The company celebrated the 10-year anniversary of its introduction last year with the introduction of the first UCFF NUC family with hybrid processors. The Alder Lake-based 4"x4" Wall Street Canyon NUCs came with significant improvements over the previous generation in both performance per watt and value proposition metrics. Barely a couple of quarters down the road, Intel is updating its Pro line of UCFF NUCs with the 13th Gen. Core Processors (Raptor Lake). The new Arena Canyon NUCs carry forward the same hardware features of the Wall Street Canyon SKUs, with the primary update being the change in the internal SoC.
Raptor Lake-P brings incremental gains in terms of both performance and power efficiency over Alder Lake-P. We already saw one of Intel's partners - ASRock Industrial - take the lead in delivering UCFF mini-PCs based on Raptor Lake-P. Intel's Arena Canyon NUCs target the same market segment as the ASRock Industrial NUC(S) BOX-13xxP/D4 SKUs. However, Intel is planning to offer a more comprehensive list of processor choices, along with barebones and pre-built options for each.
Intel sampled us with a pre-production version of the NUC13ANKi7 - the slim version of the NUC 13 Pro equipped with a Core i7-1360P processor. This review provides a comprehensive look into the performance profile of the system and how it stacks up against the previous generation as well as other competitors in the market.
Introduction and Product Impressions
Intel's Raptor Lake processors build upon the heterogeneous computing paradigm introduced with hybrid processors in Alder Lake. While the desktop processors enjoyed a few minor microarchitectural tweaks for better performance, the -P series owes its improvements to the maturity of the Intel 7 manufacturing process. The updated voltage-frequency curves have enabled Intel to increase the turbo clocks for both performance and efficiency cores. Some I/O improvements such as additional Thunderbolt 4 ports and USB 3.2 Gen 2x2 support are also in the mix for Raptor Lake-P, but their adoption is dependent on other board component choices.
Intel's Arena Canyon NUCs are visually identical to their Wall Street Canyon counterparts - down to the placement of the I/O ports and the layout of the internal board. In fact, one of the primary reasons for Arena Canyon to get released within a few quarters of the Wall Street Canyon seems to be the similarity in the internal platform. Intel has decided to minimize the changes by going in with the same DDR4 SODIMMs support and Burnside Bridge retimers on the Type-C ports. This means that the Thunderbolt 4 ports in the Arena Canyon NUCs do not support USB 3.2 Gen 2x2 just like the Wall Street Canyon NUCs.
There are some unique SKUs in the Arena Canyon NUC lineup compared to the Wall Street Canyon NUCs, though. There are a couple of models using the special Core i7-1370P and Core i7-1370PE processors (which have a 6P+ 8e configuration not available in Alder Lake-P). Additionally, some SKUs use processors meant for the embedded market. These have a 5-year availability window (compared the 3-year life cycle for the others). Overall, Intel has plans to release around 30 different Arena Canyon NUC SKUs (boards / slim and tall kits / ready-to-use mini-PCs) over the next few quarters.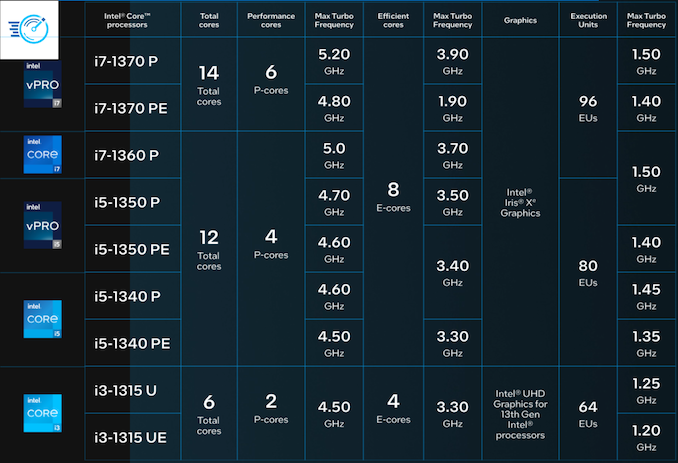 Intel's lineup of 4"x4" mini-PCs (marketed under the Pro moniker) has evolved to target business use-cases. Keeping that in mind, the company has retained a few SKUs with vPro Enterprise capabilities for easier deployment and management by IT departments. The new vPro systems offer hardware-based remote management with cloud-based manageability, Intel AMT for out-of-band connectivity with KVM support, hardware alarms, and remote power control.
The company is also offering the NUC Pro Software Suite (NPSS) for guaranteeing uptime for digital signage applications. This involves connecting one HDMI port to the primary display and the other HDMI port to another Intel NUC's second HDMI port. By default, both NUCs drive their own primary displays. When the NPSS tool detects heartbeat failure, the operational NUC drives both displays - its own, as well as the failed system's. The tool also includes application monitors to restart unresponsive applications and explicit HDMI-CEC control via diagnostic software.
The compact nature of these systems also lend to usage in IoT and edge computing applications in vehicles, healthcare, industrial, and education domains. From a reliability perspective, Intel is qualifying all the NUC 13 Pro systems for 24x7 operation during the 3-year warranty period. These NUCs come with cutting edge features (for a UCFF system) such as support for the Wi-Fi 6E, Bluetooth 5.3, and four simultaneous 4Kp60 displays. Features such as display emulation also make it friendly for headless operation and digital signage deployments.
On the industrial design front, Intel has decided to (thankfully) go with a matte-textured chassis with an 'intel nuc' logo embedded on top. The ventilation support and thermal design appear to be retained from earlier UCFF NUCs. The top-end SKU based on the Core i7-1370P would have been more interesting to review on account of the additional cores, but the Core i7-1360P model that we are looking at today is essentially a like-for-like replacement for the NUC12WSKi7 that was reviewed in detail earlier this year. The packaging of our pre-production sample is not reflective of the contents of the retail box. The sample came with a 120W (20V @ 6A) power adapter, a cable management screw, and mounting screws.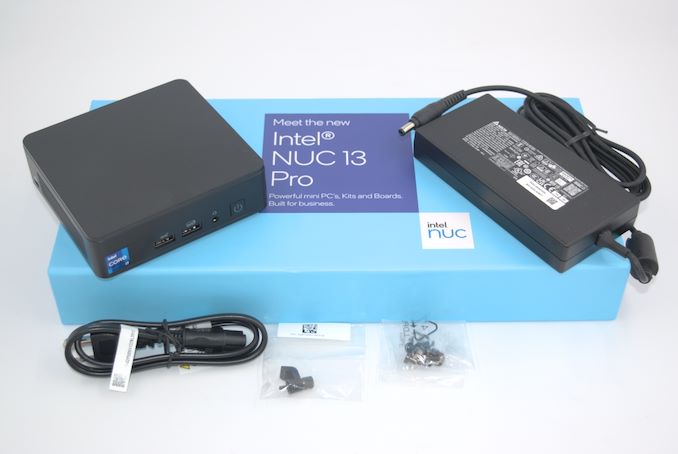 The kit also included a 512 GB PCIe 4.0 x4 NVMe SSD (Samsung PM9A1) and 2x 16 GB DDR-3200 SODIMMs (Kingston ValueRAM).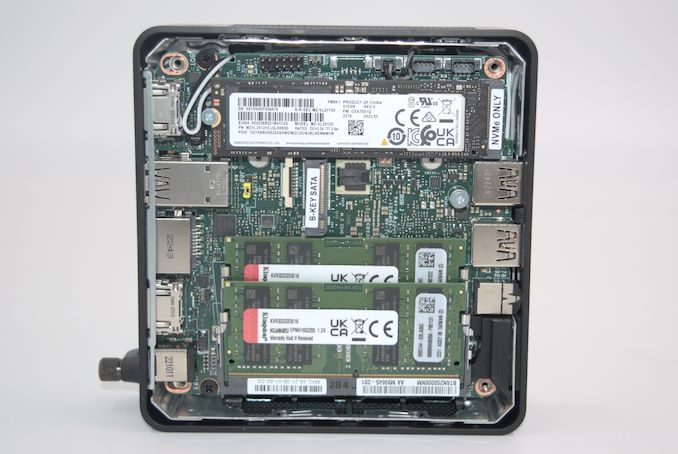 Windows 11 Home was pre-installed (OEM deployment), but we opted to wipe the disk and install Windows 11 Enterprise 21H2 with the latest updates. In general, moving to Microsoft's latest release (22H2) is fraught with performance issues and unexpected benchmarking behavior. The full specifications of our review sample (as tested) are summarized in the table below.
Intel NUC13ANKi7 (Arena Canyon) Specifications
(as tested)
Processor
Intel Core i7-1360P
Alder Lake 4P + 8e / 16T, up to 5.0 GHz (P) / 3.7 GHz (e)
Intel 7, 18MB L2, 35W
(PL1 = 40W, PL2 = 64W)
Memory
Kingston ValueRAM KVR32S22D8/16 DDR4-3200 SODIMM
22-22-22-52 @ 3200 MHz
2x16 GB
Graphics
Intel Iris Xe Graphics
(96EU @ 1.50 GHz)
Disk Drive(s)
Samsung PM9A1 MZVL2512HCJQ
(512 GB; M.2 2280 PCIe 4.0 x4 NVMe;)
(Samsung 6th Gen. V-NAND 128L (136T) 3D TLC; Samsung Elpis S4LV003 Controller; OEM version of 980 PRO)
Networking
1x 2.5 GbE RJ-45 (Intel I226-V)
Intel Wi-Fi 6 AX211 (2x2 802.11ax - 2.4 Gbps)
Audio
Digital Audio with Bitstreaming Support over HDMI Ports
3.5mm stereo headset jack (Realtek audio codec)
Video
2x HDMI 2.1 (4Kp60)
2x Display Port 2.1 with HBR3 over Thunderbolt 4
Miscellaneous I/O Ports
2x USB 3.2 Gen 2 Type-A (Front)
1x USB 3.2 Gen 2 Type-A (Rear)
1x USB 2.0 Type-A (Rear)
2x Thunderbolt 4 (Rear) (Type-C)
Operating System
Windows 11 Enterprise (22000.1696)
Pricing
(Street Pricing on March 27th, 2023)
US TBD (barebones)
$(148 + TBD) (as configured, no OS)
Full Specifications
Intel NUC13ANKi7 Specifications
In the next section, we take a look at the various BIOS options and follow it up with a detailed platform analysis.