BIOS
For the Z690 chipset, ASUS has kept the GUI the same as previous iterations of its ROG and Intel-based motherboards. It uses a red and black background at the top, with a dark grey main panel with white text and a red highlighting when mousing or selecting over a specific option. ASUS includes two modes in the BIOS, the EZ Mode for a basic overview of information and installed hardware, and the Advanced section, which opens up all of the board's customizable options, including overclocking and chipset related options.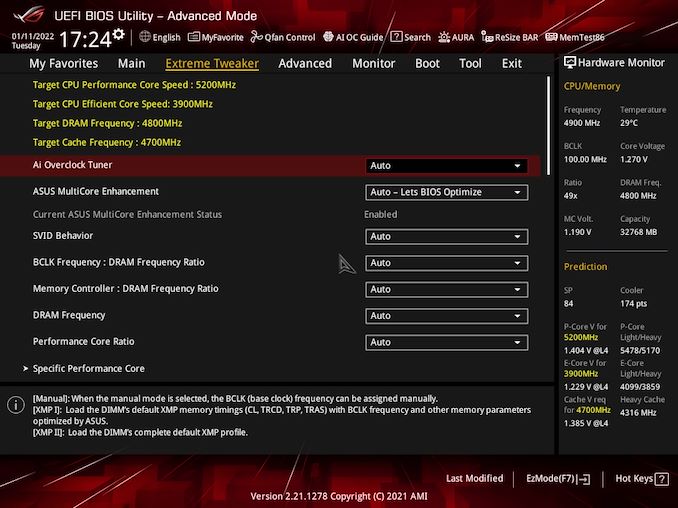 The most prominent section within the Advanced area of the firmware is the Extreme Tweaker area. In this section, users can overclock the Performance (P) cores, the Efficiency (E) cores, the memory, and the integrated graphics. There are extensive options for all three main areas for users to overclock, including an extensive array of customizable memory latencies for fine-tuning. In addition to this, the ROG Maximus series also has a wider variety of voltage control options for CPU, memory, System Agent, and SoC than ASUS's cheaper boards.
ASUS even includes a hardware monitor, a fan tuning section within the BIOS, and easy quick links to various sections of firmware along the top. This includes ASUS AURA for customizing the integrated RGB LED lighting, ASUS's AI OC guide, Resizeable BAR, and integrated MemTest86 software for diagnosing memory issues.
Overall, the ASUS ROG firmware is intuitive, stylish, and most importantly, easy to navigate and has lots of customizable options. As we typically see with premium motherboards such as ASUS's ROG Maximus series, there are usually more overclocking options and finer control over voltages for those enthusiasts that like to push the limits. Users looking for a plug and play or those looking to tweak will find plenty of functionality within the ROG Maximus Z690 Hero firmware.
Software
Most ASUS's software bundle revolves around two main applications, the ROG Armory Crate and the Ai Suite 3 software. Upon setting up a system for the first time, ROG Armory Crate allows users to install critical updates such as networking and chipset drivers directly from a pool of designated memory on the board to get things up and running.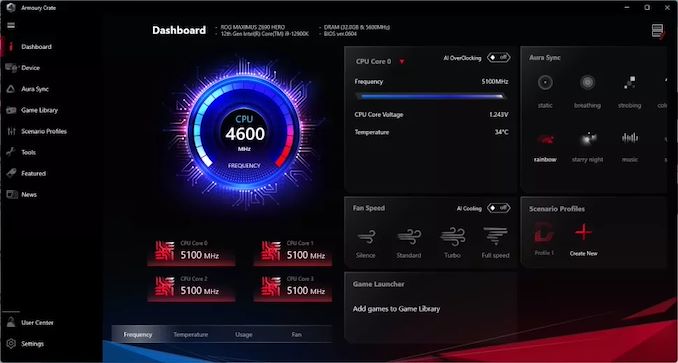 Not only does the Armory Crate allow users to keep drivers and software up-to-date, but it has a range of functions, including ASUS AURA Sync, fan speed control, as well as one-click access to ASUS's AI automatic overclocking.
The AI Suite 3 software has a more in-depth variety of settings that allow users to customize power delivery profiles and apply power efficiency states and software overclocking. With the new technology on Intel's Alder Lake, when used in conjunction with Intel's Extreme Tuning Utility (XTU), users can also apply Intel's one-click overclocking function. We prefer their more aggressive profiling regarding ASUS as the firmware has a look-up table with certain variables for more performance. However, this will generate more heat and power consumption.
Overall, ASUS's software tools provide many avenues to customize things such as RGB LED lighting, make auditory adjustments via Sonic Studio and the Realtek Audio applications, and control fan speeds. It's a more well-rounded selection of software with fewer apps but more functionality.