Design
Acer has tweaked the design of the Nitro 5 for this year, offering a cleaner look than the outgoing model. The 15.6-inch display offers a "narrow-bezel" design, although really that is only on the sides. For this kind of price, Acer is not going to be able to compete with the thinnest and lightest laptops out there, plus as a gaming-focused system, offering a bit more space for components and cooling is crucial. The chassis features an aluminum keyboard deck and aluminum top veneered to the plastic chassis. The display lid is quite flimsy, but the hinge looks and feels robust. The underside features four nice sturdy rubber feet, and lots of cooling, but the plastic feels inexpensive. If you are after an entry-level gaming laptop, you are always going to compromise something, and the chassis is one of the low-points of this device, even though it is a step up from the previous generation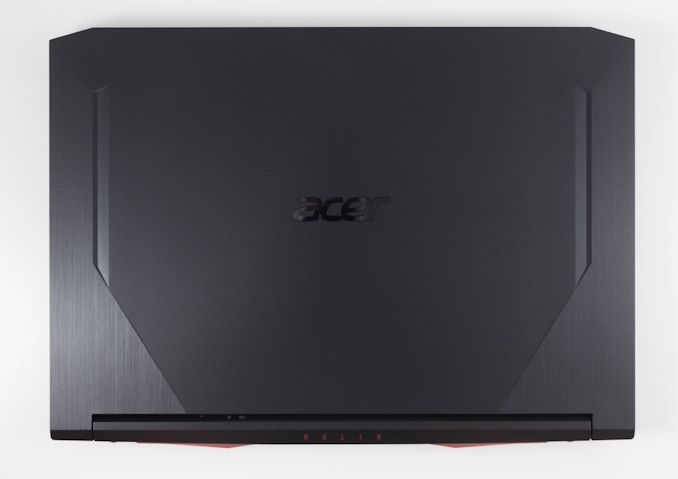 15.6-inch laptops sometimes offer number pads included, often at the expense of the rest of the keyboard, and that is the case here as well. To fit a number pad you really need to step up to a 17.3-inch device, or better yet, a separate USB device if needed, as the arrangement is decidedly non-standard. The keyboard also features the power button, which is generally a poor design, but acceptable here since it is over the number pad and less likely to be accidentally pressed. The keys themselves are reasonably, with good resistance and travel. On the low-end system, there is only one color for the backlighting, although some models of the Nitro 5 do offer 4-zone RGB backlighting. Acer also does not activate the backlighting when using the trackpad, which is not ideal, since you can't activate the keyboard to see where the keys are in a dark room.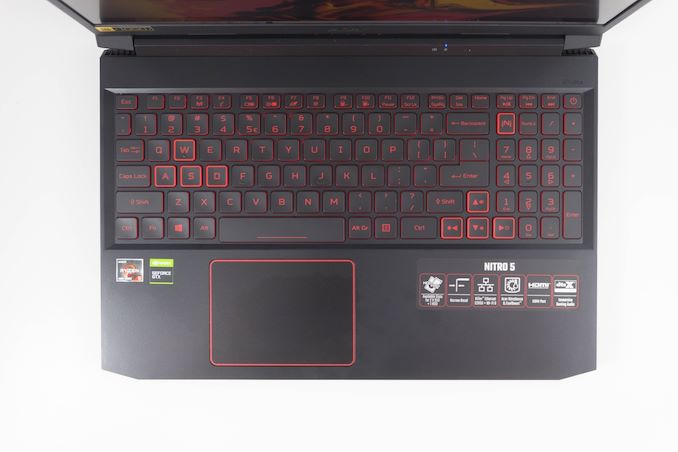 For the trackpad, Acer is using a plastic design with Precision Touchpad drivers. For a plastic touchpad, it is quite responsive, although not as nice to use as a glass trackpad on more premium products. If you were gaming on this system, you would likely want to hook up a USB mouse regardless.
For cooling, Acer has a quad-exhaust with intakes on the bottom and sides.



The left side offers up two USB 3.0 ports, a headset jack, and the RG-45 port, which is a half-height port that expands when needed to keep the design ethos intact. On the right, there is HDMI, along with a third USB 3.0 port, and the USB-Type C port. Although the number of ports are great, their placement is quite far forward in the chassis, which may be an issue for cable management depending on your setup. Acer has moved the barrel power connector to the back of the unit, which is great since it is easy to keep the power cord out of the way. It would have been nice to see that accompanied by some USB or video ports as well, in case you ever wanted to dock the laptop with rear connections, but once again, for a budget-focused design, you can not have everything.
Overall, the new design is similar to the previous one, with heavy use of plastics to keep costs down, and compared to more premium designs, such as Acer's Triton 500, you can clearly feel the impact of Acer targeting a lower price bracket, but if you wanted a gaming system on a budget, the correct place to save money would be the chassis design, so despite the shortcomings, they are expected, and a key factor in keeping the Nitro 5 in the price range it lives in.