Visual Inspection
One of the most striking features of the ASRock Z490 Aqua is the large custom milled monoblock, which cools both the CPU and the power delivery. It is slightly larger than a conventional motherboard, with its E-ATX sized frame. Still, ASRock looks to have used every available inch of the PCB to offer one of the most premium desktop-based models it has ever developed. It is unique, and the aluminum style stretches across the board from head to toe, with plenty of integrated RGB LEDs, including zones in the middle of the monoblock where users can see the liquid flow, just above the PCIe area, and within the chipset heatsink. In fact, this resembles the ASRock X570 Aqua, which we previously reviewed, but the Z490 version looks to have more 'oomph' about it in the aesthetics department.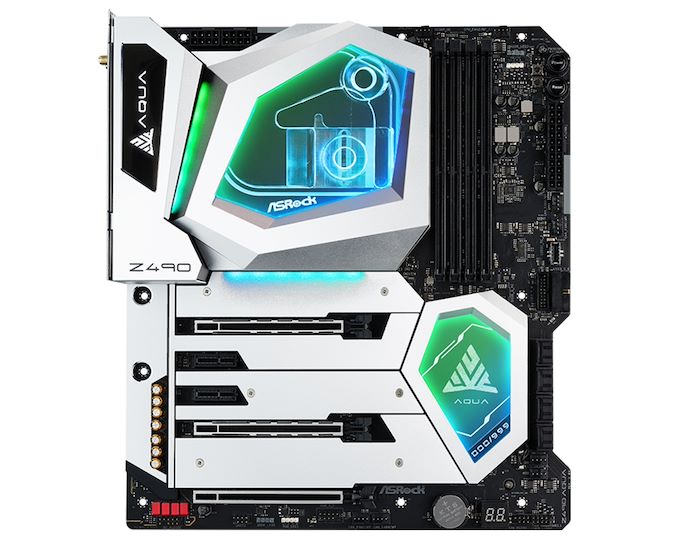 Looking at an overall view of the board, the large monoblock dominates the top section, with four memory slots in the top right-hand corner. These slots can accommodate up to 128 GB of memory, with maximum speeds of up to DDR4-4700. Just to the right of the memory slots is a small 'overclockers toolkit', which consists of a power button, reset button, a safe boot, and an OC retry switch pairing.
Located around the PCB edging at various points, includes eight 4-pin headers, which are split into one for a CPU fan, one for an optional CPU fan or water pump, and six for chassis fans, although these can also house water pumps. Adding to the already stacked rear panel is plenty of connectivity with two USB 3.2 G1 headers which provide up to four additional Type-A ports, a single USB 2.0 header which can add two USB 2.0 ports, and a premium USB 3.2 G2 Type-C header which is appearing more regular on premium motherboards.
Focusing on the lower portion of the motherboard, this is where all the board's PCIe slot support is. The ASRock Z490 Aqua uses three full-length PCIe 3.0 slots, which operate at x16, x8/x8, and x8/x8/+x4, with a further two PCIe 2.0 x1 slots. These two slots are just under the first full-length PCIe slot, so a standard GPU will lose at least one - a larger card such as the new NVIDIA GeForce RTX3080/3090 cards with a 2.5 or 3 slot cooler will almost certainly make both unusable.
ASRock lists the first PCIe slot and the first M.2 slot as having the potential to support PCIe 4.0. This will be, we expect, when Intel launches it next generation processors. Still no ETA on those. What's even more interesting is that while ASRock says this board has three M.2 slots in total, we can count four in the picture above. There's a special one on the left: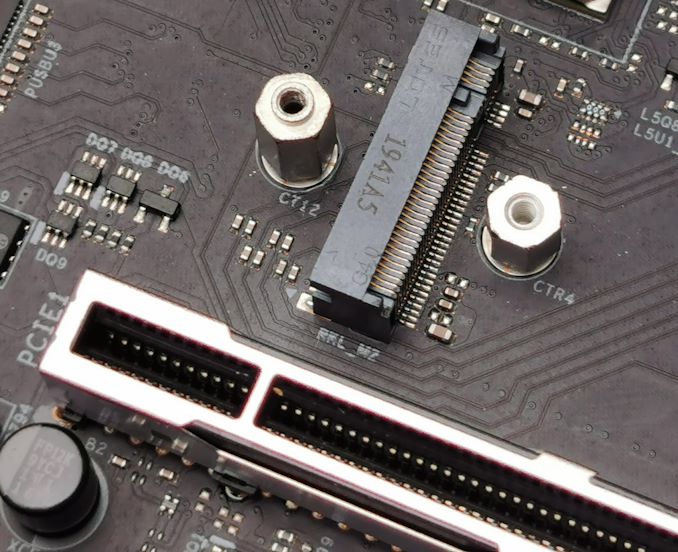 This says RKL_M2, incidating that this is an additional M.2 slot for use when Rocket Lake is launched for the platform. There's also a 'G4.0' writing on it too. This RKL_M2 is built directly in line with the M.2_1 on the right, and as such they can't both be used with a 2280 M.2 drive at the same time. ASRock does not mention this 'extra' RKL M.2 slot in the online specifications, but it is interesting that they've decided to create a separate physical M.2 for Rocket Lake. We're confused as perhaps the M.2_1 is not wired for it? There is likely a mux in there to determine which one is in use as well.
For storage on Comet Lake, the Aqua has three PCIe 3.0 x4 M.2 slots, with the bottom two also including support for SATA drives. Touching on SATA, there are a total of eight ports, with six driven by the chipset with support for RAID 0, 1, 5, and 10 arrays, while an ASMedia ASM1061 SATA controller powers the other two. All of the SATA ports support ACHI and hot plugging.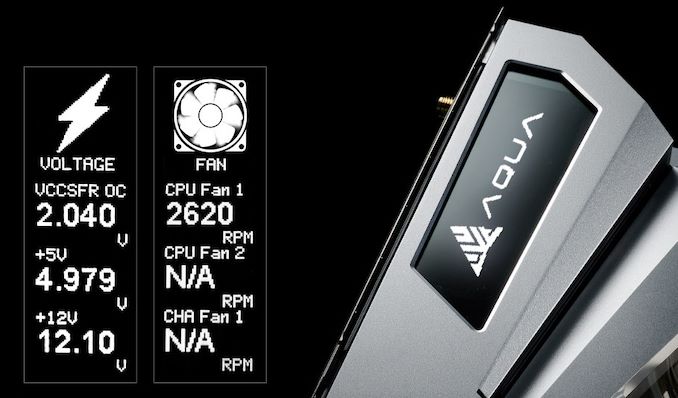 Integrated into the rear panel cover is a nifty OLED screen that can display multiple aspects, including POST status, current voltages, fan speed, and CPU/VRM temperatures. These variables can be customized in the firmware, and it gives a visual aid for any errors during POST, such as memory or VGA failures. Unfortunately, this cannot be customized to include custom GIFs or images, but it's a lot more premium than a standard two-digit LED POST, which ASRock does also include in the bottom right-hand corner of the board.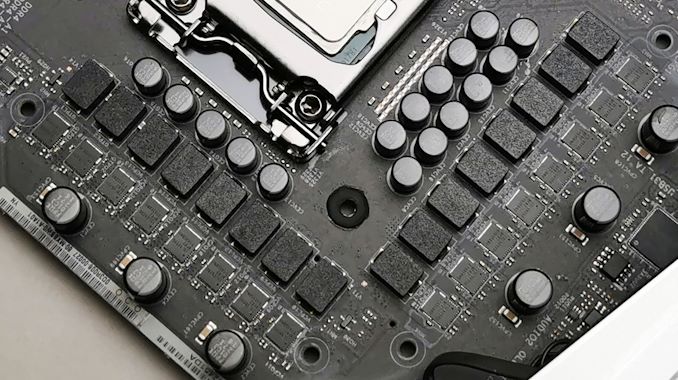 Underneath the custom aluminum monoblock is a highly overkill power delivery, designed for maximum performance. The Z490 Aqua is packing some serious VRM weaponry with a 16-phase design, with fourteen Intersil ISL99390 90 A power stages for the CPU VCore, and two ISL99390 power stages for the SoC. It is using an Intersil ISL69296 PWM controller operating at 7+2, with the CPU section phases doubled up with seven ISL6617A doublers. In contrast, it's unlikely that regular users will use this power delivery's full capability, with a very large 1260A power draw for the CPU alone. Providing power to the power delivery is a pair of 8-pin 12 V ATX connectors.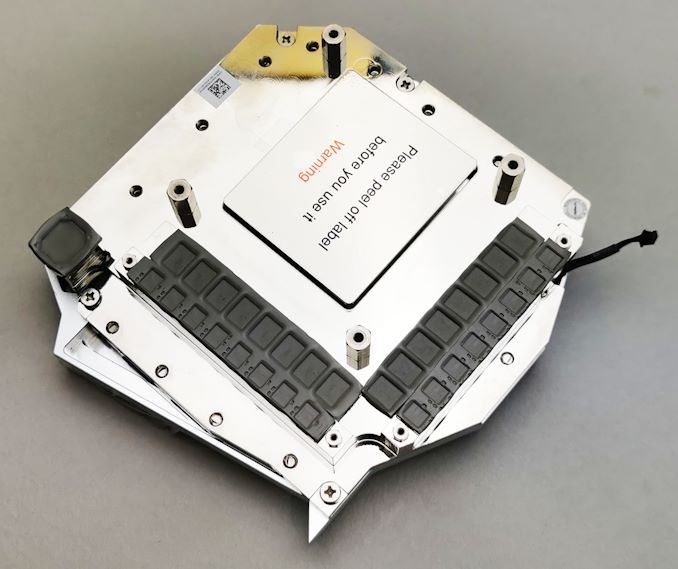 Cooling the CPU and power delivery is the large custom Aqua water block, with an inlet and outlet, and comes preinstalled on the board when purchased. The power delivery area includes a pre-applied set of thermal pads, with some spares included in the box should any mishaps happen during installation. It should be noted that it's pretty heavy, and the mounting pressure to the power delivery and the CPU socket area seems solid - we had no issues, however we have noted that a couple of users online seem to be having some trouble. For reference, the most northerly G1/4 threaded connector is the outlet, while the one underneath is the inlet.
The monoblock is actually mostly copper, with an aluminium plating on the top and a nickel base on the bottom. Overall the mount and the design feels a lot more refined than the AMD Aqua model, and clearly an improved version.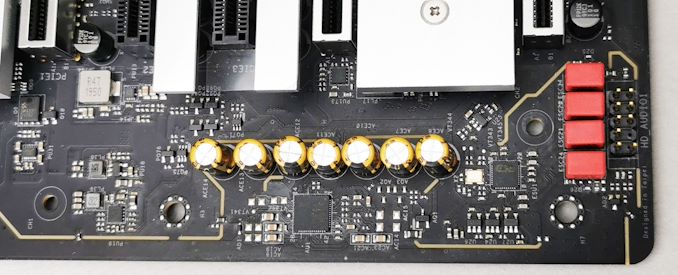 The audio PCB includes an array of capacitors and chips, all of which centers around the Realtek ALC1220 HD audio codec, which does all of the onboard audio processing. Complementing this is a total of seven gold Japanese Nichicon capacitors, with four WIMA audio capacitors. Designed to bolster the quality of the front panel audio header, ASRock includes an ESS SABRE9218 DAC. The audio componentry is also separated from the rest of the board's PCB, although the audio codec doesn't include any EMI shielding.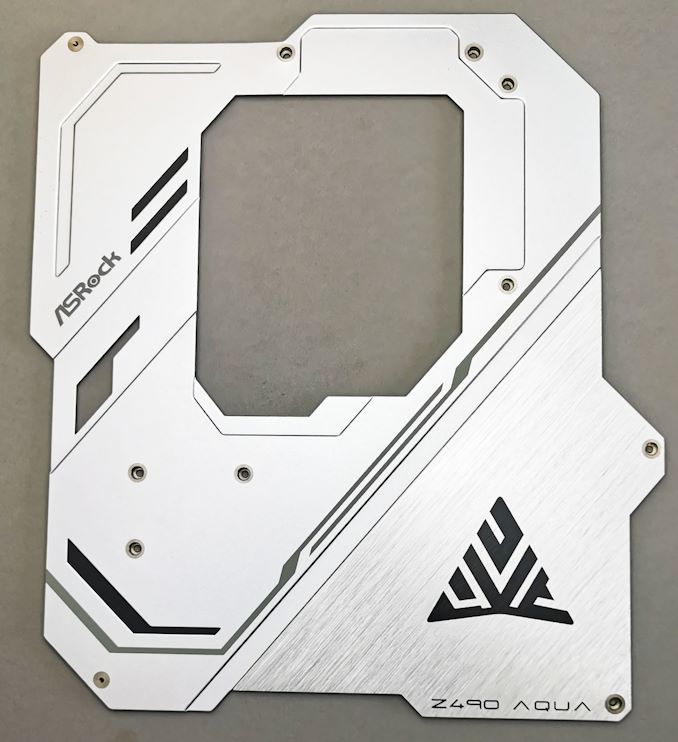 On the board's rear is a large aluminum backplate with Aqua branding towards the bottom right-hand side. This is designed to provide extra stability and rigidity to the board's structure. The monoblock itself is heavy, let alone any other components such as VGA or expansion cards are installed. It also includes thermal pads for the back of the power delivery, which allows the backplate to potentially aide in cooling them instead of choking them.

The rear panel has plenty of connectivity, which boasts two USB Type-C Thunderbolt 3 ports, which double up as USB 3.2 G2 Type-C 20 Gbps ports. Also featured are three USB 3.2 G2 Type-A, with four USB 3.2 G1 Type-A ports, and a single USB 3.2 G2 Type-C port, as well as a single HDMI video output for users looking to use integrated graphics, however unlikely with a board of this caliber. Also present is a pair of mini DisplayPort inputs, which expands the board's Thunderbolt 3 capabilities, The five 3.5 mm a Realtek ALC1220 HD audio codec powers audio jacks and S/PDIF optical output. At the same time, the board also includes a clear CMOS and BIOS Flashback switch pairing. Finishing off the rear panel is a trifecta of premium grade networking, with one RJ45 port driven by an Aquantia AQC107 10 gigabit Ethernet controller, the second by a Realtek RTL8125BG 2.5 gigabit Ethernet controller, and two antenna connectors for use with the Intel AX201 Wi-Fi 6 interface which also adds BT 5.1 connectivity.
The Thunderbolt 3 is on the far right on the IO ports, with two DisplayPort inputs and two Type-C outputs.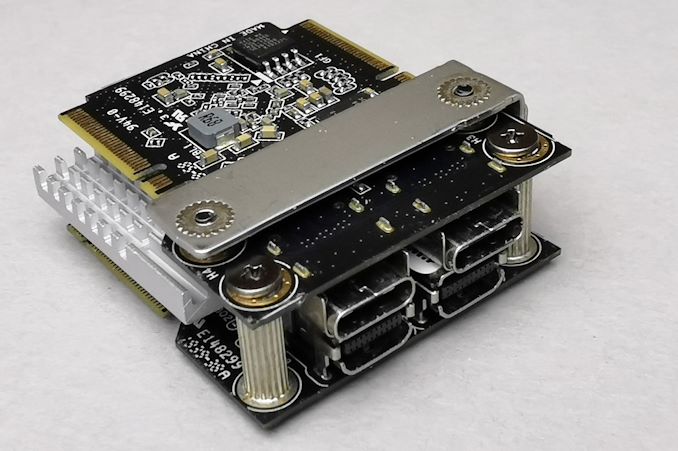 This is what the module looks like on the inside, and we can confirm it is using the JHL7540 Titan Ridge Controller.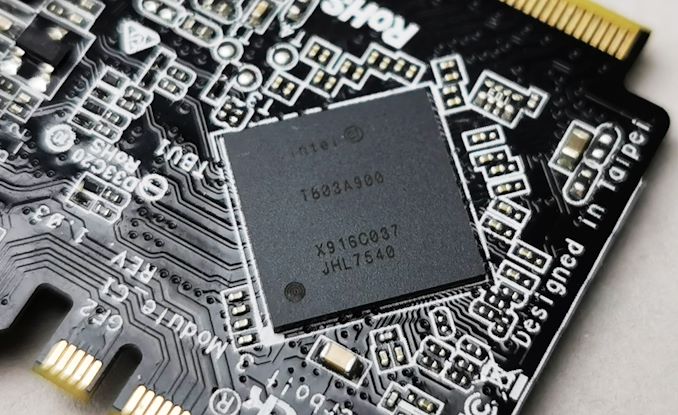 What's in The Box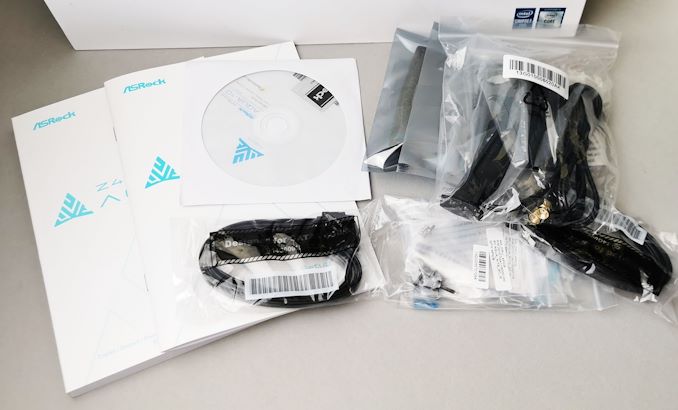 The ASRock Z490 Aqua includes a stacked accessories bundle with everything in the box to get a system up and running. This includes four SATA cables, an ASRock SLI two-slot adapter, spare thermal pads, a thermal compound tube, three M.2 installation screws, and an Intel AX201 Wi-Fi 6 interface antenna.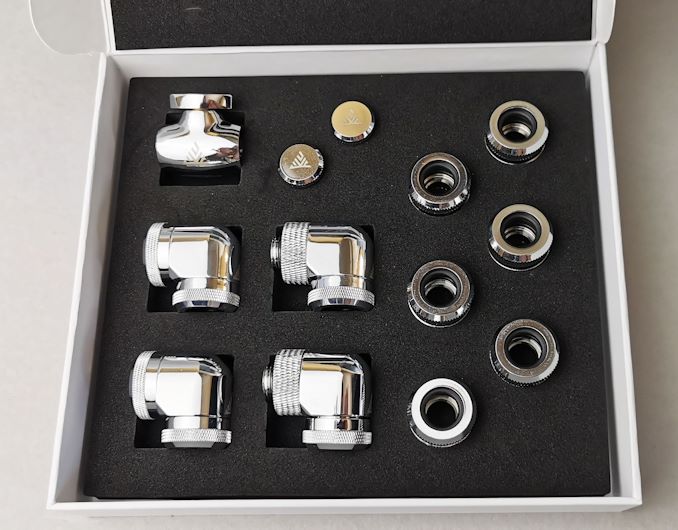 Perhaps the star of the included accessories show is a pack of custom Aqua branded water cooling fittings. These are all G1/4 fittings, with support for 14 mm OD tubing. Included are six straight fittings, four 90 degree angled fittings, two G1/4 plugs, and a ball valve. The entire package of the Aqua screams premium, and that's to be expected given the board's $1100 MSRP.
4 x SATA cables
ASRock SLI HB bridge (two slots)
Intel AX201 Wi-Fi 6 antenna
Tube of thermal compound
5 x Spare thermal pads
4 x Spare screws for the power delivery area
4 x Spare screws for the CPU socket
2 x 90 degree G1/4 to 14 mm tube fittings
6 x G1/4 to 14mm straight tube fittings
2 x G/14 plugs
Ball valve
3 x M.2 screws
2 x M.2 standoffs