Visual Inspection
The GIGABYTE MZ31-AR0 is an E-ATX motherboard designed for workstation and server environments. Rev 1.x is compatible with AMD's EPYC 7001 family of processors, and features a rotated LGA 4094 CPU socket which makes it suitable for 1U chassis types for airflow, although users can use it in with compatible chassis that support E-ATX form factors. It uses GIGABYTE's recognizable blue PCB, with black PCIe slots, white power inputs, and black and blue alternating memory slots.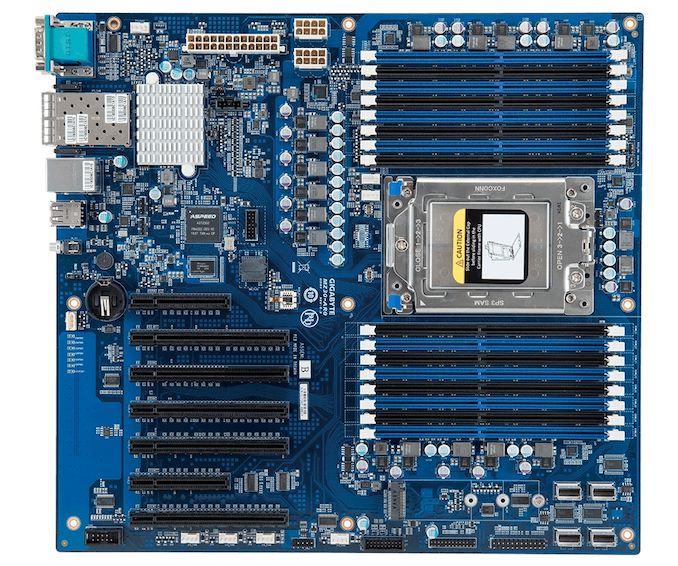 Using an E-ATX sized PCB, this has allowed GIGABYTE to include plenty of expansion support. In the bottom left-hand corner there are seven PCIe expansions slots including five full-length PCIe 3.0 x16 slots, one full-length PCIe 3.0 x8 slot, and two half-length PCIe 3.0 x8 slots. The configuration used with all slots combined is x8/x16/x8/x16/x16/x8/x16, with GIGABYTE opting for single slot spacing between each slot.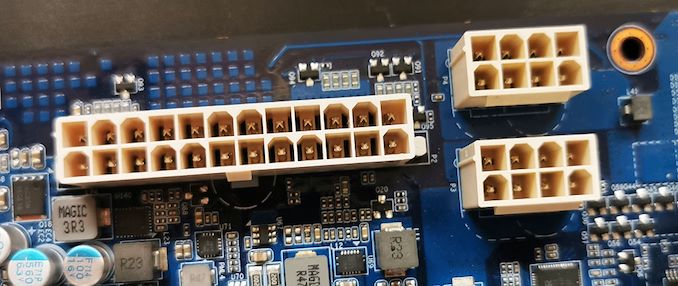 Providing power to the board is a single 24-pin 12 V ATX power input, while the for CPU power is a pair of 8-pin 12 V ATX power inputs. Located around the board is plenty of headers and I/O. For cooling the MZ31-AR0 has two dedicated 4-pin CPU fan headers and five for chassis fans. A front panel header allows users to connect up power, HDD LED indicator and reset buttons for a chassis, while the board also includes a single TPM and COM2 header. For use in 1U or compatible server blades, the board includes a single HDD backplane header, a PMBus, and IPMB header, with a clear CMOS and BIOS recovery jumper.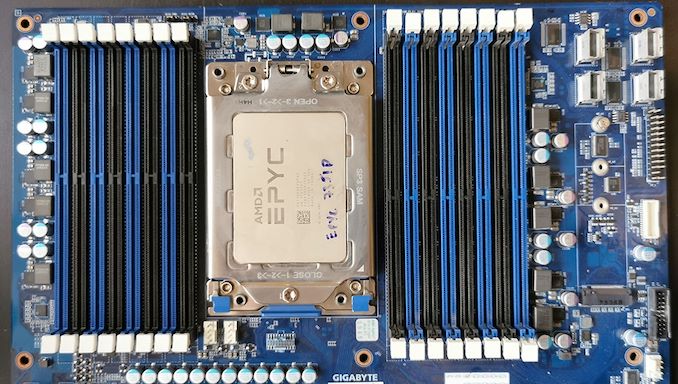 Due to the E-ATX sized frame, GIGABYTE includes a total of sixteen memory slots which has support for up to 2 TB of LRDIMM and RDIMM ECC memory modules (Ian: I tried 2TB, it worked!). The GIGABYTE MZ31-AR0 has support for up to DDR4-2666 memory when used in a 1 DIMM per channel configuration, but DDR4-2400 and DDR4-2133 are also supported with this model. Due to the location of the PCIe 3.0 slots and the memory slots, there may be some incompatibility with larger expansion cards as our testbed NVIDIA GTX 1080 protrudes over the right-hand side memory slots. The only two slots not restricted are the two bottom PCIe 3.0 slots (x8/x16).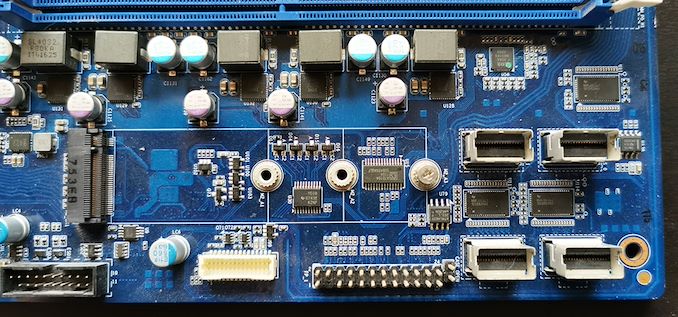 The board is well-equipped on storage with four SlimSAS ports with each port offering support for up to four SATA devices and drives. This gives a total of sixteen SATA slots, with assistance from a single PCIe 3.0 x4 M.2 slot which supports up to M.2 2280 form factor drives.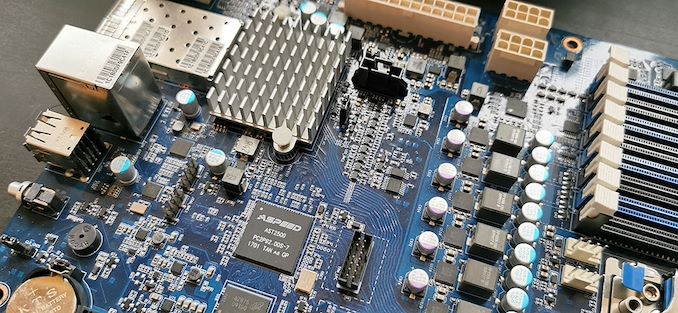 Located in the top left-hand section near to the rear panel I/O is the Aspeed AST2500 remote management controller which is assisted by a rear panel Gigabit Ethernet port which allows BMC control from a network, and a single D-sub video output. Just above this is a silver cross-cross heatsink which keeps the Broadcom BCM57810S Ethernet controller cool. The Broadcom BCM 57810S provides two SPF+ 10 G Ethernet ports on the rear panel, although the ports do support Gigabit networks too.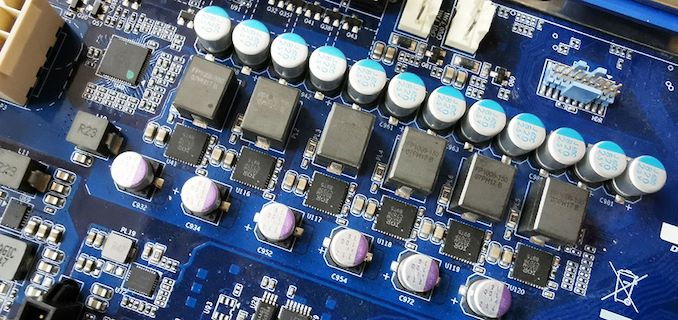 As the GIGABYTE MZ31-AR0 is designed for workstation and server systems, the power delivery equipped is modest but effective in delivering enough power to support up to 32-core AMD EPYC processors. Its power delivery is using a simple 6-phase setup with no heatsink used, which means cooling it will rely on having adequate passive airflow in whichever chassis it is installed into.

On the rear panel is little in the way of USB support with two USB 3.1 G1 Type-A, and two USB 2.0 ports. This required us to use a USB hub to install our testbed operating system (Windows 10 1909) with a keyboard and mouse plugged in; shrewd users can do so while just using a keyboard or mouse. Also present is an ID button with an LED, one Gigabit Ethernet port for the BMC, two SFP+ 10 G Ethernet ports powered by a Broadcom BCM 57810S Ethernet controller. A solitary serial port and D-sub video output powered by the Aspeed AST2500 remote management controller finish off a basic, but effective rear I/O.
What's in The Box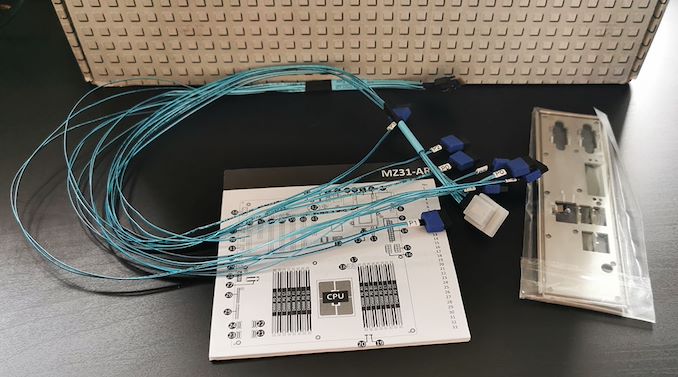 Included in the retail packaging is two SlimSAS to SATA cables which gives users the ability to install up to eight SATA devices out of the box. Also present is an I/O shield and a quick start guide. When bought in bulk (10 units), each box comes with just an I/O shield.
2 x SlimSAS cables (four SATA per cable)
Rear Panel I/O shield
Quick Start guide