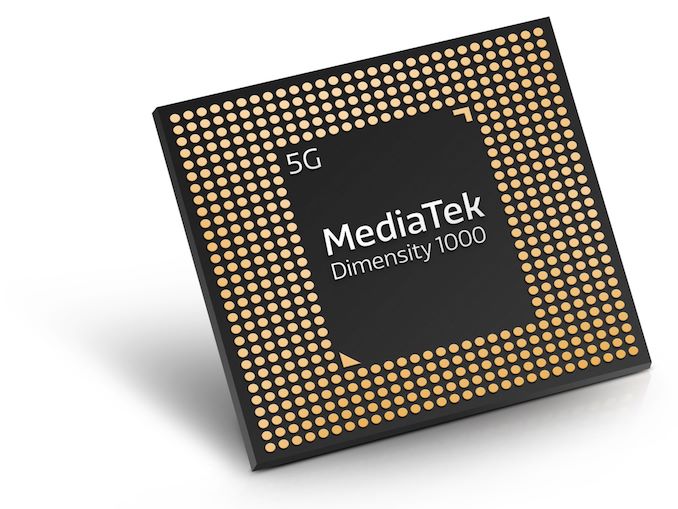 Today MediaTek is announcing the new Dimensity 1000 SoC – the company's new 5G flagship SoC for 2019 and early 2020. The announcement really isn't too much of a surprising new reveal, as the "5G SoC" was announced some time ago in May with the company describing its 5G capabilities as well as the inclusion of the new Cortex-A77 and Mali-G77 IPs. What MediaTek does today however is to officially name the new chipset, and go into a few more details on the specifications.
First of all, the naming of the chipset is part of rebrand for the company's SoC line-up going forward. The "Dimensity" name is meant to usher in a new generation and differentiate the new 5G SoC from the previous 4G Helio line-up.
"We chose the name Dimensity to highlight how our 5G solutions are driving new waves of innovation and experiences, much like the fabled fifth dimension,"

- MediaTek President Joe Chen.
MediaTek SoCs
SoC
Dimensity 1000
Helio G90
(Helio G90T)
CPU
4x Cortex A77 @ 2.6GHz
4x Cortex A55 @ 2.0GHz
2x Cortex A76 @ 2.0GHz
(2.05GHz)
6x Cortex A55 @ 2.0GHz
GPU
Mali-G77MP9 @ ? MHz
Mali G76 MP4 @ 720MHz
(800MHz)
APU / NPU / AI Proc. / Neural IP
"3rd gen APU"
2 "big" + 3 "small" + 1 "tiny"

4.5TOPs total perf
2x APU


+1TOPs total perf
Memory
4x 16b LPDDR4x
LPDDR4X @ 2133MHz
ISP/Camera
80MP
or
32MP + 16MP
1x 48MP (64MP)
or
2x 24+16MP
Encode/
Decode
2160p60
H.264 & HEVC
& AV1 (Decode)
2160p30
H.264 & HEVC
Integrated Modem
5G Sub-6

DL = 4600Mbps
200MHz 2CA, 256-QAM,
4x4 MIMO

UL = 2500Mbps
200MHz 2CA, 256-QAM,
2x2 MIMO

LTE Category 19 DL
Category 12/13

DL = 600Mbps
3x20MHz CA, 256-QAM, 4x4 MIMO

UL = 150Mbps
2x20MHz CA,64-QAM
Connectivity
WiFi 6 (802.11ax)
+ Bluetooth 5.1
+ Dual Band GNSS
Mfc. Process
N7
12FFC
At the heart of the Dimensity SoC lies the new Cortex-A77 CPU. MediaTek was notoriously first to announce a product based on the new IP, only days after Arm had themselves publicly revealed the new microarchitecture. Today MediaTek goes into more detail, and explains that the CPU configuration on the Dimensity 1000 (Let's just call it the D1000) is a 4x Cortex-A77 setup running at 2.6GHz alongside 4x Cortex-A55's at 2.0GHz. The 2.6GHz clock rate is pretty much spot on where we expected the first A77 configuration to land at, and should make the D1000 extremely competitive on the high-end of the SoC market.
The fact that this is a SoC with 4 big cores further enforces the notion that this is a flagship chip, and is a departure from MediaTek's CPU strategy of the previous few years. The SoC also employs a new Mali-G77 GPU in an MP9 configuration. This setup is 19% smaller than the MP11 in the Exynos 990, but MediaTek also doesn't disclose any clock frequency, so the end performance likely isn't fully determined yet. Nevertheless, it's a very competitive GPU configuration.
The chip continues to support LPDDR4 - so while we'll see LP5 from the competition, it still makes sense for MediaTek to use LP4 this generation.
MediaTek also employs its own third-generation neural processing unit which it calls "APU 3.0". It says it's able to double the performance over its previous generation chipsets. MediaTek fared quite well in some benchmarks here due to its quite complete software stack supporting all the new NNAPI features, whilst other vendors such as Qualcomm or Samsung still have incomplete solutions.
ISP capabilities have been improved and the new SoC will support camera sensors with resolutions of up to 80MP at 24fps, or multi-camera setups with 32+16MP sensors. Media encoding capabilities fall in at 4K60, but here the biggest surprise lies in the chipset's support for AV1 video decoding. As far as we're aware, this make the D1000 the very first consumer mobile SoC to support the format, which is a great leap forward in terms of future-proofing the devices which are based on the new chip.
Most importantly what justifies the Dimensity 1000 adopting a whole new branding is the fact that it's a 5G with a new integrated modem. MediaTek discloses it supports 5G Sub-6 in both SA and NSA, and is capable of download speeds of up to 4600Mbps thanks to 2x carrier aggregation, as well as upload speeds of up to 2500Mbps. We currently don't have information on the 4G capabilities and if the carrier aggregation differs to the 5G abilities.
MediaTek describes its 5G modem implementation as extremely power efficient and claims it's ahead of competing solutions in this regard, an interesting claim which hopefully we'll maybe get to test in 2020.
The company says we'll be seeing devices based on the new chipset later this year as well as in early 2020. Overall, it seems like MediaTek's new push into 5G is a bigger than usual effort to try to re-enter the flagship device market, and based on pricing, the Dimensity 1000 should end up as a competitive offering.
Related Stories: