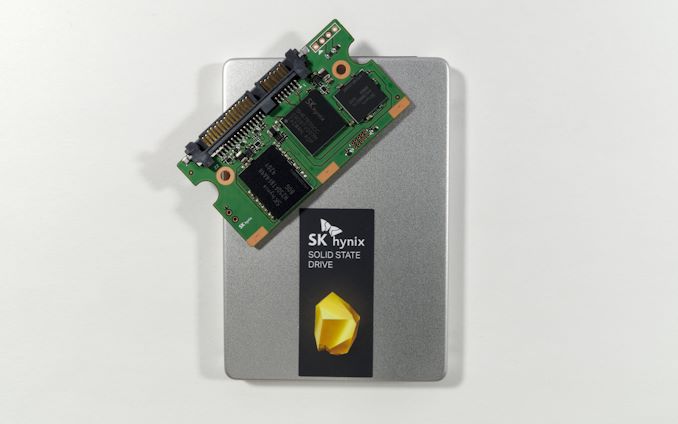 SK Hynix has been in the NAND and SSD business for a long time, but we haven't had the opportunity to review a drive with SK Hynix NAND in years. In most respects, SK Hynix fared the worst with the transition to 3D NAND, and their 3D NAND has not been used in very many SSDs aside from their own models. SK Hynix 3D NAND has been considerably more popular in mobile applications like smartphones and memory cards, and their client OEM SSDs are widespread but not sampled for review. This year, SK Hynix decided to start competing directly in the retail SSD market by introducing the SK Hynix Gold S31 SATA SSDs. (Outside North America, SK Hynix has been selling some SSDs under subsidiary brands.)
The Gold S31 showcases SK Hynix's vertical integration with the NAND, DRAM, controller and firmware all produced in-house. Samsung is the only other company that regularly produces SSDs with this degree of vertical integration; Micron uses third-party controllers for most of their SSDs, and the other NAND manufacturers have in-house controllers but don't make their own DRAM.
SK Hynix Gold S31 SSD Specifications
Capacity
250 GB
500 GB
1 TB
Form Factor
2.5" 7mm SATA 6Gbps
Controller
SK Hynix "Quartz"
NAND Flash
SK Hynix 3D-V4 72-layer 3D TLC, 512Gbit
DRAM
SK Hynix LPDDR3
Sequential Read
560 MB/s
Sequential Write
525 MB/s
Warranty
5 years
Write Endurance
200 TB
0.4 DWPD
300 TB
0.3 DWPD
600 TB
0.3 DWPD
Current Retail Price
$39.99
(16¢/GB)
$59.99
(12¢/GB)
$118.99
(12¢/GB)
The NAND in the Gold S31 SSDs is SK Hynix's fourth generation 3D NAND, a 72-layer design that is competing against the 64L and to some extent 92/96L generations from other manufacturers. All three capacities of the S31 are made using 512Gbit TLC dies.
SK Hynix didn't share much information about the SSD controller that the S31 uses, but it's codenamed "Quartz" and is a fourth generation design. Based on the chip markings of "SH87830CC" it would appear to be a descendant of the LM87800 controller that was part of Hynix's 2012 acquisition of Link A Media Devices (LAMD).
The Gold S31 uses LPDDR3 for its DRAM cache. Aside from Samsung, most SSD vendors use DDR3L or DDR4 instead of any generation of LPDDR. Since Hynix is one of the major DRAM manufacturers, it isn't too surprising to see them go a bit fancier here.
Combined, these components are the backbone of a mainstream SATA SSD. SK Hynix has attached the typical 5-year warranty and ~0.3 drive writes per day endurance rating, and priced it to compete against other mainstream SATA drives.
The Gold S31 is only available in the 2.5"/7mm SATA form factor, but a peek inside at the PCB layout shows how easy it is now to fit a reasonable amount of storage on a much smaller M.2 card. The PCB takes up only a fraction of the interior of a 2.5" drive case, and the board is held in place by a plastic insert. The PCB is double-sided to accommodate two NAND flash memory packages, and on the primary side of the PCB are one package each for the controller and NAND.
SK Hynix sampled us the full range of capacities for the Gold S31. Their competitors haven't sent us any current-generation 250GB-class mainstream SATA drives, so we're only comparing the smallest S31 against the DRAMless Toshiba TR200 and against larger drives. To see how the 250GB S31 matches up against older drives of similar capacity, head over to our Bench database.
AnandTech 2018 Consumer SSD Testbed
CPU
Intel Xeon E3 1240 v5
Motherboard
ASRock Fatal1ty E3V5 Performance Gaming/OC
Chipset
Intel C232
Memory
4x 8GB G.SKILL Ripjaws DDR4-2400 CL15
Graphics
AMD Radeon HD 5450, 1920x1200@60Hz
Software
Windows 10 x64, version 1709
Linux kernel version 4.14, fio version 3.6
Spectre/Meltdown microcode and OS patches current as of May 2018