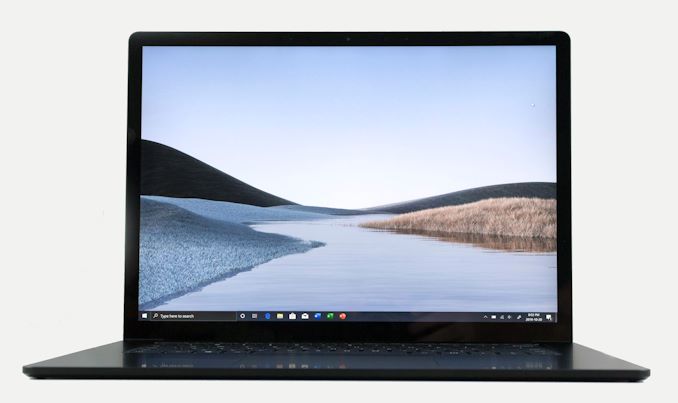 This year at Microsoft's somewhat annual Surface update event, Microsoft surprised everyone by not only announcing a newer and larger Surface Laptop 3, bumping the screen size from 13.5-inches to 15-inches, but also by selecting an AMD processor for the laptop. Though still an incremental shift when looking at the entire Surface lineup, it was a big change for Microsoft, as well as a big win for AMD. Not only is Microsoft now offering a traditional, clamshell laptop in the ever-popular 15-inch form factor, but it's the highest profile laptop yet to ship with one of AMD's APUs.
While there's a lot more to the 15-inch Surface Laptop 3 than just its processor, certainly this is the highlight of the announcement. Up until now, Microsoft has relied exclusively on Intel processors for their entire range of x86 Surface devices. So this marks Microsoft's first departure from their long-time CPU provider, while highlighting a deeper connection between Microsoft and AMD that has grown from their Xbox work. And to be sure, it's beneficial to both parties – Microsoft gets a second supplier of x86 chips with a more graphics-heavy performance balance, and AMD gets a top-shelf laptop vendor that has gone the extra mile to optimize their setup.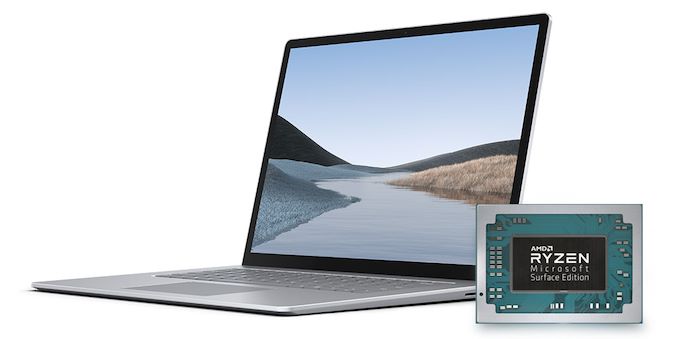 Indeed, that optimization is perhaps the most important aspect of this latest partnership. While Microsoft and AMD perhaps go too far in touting the laptop's processor as "semi custom" – it's a specialized bin of AMD's existing Ryzen 3000 series Picasso APUs with a bit more graphics performance – what's not exaggerated is the work that the two parties have put into the final product. As we learned from AMD earlier this month, a great deal of effort has been put into the firmware, the drivers, and the software stack for the AMD-powered Surface Laptop 3, and these days these factors are often as important as the hardware itself, since problems here can lead to bad experiences elsewhere. This is a level of effort and co-design work that goes beyond what's been done for any other Ryzen-powered laptops, and as a result, the Surface Laptop 3 is AMD's chance to show its best foot forward at a critical time.
Meanwhile, for the rest of the laptop, there's a good deal to unpack here as well. The larger design alone represents a significant change for the Surface Laptop family, giving Microsoft a laptop better sized to be used as a true desktop replacement machine. 15 inches means more room for a larger screen, more room for cooling, etc, resulting in a machine that's going to be a bit less portable than the 13.5-inch model, but arguably easier to work with over long periods of time. All the while, it's interesting just how much the new 15-inch model resembles the smaller Surface Laptop – every aspect of the design has been scaled up so that it feels like the same sharp machine as the 13.5-inch model.
For this generation of the Surface Laptop family, the Surface team has also changed one of the defining characteristics of lineup by making a version available without the Alcantara fabric keyboard deck. Discussing this with the designers, they said that owners with the synthetic fabric keyboard deck were overwhelmingly happy with it, despite fears of it getting dirty or damaged; but that they also heard from potential buyers who just prefer a more traditional aluminum feel. So for the 15-inch Surface Laptop 3, it's is aluminum only, available in Platinum or Black. Meanwhile the 13.5-inch model sees some similar changes, offering Sandstone, Black, or Platinum colors with a metal deck, or Cobalt Blue and Platinum colors with the Alcantara deck.
Microsoft Surface Laptop 3
Model Tested: 15-inch Ryzen 5 3580U 16GB 256GB $1499
13.5-Inch
15-Inch (Intel)
Enterprise Only
15-Inch (AMD)
Consumer
Processor
Intel Core i5-1035G7
4C/8T, 1.2-3.7GHz, 6MB L3, 10nm

Intel Core i7-1065G7
4C/8T, 1.3-3.9GHz, 8MB L3, 10nm
AMD Ryzen 5 3580U
4C/8T, 2.1-3.7GHz, 15w

AMD Ryzen 7 3780U
4C/8T, 2.3-4.0GHz, 15w
Memory
8 GB or 16 GB Dual-Channel LPDDR4X-3733
8/16/32GB Dual-Channel DDR4-2400
Graphics
Intel Core i5-1035G7
Intel Iris Plus "G7" Graphics (Gen 11, 64 EU)

Intel Core i7-1065G7
Intel Iris Plus "G7" Graphics (Gen 11, 64 EUs)
AMD Ryzen 5 3580U
Vega 9 Graphics (9 CUs)

AMD Ryzen 7 3780U
Vega 11 Graphics (11 CUs)
Display
13.5" 2256x1504 3:2 PixelSense
Touch and Pen support
Individually calibrated panels
15" 2496x1664 3:2 PixelSense
Touch and Pen support
Individually calibrated panels
Storage
128 GB, 256 GB, 512 GB, 1 TB PCIe NVMe
128 GB, 256 GB, 512 GB PCIe NVMe
Networking
802.11ax
Bluetooth 5.0
802.11ac 2x2 MIMO
Bluetooth 5.0
Audio
Omnisonic Speakers
Dolby Audio Premium
Battery
46 Wh
60 + 5 W AC Adapter
Right Side
Surface Connect Port
Left Side
USB Type-A
USB Type-C
Headset Jack
Dimensions
308 x 223 x 14.51 mm (12.1 x 8.8 x 0.57 inches)
339.5 x 244 x 14.69 mm (13.4 x 9.6 x 0.57 inches)
Weight
Fabric: 1.25kg
Metal: 1.31kg
1.54kg
Camera
Front: 720p Camera and Windows Hello support
Dual far-field Studio Mics
Extras
Surface Pen and Dial (sold separately)
TPM 2.0
Pricing
8GB/128GB/i5: $999
8GB/256GB/i5: $1299
16GB/256GB/i7: $1599
16GB/512GB/i7: $1999
16GB/1024GB/i7: $2399
Enterprise Sales Contract
8GB/128GB/R5: $1199
8GB/256GB/R5: $1499
16GB/256GB/R5: $1699
16GB/512GB/R7: $2099
32GB/1024GB/R7: $2799
As is typical of the Surface lineup, Microsoft has stuck with the 3:2 aspect ratio which has served them so well, and with the same pixels-per-inch (PPI) of the 13.5-inch model, which results in a somewhat strange sounding 2496x1664 resolution. This is almost exactly 200 PPI, matching the smaller 13.5-inch model, but well short of the Surface Pro and Surface Book devices which come in around 270 PPI. It's still a sharp display, with over double the density of a "standard" 96 PPI display, so while not quite as crisp as the Surface Pro and Surface Book, it's still a good resolution and one that should help with battery life.
Microsoft has finally made the jump away from the Marvell network adapters that have been so prominent in their other products. Ice Lake-based devices (including the enterprise-only 15-inch Surface Laptop 3) get Intel's own Wi-Fi 6, while AMD systems get a Qualcomm Wi-Fi 5 solution that we're admittedly less than enthusiastic about. However, the good news is that Microsoft has finally embraced USB-C by supplanting the DisplayPort output with the more modern connector. It does not support Thunderbolt 3, but regardless it's still a nice addition to the lineup since this was a feature that was certainly lacking from the last couple of generations. This doubles the number of USB ports from just a single USB-A port, to both USB-A and USB-C ports. And of course it still offers the Surface Connect port as well for charging and docking if necessary, further expanding the connectivity.