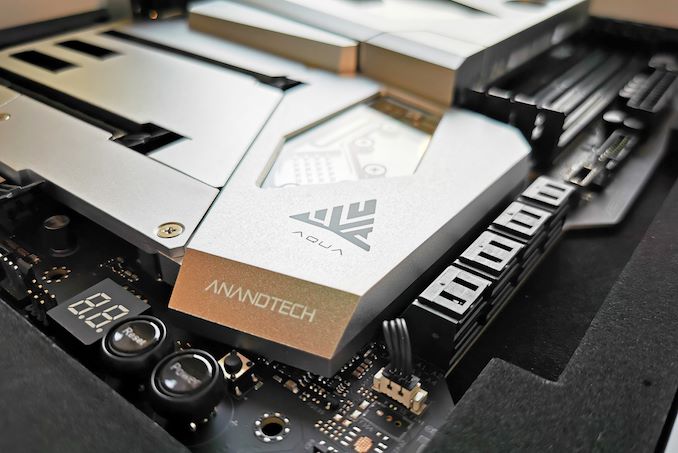 This year marks the 50th anniversary of AMD's contribution to the industry and AMD's various partners have celebrated this notable achievement. One such company is ASRock, which has released its limited-edition ASRock X570 Aqua motherboard to the market with just 999 pieces available for purchase. While the launch would have coincided nicely with the AMD Ryzen 9 3950X 16-core processor, users will, unfortunately, have to wait until November for that, but the X570 Aqua is now available to users with a $999 price tag attached.
One of the most important aspects surrounding performance on AMD's Ryzen 3000 series is temperature. Now it is no secret that the AMD 7nm chips run somewhat warmer than previous generations. One of the most effective cooling methods to keep system components from overheating is liquid cooling, and while a lot of AIO CPU cooling manufacturers have spawned a plethora of models over the last couple of years, custom liquid cooling still reigns supreme.
With this, ASRock's X570 Aqua aims at the upper eschelons of the market, with a full motherboard water block and heatsink combination.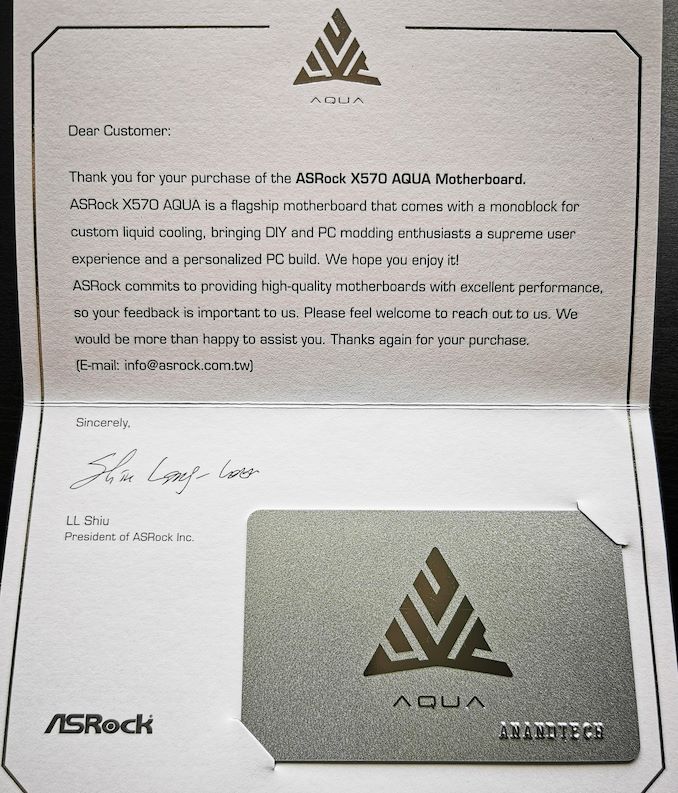 Thank you note and Credit Card style Aqua Card
Life in Plastic, it's Fantastic: Nope
Enter the ASRock X570 Aqua with its sleek and robust full cover aluminium armor and a trifecta of water blocks moulded into one unique and custom liquid cooling solution. The aluminium Aqua cooling armor is designed to keep the power delivery, the processor, and the X570 chipset cool, but with added stylings due to integrated addressable RGB LEDs which make the portholes of the blocks look exquisite when in operation. Due to the full cover aluminium armor, it makes this board weigh a considerable amount, but that's a trade-off from using a quality material over waves of plastic. The two connections to hook up the water block are G1/4 thread which is the most commonly used fitting. We know what's underneath the chipset section of the block and it's up to the user as to which processor is used, but underneath the power delivery section is a 14-phase power delivery with 60 A power stages which are designed for enthusiasts. Providing power to the power delivery is an 8-pin and 4-pin pair of 12 V ATX CPU power inputs. We will be analysing the power delivery in detail in the full review.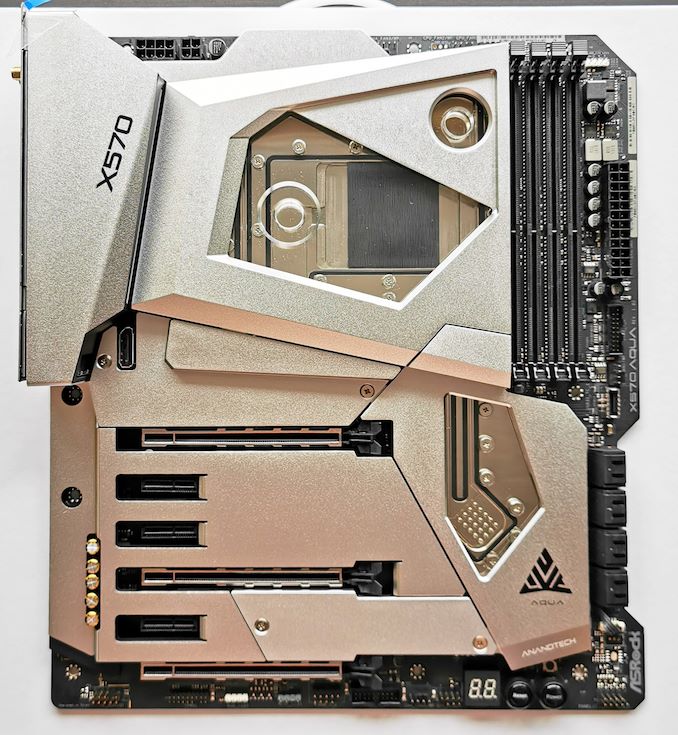 ASRock's halo X570 Aqua has some very high-end componentry onboard which includes an Aquantia AQC107 10 GbE NIC, with a supplementary Intel I211-AT Gigabit NIC which provides users with dual Ethernet on the rear panel. Also featured is an Intel AX200 Wi-Fi 6 wireless interface which provides both 802.11ax and BT 5.0 connectivity. ASRock has gone all out with its X570 Aqua by validating support for DDR4-5200 memory out of the box across its four available memory slots. This also allows users to install up to and including 128 GB. On the bottom section of the board is three full-length PCIe 4.0 slots which operate at x16, x8/x8, and x8/x8/x4. Sandwiched in between the full-length slots are three PCIe 4.0 x1 slots for users to install additional cards eg, dedicated sound cards, RAID, and networking controllers. At the bottom right-hand side of the PCB is a two-digit LED debugger, a reset switch, and a power switch. Around the board is three 4-pin fan headers split between a CPU fan, a CPU/water pump, and chassis/water pump fan header. This will require users with lots of cooling fans to use splitter cables, a fan hub, or a dedicated fan controller.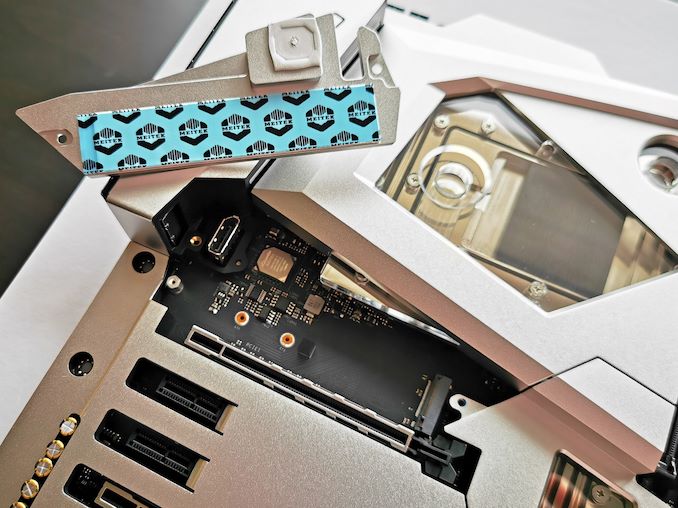 Onto the storage and the X570 Aqua has two PCIe 4.0 x4 M.2 slots which include individual heatsinks, and this model makes use of an ASMedia ASM1061 SATA controller which allows the Aqua to include eight SATA ports; four from the ASM1061 controller and four directly from the X570 chipset. As per the specifications, only the four from the X570 chipset features support for RAID 0, 1, and 10 arrays, but all the SATA ports support AHCI and hot plugging.

Another prominent feature of the ASRock X570 Aqua is on the rear panel with two Thunderbolt 3 Type-C ports, with a further six USB 3.1 G2 Type-A ports. For users looking to make full use of the graphic output capabilities of the Thunderbolt 3 ports, ASRock has included a single DisplayPort 1.4 input which allows a link between a discrete graphics card and the ports for driving multiple 4K displays from a single video output. A Realtek ALC1220 HD audio codec controllers the five 3.5 mm audio jacks and S/PDIF out on the rear panel, while a Texas Instruments NE5532 is included to improve the front panel audio with capabilities to drive headphones of up to 600 Ohms.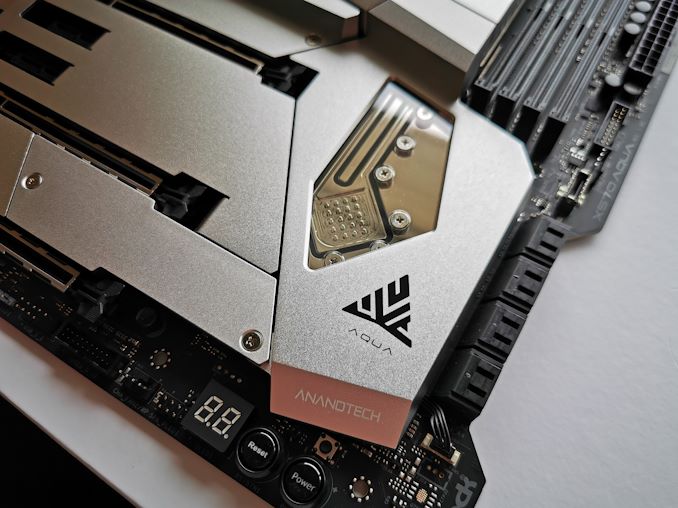 It's not cheap, but why is it $999?
The ASRock X570 Aqua isn't for everyone and users looking opt for the monolithic E-ATX aluminium clad model will have to use a custom water cooling solution. This will add a further cost on top of the $999 premium ASRock is charging for its X570 Aqua which will see just 999 be made available to the general public. To summarise the breakdown in the cost easily, consider this generations flagship models. X570 flagships this generation seem to cost around $700 (MSI X570 Godlike, GIGABYTE X570 Aorus Extreme, ASUS Crosshair VIII Formula). Factor this into the equation because on paper without the bells and whistles of the aluminium, the ASRock X570 Aqua is flagship level on specifications alone. Doing the math roughly looks a little like this:
General Flagship X570 Motherboard - $700
EKWB CPU block - $80
Current Availablity of X570 chipset blocks - N/A
Current Availablity of X570 VRM blocks - N/A
One thing that also has to be factored into the price is exclusivity; there are only 999 units available for purchase. If this works well with the audience, then rarity would add a price premium. By the time you factor in the boards PCB, the full cover aluminium Aqua armor, the cooling provided on the three main areas that require cooling in a system (CPU, power delivery, chipset), it doesn't make the price seem all that bad. Of course, price is relative to what a user is willing to pay, but the overall package and presentation scream high-end with a mighty roar. With the Ryzen 9 3950X having been pushed back to November, but users looking to overclock it will almost certainly need custom cooling and the Aqua could be the unique route to go down if budget permits it.
Expect the full and detailed review in the coming weeks.