OCZ 3700 Gold Rev. 3
OCZ produces a complete line of memory from value-priced memory to some of the fastest enthusiast memory that we have tested. While their memory products may be the best known to most, they also produce heatsink/fans, thermal compound, the recently introduced power supply line, and an innovative DDR voltage booster.
3700 Gold has been a very well-known memory product for OCZ, as you can see in our earlier reviews of the
original 3700 Gold
and
3700 Gold Rev 2
. The first two generations of 3700 Gold earned quite a reputation for outstanding overclocked performance, but they were also premium-priced DIMMs. This latest Revision 3 is the first 3700 Gold to be marketed by OCZ as a value DIMM.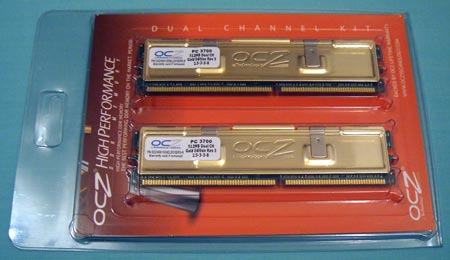 Test DIMMs were a pair of OCZ 3700 Gold Rev. 3 in a 1GB kit (2x512MB modules). PC3700 Gold Rev. 3 is available as a 512MB kit (2x256MB DIMMs), a 1GB kit (2x512MB), and as individual 256MB and 512MB DIMMs. The 3700 Gold Rev. 3 is shipped in the new Orange OCZ package.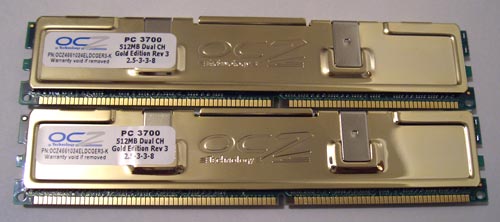 OCZ uses trademark gold colored heat spreaders on the 3700 Gold, which should not come as a surprise to anybody. SPD timings are specified on the label. OCZ tells us that the memory chips for 3700 Gold Rev. 3 are manufactured by Hynix. A quick check showed the Hynix chips to be the recent DT-D5 chips.
OCZ 3700 Gold Rev 3 Specifications
 OCZ 3700 Gold Rev. 3 Memory Specifications
Number of DIMMs & Banks
2 DS
DIMM Size
Total Memory
512 Mb
1 GB
Rated Timings
2.5-3-3-8 at DDR466
SPD (Auto) Timings
2.5-3-3-8
Rated Voltage
2.8V (3.15V Maximum)
Voltage is specified as 2.8V at the rated DDR466. We found that much voltage worked fine at lower memory speeds. OCZ specifies the highest recommended voltage as 3.15V, which certainly allows for even higher overclocking on the few boards that support this memory voltage. This also provides some headroom if you choose to use the OCZ DDR Booster.