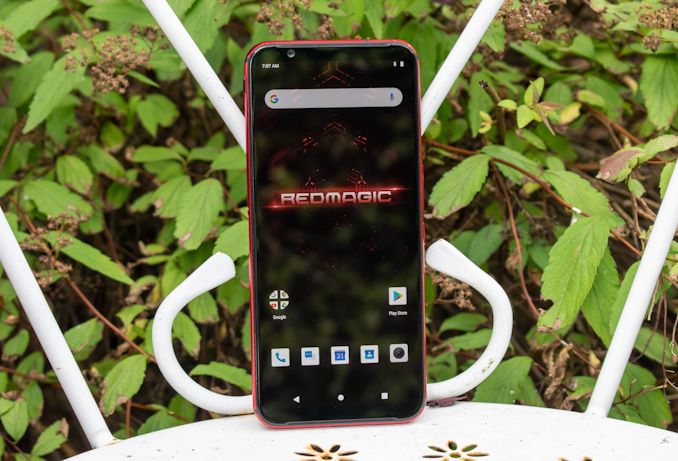 AnandTech has reviewed this product as part of a paid partnership with Qualcomm. The contents of this article are entirely independent and solely reflect the editorial opinion of AnandTech.
We've covered many smartphone vendors here at AnandTech over the years, but one vendor we never had the chance to have a look at is ZTE, or more precisely, its associate company Nubia. I've encountered the vendor's products at trade shows over the years, but never really took a second look at its models given the vendor was still mainly focused in its home Chinese market.
In our search to find Snapdragon 855 devices and to determine which had the best implementations, the Red Magic 3 certainly wasn't amongst the line-up of devices I had first thought of. In fact, amongst our readers I'd actually be surprised to hear if there's any substantial percentage aware of the company, much less about the Red Magic 3's existence, as the phone's marketing efforts certainly isn't comparable to that of bigger brands.
The Red Magic 3 ended up as quite an intriguing device: A gaming-oriented phone design powered by the Snapdragon 855, showcasing a 90Hz OLED screen, and a massive 5000mAh battery. Certainly, that combination alone is more than enough to make the RM3 stand out amongst other devices, and piqued our interest to go and try out the phone.
Nubia Red Magic 3
Red Magic 3
SoC
Qualcomm Snapdragon 855
1x Kryo 485 (Cortex-A76) @ 2.84GHz
3x Kryo 485 (Cortex-A76) @ 2.42GHz
4x Kryo 485 (Cortex-A55) @ 1.80GHz

Adreno 640 @ 585MHz
DRAM
8/12GB LPDDR4X
Display
6.65" AMOLED
2340 x 1080 (19.5:9)
90 Hz
Size
Height
171.7 mm
Width
78.5 mm
Depth
9.65 mm
Weight
215 grams
Battery Capacity
5000mAh
Wireless Charging
-
Rear Cameras
Main
48MP IMX586 0.8µm pixel w/PDAF
f/1.7
Telephoto
-
Wide
-
Extra
-
Front Camera
16MP 2.0µm
f/2.0
Storage
128 / 256GB UFS 2.1
I/O
USB-C
3.5mm headphone jack
Wireless (local)
802.11ac Wave 2 Wi-Fi
Bluetooth 5.0 LE + NFC
IP Rating
none
Other Features
Dual Speakers, Rear fingerprint sensor
2 capacitive trigger buttons
It has an actual active cooling fan inside
Dual-SIM
2x nanoSIM
Street Price:
8+128GB: $479 / 479€
12+256GB: 599€
The Red Magic 3 is one of the few gaming-oriented phones out there. This smartphone category is something quite new to the market, but lately it seems to have seen quite a lot of success, with several vendors now offering their own take on what should be a gaming phone. Making a gaming smartphone however isn't quite as straightforward as one might think. In terms of hardware, yes the recent devices all have the latest components such as the Snapdragon 855 SoC, however as we've seen with attempts from other vendors, the results aren't always what you'd expect.
The one aspect where the Red Magic 3 does differ from the competition is that it's currently one of the only smartphones that quite noticeable differs in its hardware design: The inclusion of an active cooling fan inside of the phone is something quite unusual and certainly not something we've seen before in the past.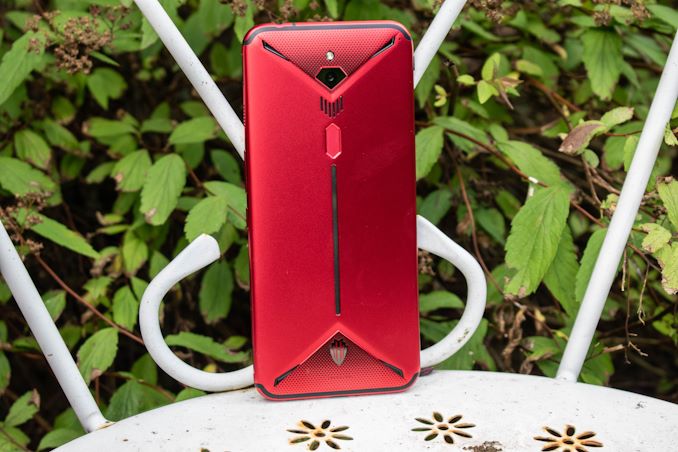 In terms of internals, as mentioned, the phone is powered by the Snapdragon 855 SoC which should offer sufficient performance if given enough thermal headroom to flex its capabilities. The SoC is accompanied by either 8 or 12GB of RAM in 128 or 256GB of UFS 2.1 storage options – so nothing quite out of the ordinary there.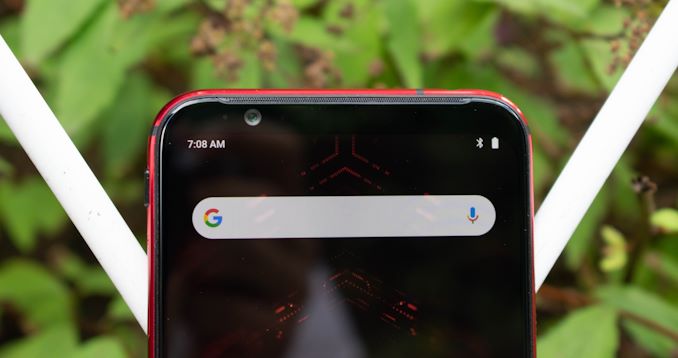 The OLED screen of the Red Magic 3 comes in at a larger 6.65" diagonal and with a "standard" resolution of 2340 x 1080. So far that's not too special, if it weren't for the fact that this is also a 90Hz capable display panel. Indeed, this one feature puts the Red Magic 3 in a very small list of high refresh-rate smartphones available in the market. We've first reviewed such as phone in the form of the OnePlus 7 Pro, and it's absolutely a stand-out feature.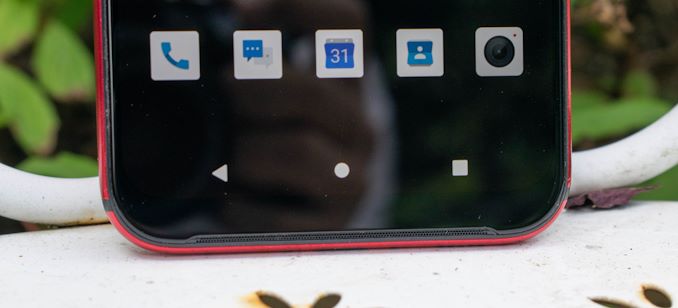 The screen design of the phone is quite basic, and that's a good thing. The symmetric design with regular bezels on both sides allow for dual front-facing speakers which get quite loud. Unfortunately I felt that their quality left something to be desired, especially at volumes above 70%.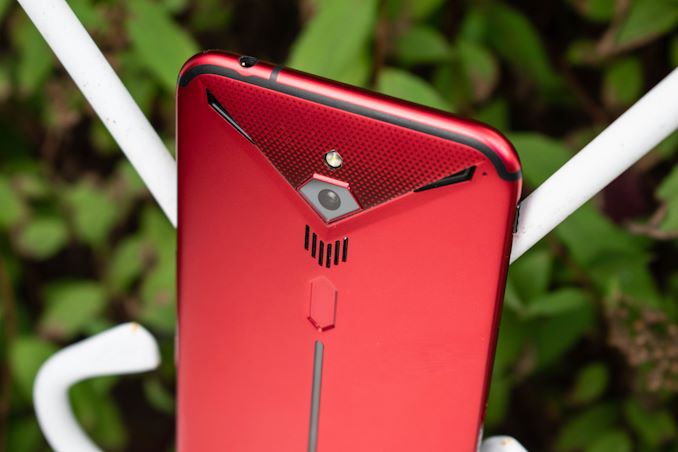 The back of the phone showcases the key "gaming" aesthetics you'd expect of a gaming phone, and is achieved by a symmetric triangular design highlights at the top and bottom of the phone. In the middle, we find a vertical LED strip that's able to pulse in different colours. Personally, I didn't find this of any use beyond just bragging rights that your phone has RGB, but fortunately it can be turned off. We find a capacitive rear mounted fingerprint sensor, above which lies the internal cooling fan's air intake grill.
Above this, we find the sole main camera. Nubia here doesn't attempt any fancy camera configuration and just relies on a traditional single camera. The sensor is yet again the IMX586 model which we've found in the vast majority of more budget-oriented devices out there on the market, in combination with an f/1.7 lens. The sensor lacks OIS which is something to consider for low-light captures and video recording.

At the bottom we find a USB-C port along with a speaker grill. The speaker grill is actually still part of the bottom front facing speaker unit, and merely serves to be able to output more of the lower frequencies. Again, while at average volume the sound is ok, above 70% the sound is quite horrible and distorts notably.

The top of the phone is populated by a 3.5mm headphone jack. Yes, you heard that right. In a year where most vendors have dropped the jack, there's still a few glimmering lights of hope.

The left side of the phone is populated by a game mode switch – much like on other gaming phones this enables for a different application launcher that is styled like a console home screen – more on this later. Next to it we find the dual SIM tray, and in the middle, we find a docking port interface. Nubia offers separate accessories for this, but we weren't able to test any for this review.

The right side of the phone has the usual power button as well as volume rocket buttons. On the extremities, we find two additional dedicated capacitive buttons which serve as triggers in game mode.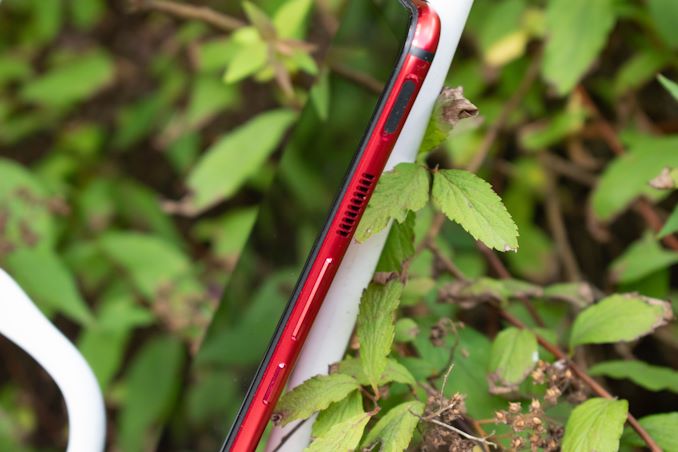 Also on the right side, you'll find another air vent. This is the air exhaust port for the tiny small internal fan. I was frankly quite surprised the whole thing fit into this rather reasonably thin form-factor. The downside here is that even with the fan at maximum RPM, the actual air volume that's being moved by the small unit isn't very meaningful. You can definitely feel the airflow, but it's very minor and already I had some scepticism about whether it can actually help with the phone's cooling.
Another hardware advantage of the Red Magic 3 is the fact that it comes with a 5000mAh battery, which isn't quite something you'd expect from holding the phone. Yes it's certainly a big phone at 78.5mm wide and 215 grams – but not considerably bigger or heavier than other large sized phones such as say an iPhone Max. The thinner sides of the phone certainly make it much easier to hold than some other phones of this size.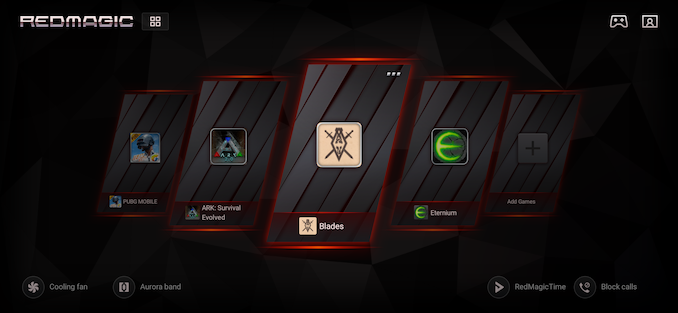 In terms of the game mode – the Red Magic 3's dedicated launcher here is similar to that of other gaming phones. It will automatically detect most of your installed games and populate it on the carousel-style launch screen, and also giving you the option to add or remove apps. The home screen has a few basic functions such as toggling the cooling fan and the RGB lighting, as call and messaging blocking. There's an included game recording feature but it's only limited to three predetermined games.
Here in the profile page is where the Red Magic 3 also hides its screen refresh rate configuration setting, being able to switch between auto, 60Hz and 90Hz. The phone defaults to 90Hz at all times and that's how we tested it.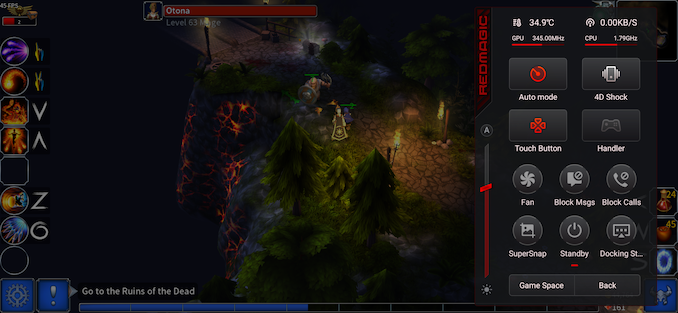 When playing games, swiping up from the right/bottom side of the phone gives you your typical gaming style quick controls and status OSDs. These are actually relatively useful, for example the brightness slider and the fan toggle. There's a screenshot button, and something I hadn't encountered before in a smartphone a "standby" function; this actually turns off the display whilst actually not putting the phone to sleep and still continuing on content and games. Tapping the screen in this mode gives a preview with the battery percentage as well as a dedicated lock screen which you'll have to swipe to fully re-enable the screen again. I can only imagine that this mode is meant for games which track game time – so you'd just be idling in the game with the screen off waiting on some cooldown of some sort.
There's also a performance mode toggle that switches between auto, CPU priority, GPU priority and a "Super" mode which describes itself a using forced maximum performance states. These latter modes I couldn't discern any operating differences to auto as performance states and temperatures pretty much looked identical between each other.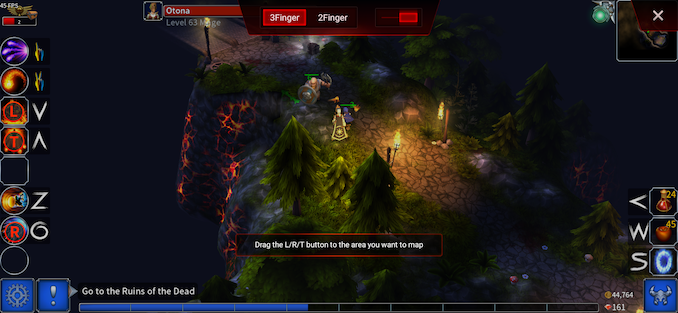 The touch button function enables your capacitive trigger controls. Here you can map virtual buttons anywhere on the screen and activate them with the hardware buttons. The Red Magic 3 tops this off by not only offering the two side mounted hardware buttons as triggers, but also offering a third button via the rear fingerprint sensor. This actually worked reasonably well and it gives you one additional control that other gaming phones aren't able to.
One critical issue that I had with the RM3 is that the phone just wouldn't be able to connect to my WiFi network with WPA2-Personal encryption – seemingly this is a known issue occurring to many users and the only way I was able to connect the phone is by an additional hotspot WiFi network that didn't use the same encryption standard, something which is just boggling and might be a deal-breaker for many.