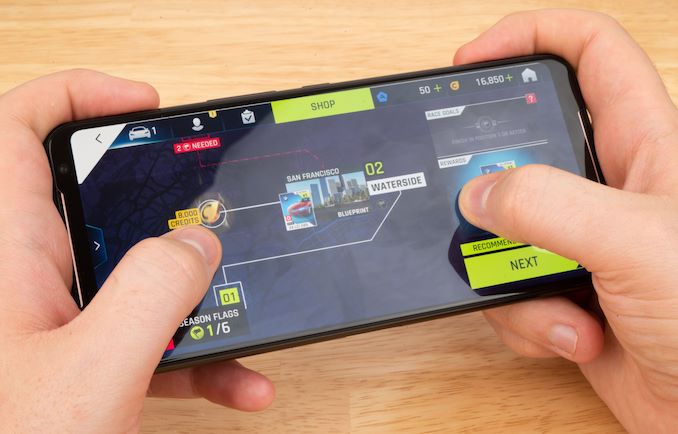 Today ASUS is releasing the successor to last year's enthusiast-level gaming phone – the ROG Phone. This year's model features the same DNA that the original model was built on- but this time around ASUS went for bigger and better in every regard, upgrading the new ROG Phone II with some new impressive hardware, creating quite a beast of a phone.
ASUS's rationale for releasing a gaming-focused phone is that the mobile market is seeing some exceptional annual growth, with mobile accounting for 47% of the total gaming market world-wide, with a healthy growth of 12.8% for mobile and specifically a 14.2% year-on-year growth for smartphone gaming. As such, ASUS sees a large opportunity to carve out a niche in the market in terms of offering a phone that maxes out the mobile gaming experience.
ASUS ROG Phones
ROG Phone
ROG Phone II
SoC
Snapdragon 845 (OC)
4x Cortex-A75 @ 2.96GHz
4x Cortex-A55 @ 1.80GHz


Adreno 630 @ MHz
Qualcomm Snapdragon 855+
1x Cortex-A76 @ 2.96GHz
3x Cortex-A76 @ 2.42GHz
4x Cortex-A55 @ 1.80GHz

Adreno 640 @ 675MHz
DRAM
8 GB LPDDR4X
12 GB LPDDR4X
Storage
128 / 512GB UFS 2.1
128 / 512GB UFS 3.0
Display
6.0" AMOLED
2160 x 1080 (18:9)
90Hz


6.59" AMOLED
2340 x 1080 (19.5:9)
120Hz

240Hz Touch
Size
Height
158.8 mm
170.99 mm
Width
76.2 mm
77.6 mm
Depth
8.6 mm
9.48 mm
Weight
200 grams
240 grams
Battery Capacity
4000mAh
6000mAh
Wireless Charging
-
Rear Cameras
Main
12MP
48MP IMX586
0.8µm pixels (1.6µm 4:1 12MP)
f/1.79
Telephoto
-
-
Wide
8MP
120° wide-angle
13MP
125° wide-angle
Extra
-
-
Front Camera
8MP
24MP
I/O
USB-C 3.1

3.5mm headphone
Wireless (local)
802.11ac Wave 2 Wi-Fi
Bluetooth 5.0 LE + NFC

802.11ad (Wireless display)
Other Features
Dual Stereo Speakers

Under-Display Fingerprint Sensor
Dual-SIM
Dual nanoSIM
Colours
Launch Price
128GB
$899
????
512GB
$1099
512GB
????
At the heart of the new ROG Phone II is the Snapdragon 855. But this isn't your regular S855 we've seen from other flagships so far this year, but rather a new SKU bin called the Snapdragon 855+. The new variant upgrades the clocks on the CPU and particularly on the GPU. On the CPU side we're seeing the Prime core being overclocked from 2.84GHz to 2.96GHz, giving a 4% boost in some single-threaded applications, whilst the new GPU sees a larger 15% performance boost being upgraded from 585MHz to 675MHz.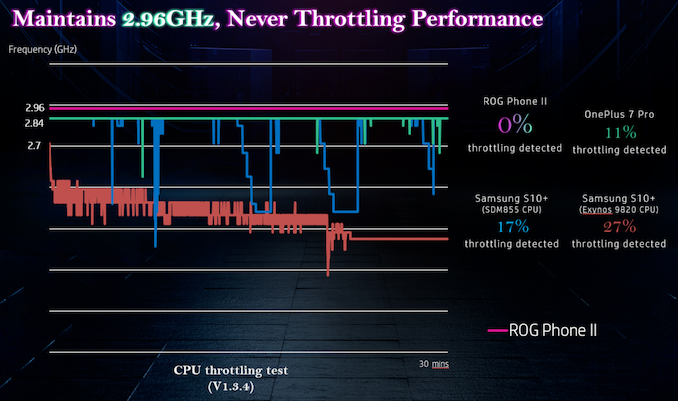 Whilst the new increased GPU performance of the chip brings a new healthy upgrade to the experience, what really makes the new ROG Phone II differ from other devices is ASUS' new improved thermal dissipation capabilities as well as its sustained performance claims. The company claims that the phone is able to maintain its peak performance significantly better than other smartphones, suffering much less degradations from thermal throttling.
Other internal hardware upgrades includes the upgrade from 8GB LPDDR4X in the original to now 12GB in the ROG Phone II.
ASUS also follows other vendors in terms of adopting the new UFS 3.0 storage standard which promises to double the theoretical peak transfer rates. The ROG Phone II still maintains a maximum of 512GB of storage in this regard.
What's most impressive about the new device though is its sheer size. This is now a much bigger phone than last year's original, raising the screen diameter from 6.0" to 6.59". Although some of the increased diameter is due to the stretching of the aspect ratio from 18:9 to 19.5:9, the overall phone still is much bigger as it gains 12.19mm in height to 170.99mm, 1.4mm in width to 77.6mm and is now 10% thicker at 9.48mm.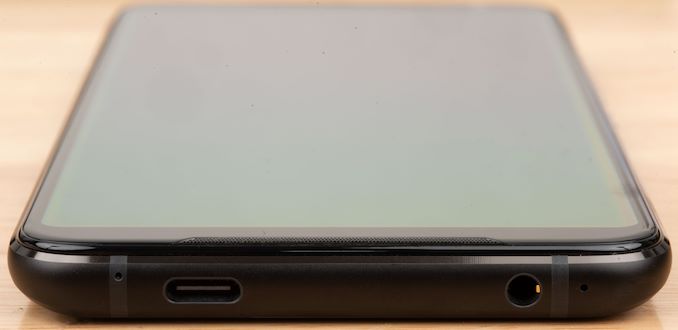 The thickness is especially interesting as the new phone now houses a whopping 50% bigger battery, which now reaches 6000mAh. The physical aspect where this is most noticeable in the phone is in its weight which grows from 200g to 240g, marking the new ROG Phone II as quite the heavy unit.
The vastly increased battery capacity is an important feature of the phone as it allows for significantly longer gaming sessions and ASUS promises the phone to last much longer than competing devices when playing high-end games.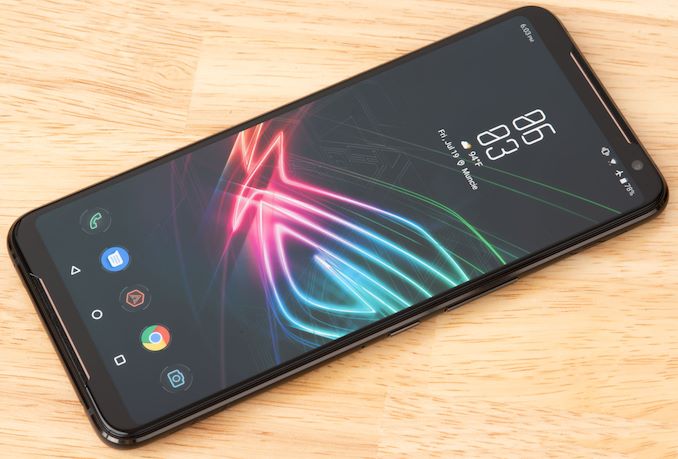 Of course the new size isn't the only upgraded aspect of the new screen: ASUS continues to use an AMOLED display, but now further pushes the boundaries in terms of refresh rate by going from 90Hz in the original to a new 120Hz panel. The resolution still remains 1080p with the only upgrade being a few more pixels to fit the stretched the elongated aspect ratio. At this size the resolution might not be the sharpest amongst the competition, but for a gaming-centric smartphone it'll still provide excellent performance in essentially any games currently available.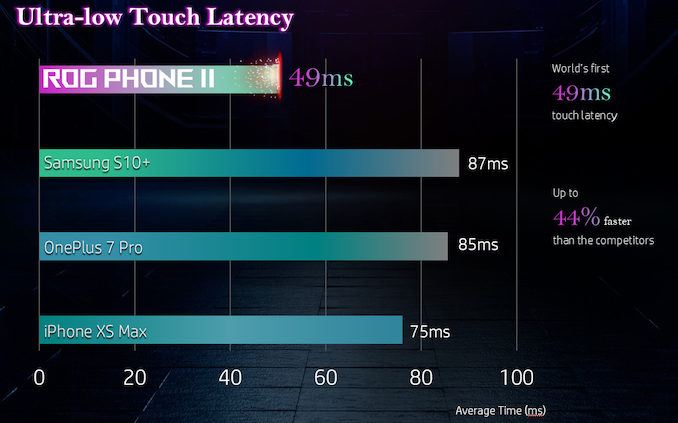 ASUS has also improved the touch aspects of the phone: As far as I'm aware, this is the first ever 240Hz touch controller in a smartphone. What this has allowed ASUS to do is vastly improve the touch latency compared to any other smartphone by significant margins, which together with the new 120Hz display panel should result in some excellent fluidity and smoothness.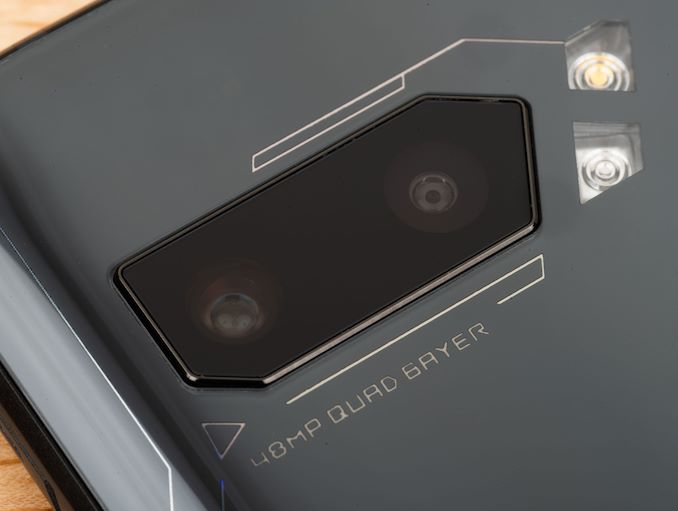 On the camera side of things, the ROG Phone II seems to adopt the Zenfone 6's setup which includes the Sony IMX586 48MP camera sensor module as well as a 13MP wide-angle camera. ASUS hasn't gone into details of the camera but we largely expect it to match the performance of its sibling device. The front camera has also been upgraded from 8MP to 25MP.
Much like on the original ROG Phone, ASUS will be offering a slew of different accessories for the new ROG Phone II. The phone itself comes with an additional connector on the side of the device to which the accessories can connect to, offering similar features and additions as last year's line-up.
The ROG Phone II launches in China on July 23rd with a glossy back, whilst the worldwide variant will be available in the first week of September in a matte black back. No pricing available as of yet.