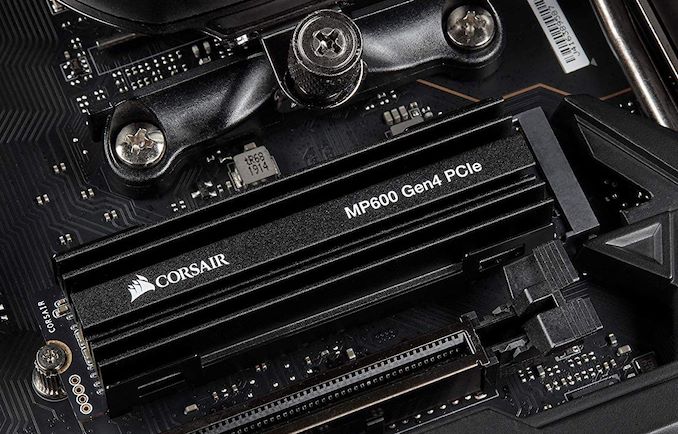 Amazon Japan has started to take pre-orders on Cosair's upcoming PCIe 4.0 NVMe SSD. The MP600 SSDs will ship in mid-July, several days after AMD and its partners start to sell platforms that support the PCIe 4.0 interface.
At press time, Amazon Japan is offering Corsair MP600 M.2-2280 SSDs with a PCIe 4.0 x4 interface featuring 1 TB and 2 TB capacity for ¥36,936 ($320) and ¥66,852 ($579), respectively. Considering the fact that we are talking about ultra-high-end client SSDs aimed at expensive desktops, their prices are not exactly surprising. Meanwhile, keep in mind that these are not their official MSRPs.
UPDATE: Amazon US on Tuesday also started to take pre-orders on Corsair's MP600 SSDs. The 1 TB model costs $250, whereas the 2 TB SKU is priced at $450.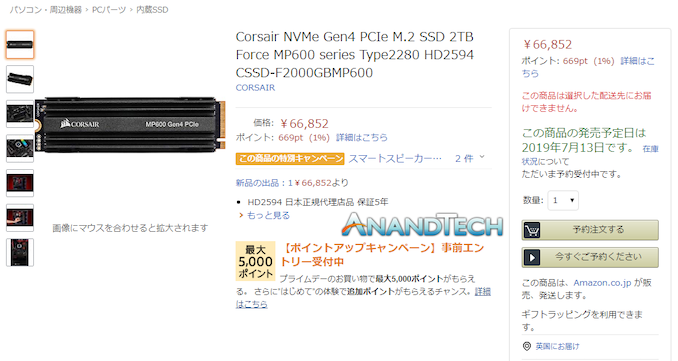 According to Corsair, its MP600 SSDs will offer up to 4950 MB/s sequential read speed as well as up to 4250 MB/s sequential write speed when used with a PCIe 4.0 x4 interface, which is substantially faster when compared to modern PCIe 3.0 x4 drives.
Corsair's MP600 drives are based on Phison's PS5016-E16 controller as well as 3D TLC NAND memory. Considering that Phison usually sells controllers and NAND flash memory as a turnkey solution, expect other suppliers of SSDs to offer drives very similar to the MP600 family by Corsair at around the same timeframe. In the meantime, Corsair definitely deserves a credit for starting to offer its PCIe 4.0 SSDs ahead of competitors.
We saw a number of PCIe 4.0 drives at Computex this year, so we expect the market to have a sizeable number available in due course: