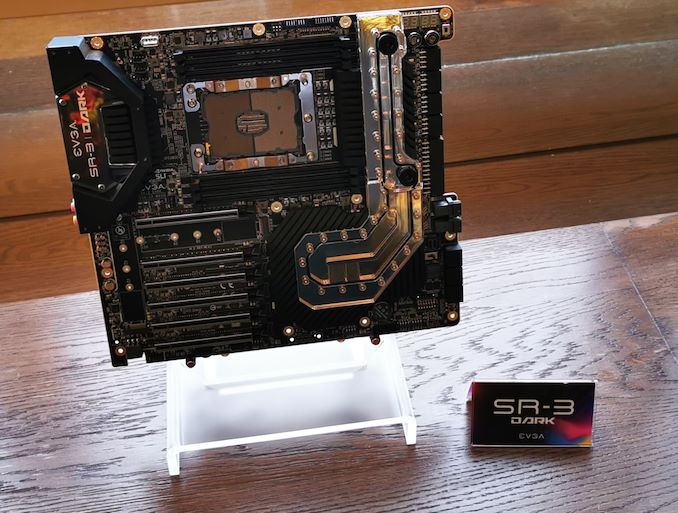 At Computex 2019, EVGA displayed an LGA-3647 C621 motherboard designed for the Intel Xeon W-3175X 28-core processor, the EVGA SR-3 Dark. The new EVGA SR-3 Dark follows on the Super Record lineage from the legendary Classified SR-2 dual LGA-1366 socket model from back in 2010.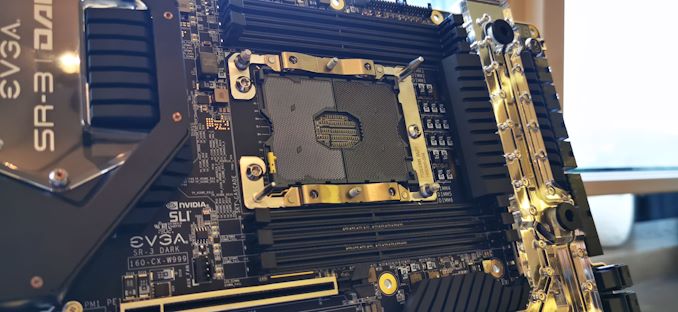 While there were no official specifications on hand, the EVGA SR-3 Dark has six full-length PCIe 3.0 slots, with six DDR4 memory slots that will allow memory to run in hex-channel mode. This is because the board is targeted at users looking to use the monstrous Intel Xeon W-3175X processor which features 28-cores, and is also overclockable depending on the cooling method used. Along the right-hand side is a custom water block which cools the boards 20-phase power delivery, and extends down to keep the C621 cool too. This was designed in-house by EVGA but outsourced to an unknown OEM for production.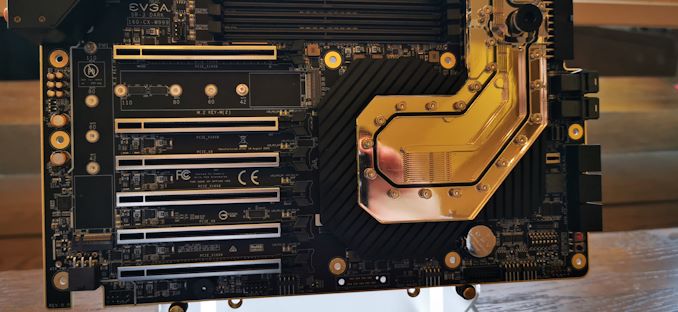 Also focusing on the power, the EVGA SR-3 Dark has four 8-pin CPU 12 V ATX, and a single 24-pin 12 V power input with right-angled connectors. Next to this is two U.2 slots for fast stackable storage and a six SATA ports. Located between the top and second full-length PCIe 3.0 slot is a single M.2 22110 slot. It's clear by the configuration that the board is geared towards maximizing performance at the expense of features such as multiple M.2 slots. In the top right-hand corner is an overclocker's toolkit in the top right corner with dual LED debug. After speaking to EVGA at our meeting, he confirmed the board will be targetted at overclockers and enthusiasts looking to push the overclockable Intel Xeon W-3175X to its limits.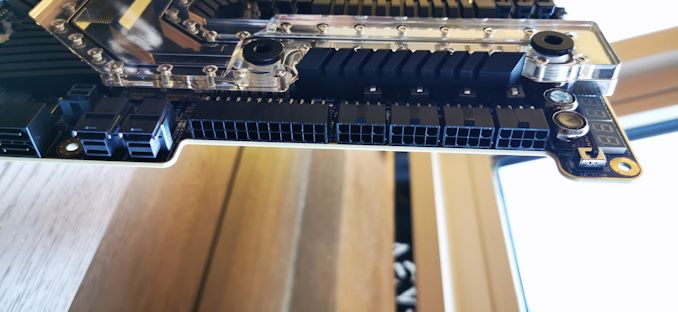 The EVGA SR-3 Dark is scheduled to launch sometime in August with the pricing currently unknown. A few figures were thrown around during our meeting, but it's highly likely that it will come in much cheaper than ASUS's C621 model, the ROG Dominus Extreme. Also expected sometime soon is GIGABYTE's C621 Aorus Extreme.
Want to keep up to date with all of our Computex 2019 Coverage?

Laptops

Hardware

Chips
Follow AnandTech's breaking news here!