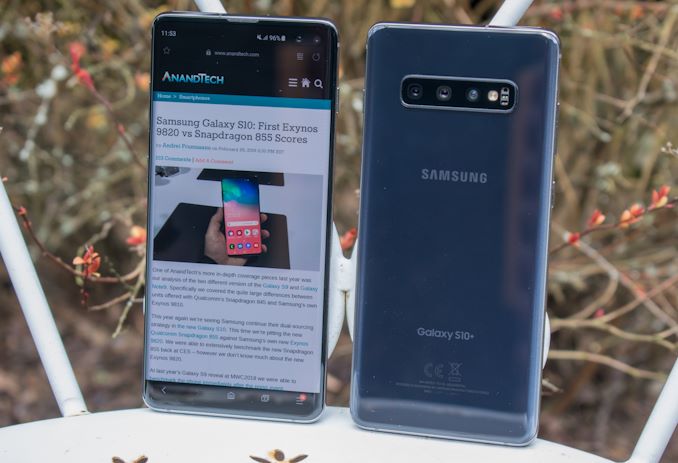 We've been in 2019 for a while. Although we've covered one or two smartphones in the last couple of months of the calendar year, the true "2019 flagship" phone season is really only starting now. Samsung's Galaxy S10 is among the first releases in this new wave of phones, and for many markets it outright is the very first of a brand-new generation.
Samsung mixed things up this year by announcing the Galaxy S10 in San Francisco instead of the usual Mobile World Congress event. Though not unprecedented, the big reason here for the change in venues was to reflect Samsung's close collaboration with US carriers such as Verizon on 5G and other matters. Indeed 5G has been pretty much the buzzword for the last year or more, and the last few months have been especially busy in this regard. To that end, there will be a 5G model of the S10, however with its limited availability it doesn't have nearly the same mass-market appeal as the new mainstream variants of the Galaxy 10.
As we're nearing this upcoming transition period in technology, the new Galaxy S10 models have instead needed to double-down on the fundamental aspects of the phones in order to entice consumers who are increasingly holding on to their smartphones for three years or more. Here the introduction of a new screen, powerful hardware, bigger batteries, as well as a brand new triple camera setup gives users quite a number of reasons to upgrade.
Today we'll be reviewing the lead member of the Galaxy S10 family, the Galaxy S10+. And in true AnandTech tradition, we're going to look at both variants of Samsung's king of phones: the North American Snapdragon 855 model, as well as the European Exynos 9820 model. With Samsung using different SoCs for what are otherwise (nearly) identical phones, this gives us a unique opportunity to take an in-depth look at the two new processors and compare & contrast them under very similar circumstances. And of course, there's a great deal to dig into with the Galaxy S10's new screen and triple-module camera setup. This is going to be a long piece so prepare yourselves!
Samsung Galaxy S10 Series
Galaxy S10e
Galaxy S10

Galaxy S10+
(Reviewed)

SoC
(North America, China, Japan)

Qualcomm Snapdragon 855
1x Kryo 485 (Cortex-A76) @ 2.84GHz
3x Kryo 485 (Cortex-A76) @ 2.42GHz
4x Kryo 485 (Cortex-A55) @ 1.80GHz

Adreno 640 @ 585MHz
(Europe & Rest of World)

Samsung Exynos 9820
2x Exynos M4 @ 2.73GHz
2x Cortex-A75 @ 2.31GHz
4x Cortex-A55 @ 1.95GHz

Mali G76MP12 @ 702MHz
Display
5.8-inch
2280 x 1080 (19:9)
(flat)
6.1-inch
3040 x 1440 (19:9)
(curved edges)
6.3-inch
3040 x 1440 (19:9)
(curved edges)
SAMOLED, HDR10+, 1200nits peak brightness
Gorilla Glass 5
Gorilla Glass 6
Dimensions
142.2 x 69.9 x 7.9 mm
150 grams
149.9 x 70.4 x 7.8 mm
157 grams
157.6 x 74.1 x 7.8 mm
175 grams
(Ceramic: 195g)
RAM
6/8GB
8GB
8/12GB
NAND
128/256GB
128/512GB
128/512/1024GB
+ microSD
Battery
3100mAh (11.93Wh) typ.

3000mAh (11.55Wh) rated
3400mAh (13.09Wh) typ.

3300mAh (12.71Wh) rated
4100mAh (15.78Wh) typ.

4000mAh (15.4Wh) rated
Primary Front Camera

10MP f/1.9
4K video recording

Secondary Front Camera
-
8MP, f/2.2
Dual Pixel PDAF
"Live focus"
Primary Rear Camera
77° Regular Angle
12MP 1.4µm Dual Pixel PDAF
Tri-stack CMOS Sensor (Embedded DRAM),
4K60, 1080p240, 720p960 high-speed recording

Adjustable aperture f/1.5 or f/2.4,
OIS, auto HDR, LED flash
Secondary Rear Camera
123° Wide Angle
16MP 1.0µm f/2.2
Third
Rear Camera
-
45° / Telephoto lens 2x zoom
12MP 1.0µm f/2.4,
OIS
4G Modem
Snapdragon X24 LTE (Snapdragon Integrated)
2G / 3G / 4G LTE (Category 20/13)
DL 2000 Mbps (7x20MHz CA, 256-QAM),
UL 316 Mbps (2x20MHz CA, 64-QAM)

Shannon LTE (Exynos Integrated)
2G / 3G / 4G LTE (Category 20/13)
DL 2000 Mbps (8x20MHz CA, 256-QAM),
UL 316 Mbps (3x20MHz CA, 256-QAM)
5G Modem

-

SIM Size
NanoSIM
Dual NanoSIM/Hybrid SIM/microSD (Certain models)
Wireless
802.11a/b/g/n/ac/ax 2x2 MU-MIMO,
BT 5.0 LE, NFC, GPS/Glonass/Galileo/BDS
Connectivity
USB Type-C, 3.5mm headset
Special Features
Side fingerprint sensor
Under-screen ultrasonic fingerprint sensor
heart-rate sensor (except S10e), face unlock,
fast charging (Qualcomm QC 2.0, Adaptive Fast Charging, USB-PD),
wireless charging & reverse charging (WPC & PMA),
IP68 water resistance
Launch OS
Android 9.0 with Samsung OneUI
Launch Prices
6/128GB:
$749/€749/£669

8/256GB:
$849
128GB:
$899/€899/£799

512GB:
$1149/€1449
128GB:
$999/€999/£899

512GB:
$1249/€1249/£1099

12/1TB:
$1599/€1599/£1399
The big changes of the new Galaxy S10 series can be summed up into three main aspects: a new design with a new screen, new internal hardware with the latest-generation silicon, and a new camera setup consisting of three camera modules.
On the design side, Samsung has continued its tradition of introducing a new design language with every second Galaxy S generation. The S8 and S9 were the first Samsung phones to employ new wide aspect ratio displays, and the new S10 continues this trend towards the inevitable conclusion of a screen-only phone. The key characteristic of the S10+ is the in-display cut-out of the front facing cameras, offering a unique new alternative to the display notch.
The new AMOLED display offers a 3040 x 1440 resolution and now comes with HDR10+ support, with Samsung promising some big increases in peak brightness. We'll continue on the design of the S10 on the next page in more detail and talk about other new features such as the new under-screen ultrasonic fingerprint sensor.
On the internal hardware side, brand-new SoCs from Qualcomm and Samsung S.LSI promise generational jumps in performance and power efficiency. These latest SoCs benefit from newer manufacturing nodes, upgrades to the CPUs and GPUs, and introducing new dedicated blocks for neural network inferencing in the form of a new DSP and a new NPU.
For the cameras, the Galaxy S10+ incorporates much improved processing as well as support for high dynamic range image capture. And this time around Samsung doesn't include just one or two camera modules, but instead the company has moved up to three rear cameras for their flagship smartphone. Altogether the phone now uses a trifecta of wide angle, regular main, and telephoto modules.
The Galaxy S10 mainline series comes in 3 models: the Galaxy S10e, the regular Galaxy S10, and the up-sized Galaxy S10+. With Samsung offering so many phone variations – 6 in all – we've decided to dedicate our coverage to just a single model. To that end, out of popular demand following last year's review of the Galaxy S9, we've opted to focus on the headliner Galaxy S10+, taking a look at Samsung's big flagship and the Exynos and Snapdragon versions that it's comprised of.
Hardware Internals
Diving right into the detailed specifications, the SoC situation was quite a controversial topic for Samsung in 2018, with the Samsung LSI (S.LSI) Exynos-powered variant of the Galaxy S9 delivering underwhelming performance and power efficiency compared to its Qualcomm counter-part. And coming into 2019 those concerns are still present as Samsung continues its dual-sourcing strategy.
The challenge for S.LSI (and the new Exynos in particular) is daunting: HiSilicon launched their Kirin 980 SoC nearly six months ago, taking the lead in delivering the first Android SoC built on TSMC's 7nm manufacturing node. Thanks to its process advantage and Arm's impressive new Cortex-A76 CPU core, HiSilicon was able to deliver significant performance and power efficiency gains, which we've seen first-hand in devices powered by the new chip. On paper then, the Snapdragon 855 is quite similar to the HiSilicon chip in terms of CPU design and manufacturing technologies, and our first results back in January pointed out to similar great performance and efficiency gains.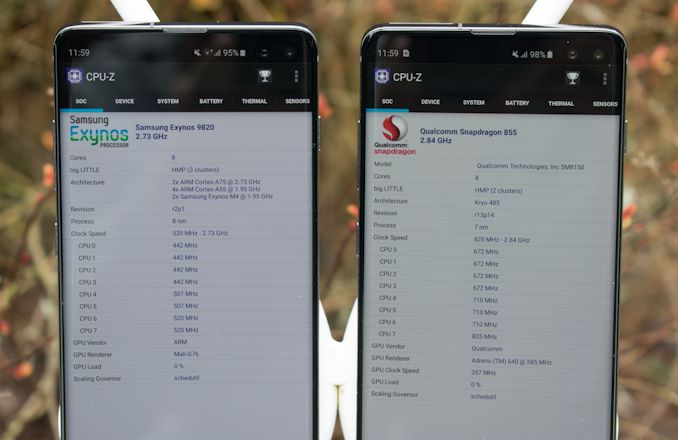 We'll come back to the chipsets in further detail over the next few pages, but suffice it to say, the new chipsets are going to play a critical role in the new phones and will dictate a lot of the user experience of this new generation.
Moving on, let's talk about RAM and storage. The base configurations for the Galaxy S10 and S10+ come with 8GB of LPDDR4X DRAM, while the S10e starts at 6GB, so no phone at any tier is starting short on RAM. What is also great is that Samsung has phased out the 64GB storage tier for this generation, meaning that all S10 models come with at least 128GB of storage. I think this is a pretty important aspect of the value proposition Samsung is making with the Galaxy S10's base configurations, as it contrasts very favorably against Apple's stingy storage tiers, which sees all of its iPhone configurations start at just 64GB, with the higher-tier 256GB models costing an extra $150.
Going up to higher capacity configurations, the S10e also comes in a 256GB configuration that includes an extra 2GB of DRAM, all of which tacks another $100 on to the price tag. Meanwhile the S10 and S10+ can jump from 128GB of storage to 512GB for an extra $250. And finally at the top, the S10+ is available in an ultra-premium configuration that sports 12GB of DRAM, 1TB of NAND storage, and a ceramic back, for which Samsung is charging a $600 premium over the base configuration.
Another notable change in internal specifications from generation to generation has been the increased battery capacities. The new Galaxy S10 comes advertised with a new 3400mAh battery while the S10+ claims a 4100mAh unit. I say "advertised" here because Samsung is being a bit misleading with their numbers; for the new phones Samsung's has shifted from listing the design capacity of the batteries to their typical capacity, which inflates the numbers some.
Sticking with the more traditional design capacity then, the Galaxy S10 and S10+ would be rated for 3300mAh and 4000mAh respectively. Which compared to Samsung's last-generation phones, is still a 10% and 14.2% increase respectively over the Galaxy S9 and S9+. In practice, the nominal capacity (actual usable cycle capacity) for one of my S10+ units shows up as 3891mAh, which as it happens is higher than even the 3747mAh showcased on my Note9.
Along with the capacity changes, Samsung seems to have also changed their battery chemistry or charging behaviour, as the PMIC is now programmed to reduce its charge capacity and voltage at 300 cycles instead of 200 cycles. Similarly, the degradation curve appears to have been delayed, and it now reaches a lower 90% of the battery's design capacity after 700 cycles instead of 300. The degradation curves had been rather consistent for a few generations, so it's interesting to see such a big change in the S10, and it's something to keep an eye on in the next year or two of usage.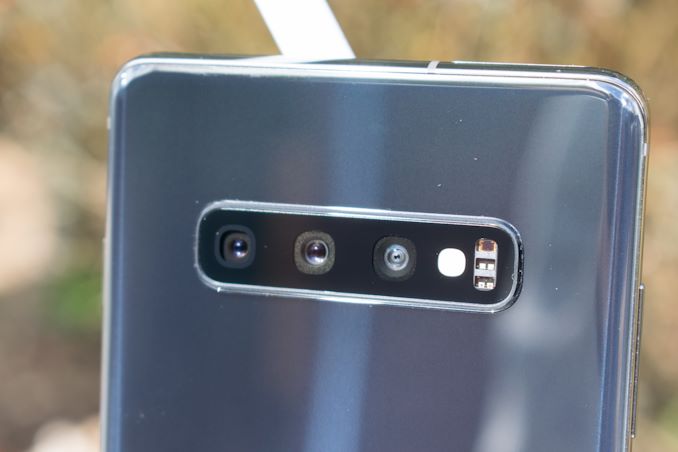 On the back of the phone we have the new horizontal camera layout. The, with the inclusion of three camera modules, the S10 marks the first time Samsung has ever included a wide-angle module in their Galaxy S flagships. After many years of this being an LG-only feature, we suddenly have 3 major vendors all offering a trifecta of regular angle, wide angle and telephoto camera modules.
Relative to the S9, the main and telephoto modules in the S10 haven't changed in terms of their official specifications: they are still 12MP sensors, one with a f/2.4 2x zoom / 45° FoV lens and 1µm pixel pitch sensor, the other with Samsung's dual-aperture f/1.5 or f/2.4 main module with 77° FoV and a 1.4µm dual pixel PDAF sensor. It's to be noted that the S10 adopts new sensors for both these modules, even though their specifications on paper remain seemingly the same as on the S9. Added to the duo is the new 16MP f/2.2 1µm pixel pitch 123° wide angle unit, which gives the new Galaxy S10 a new perspective on the world.