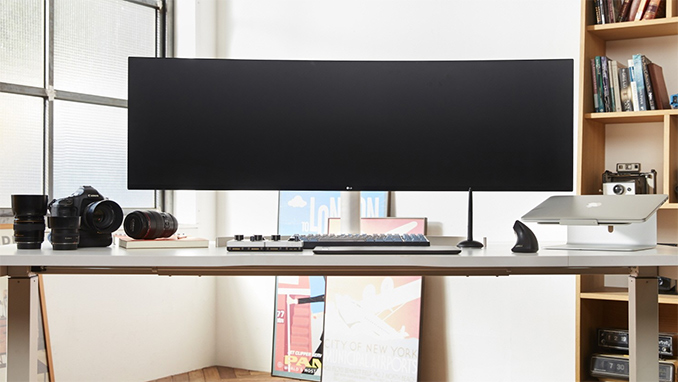 LG this week announced that it would demonstrate its next-generation ultra-wide curved displays at CES early next month. LG's UltraGear 38GL950G will be one of the industry's first 38-inch monitors with a 144 Hz refresh rate, whereas the UltraWide 49WL95C LCD will be the company's largest monitor for prosumers and professionals.
One of The First 38-Inch WQHD+ Monitors with a 144 Hz Refresh Rate
The UltraGear 38GL950G is yet another addition to LG's family of displays tailored for gamers. The LCD is based on a 38-inch curved panel featuring a 3840×1600 resolution (21:9 aspect ratio), 450 nits peak brightness, and a 144 Hz refresh rate. The display features LG's Nano IPS treatment that fine-tunes the spectral output of the LED backlighting in a bid to absorb excess light wavelengths and improve the intensity, purity, as well as the accuracy of the on-screen colors. The display can reproduce 98% of the DCI-P3 gamut, which is in line with many professional-grade monitors.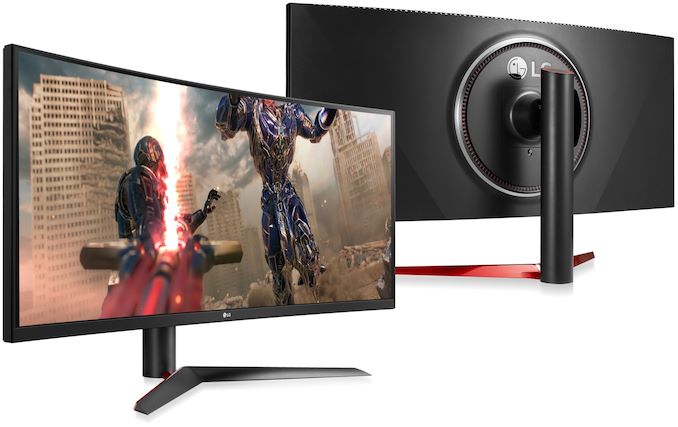 Being aimed at gamers, the UltraGear 38GL950G supports NVIDIA's G-Sync dynamic refresh rate technology, as well as LG's proprietary gaming features (crosshair overlay, overdrive controls, gamma tuning on dark scenes, etc.). In addition, the new display supports LG's Sphere Lighting that adds ambient lighting effects akin to Philips' amBX and AmbiLight. As for connectivity, the display features one DisplayPort, one HDMI input, as well as a dual-port USB 3.0 hub.
LG's UltraGear 38GL950G will be one of the industry's first 38-inch curved WQHD+ monitors featuring a 144 Hz refresh rate when it becomes available sometimes next year. At present, LG only offers 34-inch displays with such a high refresh rate. Meanwhile, typical gaming displays use 24 or 27-inch panels.
Another 49-Inch Monitor
LG was among the first to launch ultra-wide 37.5-inch LCDs for entertainment and productivity applications as well as 42.5-inch displays for prosumers. However, the company is a bit behind rivals with ultra-wide 49-inch monitors. This is going to change at CES, where LG intends to show its giant UltraWide 49WL95 LCD.

Specification wise, the UltraWide 49WL95 will be similar to its competitors with its 5120×1440 resolution, 350 nits peak brightness, 99% coverage of the sRGB color space, and so on. LG will position its 49-inch display as a replacement for two 27-inch QHD LCDs (a configuration often used by professionals and prosumers), so expect the product to be priced accordingly.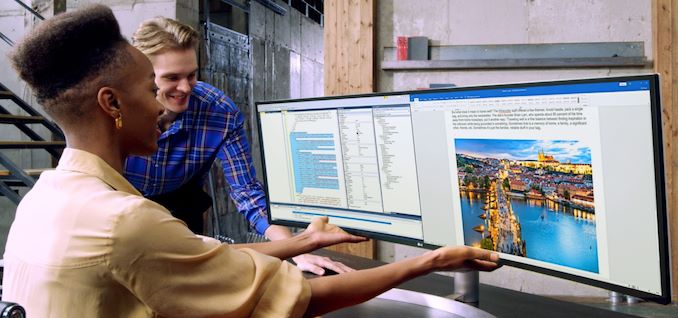 Among the key selling features of the monitor will be its USB Type-C docking capabilities with 85 W of USB power delivery (enough to feed most 15-inch laptops), an ambient light sensor to regulate brightness depending on the environmental brightness to keep power consumption in check, and two 10 W stereo speakers. As for general connectivity, the monitor will feature one DisplayPort, two HDMI inputs, and a quad-port USB 3.0 hub.
LG's Upcoming UltraGear and UltraWide Displays
UltraGear 38GL950G
UltraWide 49WL95
Panel
38" IPS
49"
Native Resolution
3840 × 1600
5120 × 1440
Maximum Refresh Rate
144 Hz
60 Hz (?)
Dynamic Refresh Rate
G-Sync
-
Response Time
?
?
Brightness
450 cd/m²
350 cd/m²
Contrast
?
?
Backlighting
LED with Nano IPS
LED
Viewing Angles
178°/178° horizontal/vertical
Curvature
?
?
Aspect Ratio
21:9
32:9 (3.56:1)
Color Gamut
DCI-P3: 98%
sRGB: 99%
Pixel Pitch
0.232 mm²
0.234 mm²
Pixel Density
109 PPI
108 PPI
Inputs
1 × DisplayPort 1.2
1 × HDMI 2.0
1 × DisplayPort 1.2
1 × USB Type-C
2 × HDMI 2.0
Audio
-
2 × 10 W
USB Hub
2 × USB 3.0 Type-A connectors
4 × USB 3.0 Type-A connectors
MSRP
?
?
Related Reading:
Source: LG