OCZ PC4400 EL Gold
The EL label, for Enhanced Latency, is used for OCZ memory that provides the fastest timings at a given speed. While 2.5-4-4-8 may not sound like fast timings, it is still faster than the rated timings of other DDR550. The chips used in the 4400 EL are said to be much faster than other DDR550 chips at DDR400. The EL is also said to overclock further than other DDR550 chips.
Test DIMMs were a matched pair of PC4400EL Gold with gold heatspreaders.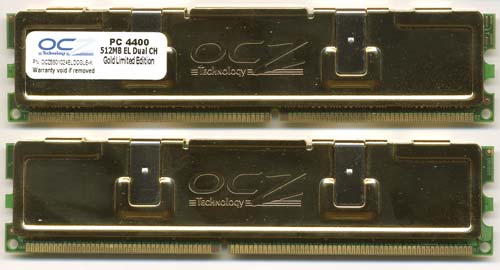 OCZ has established a solid reputation in the Enthusiast memory market in the past year, primarily because of the excellent reputation that they have developed for customer service. OCZ sports a lifetime warranty, like several other enthusiast memory manufacturers, but we also receive numerous emails from customers who are surprised and pleased with the responsiveness of OCZ customer support. Once a customer contacts OCZ customer service, they appear to get very quick resolution to their problems.
OCZ PC4400EL Gold Specifications
 OCZ PC4400EL Gold Memory Specifications
Number of DIMMs & Banks
2 DS
DIMM Size
Total Memory
512 MB
1 GB
Rated Timings
2.5-4-4-8 at DDR550
Rated Voltage
2.75V
As seen with other very high speed memory, the 4400EL needs higher than normal voltage at its specified speed. 2.75V is higher than the 2.5V to 2.6V that is standard for memory on most motherboards, but it should be available on most of the high-end boards that would likely be used with this DDR550 memory. You should check your specifications to make sure that you can support the voltage needs of the new 4400EL modules.