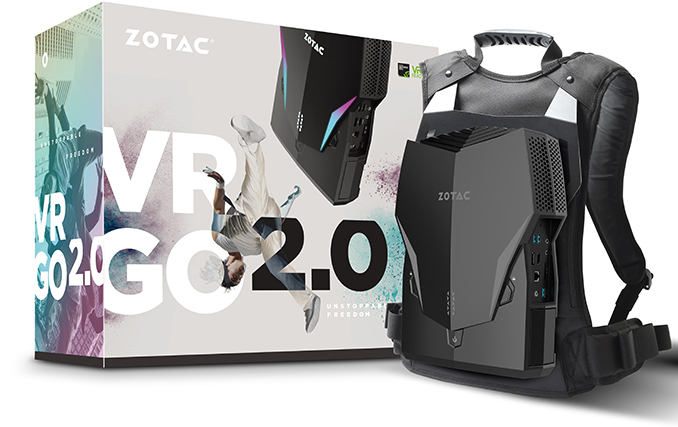 ZOTAC this week officially launched its second-generation VR GO wearable backpack PC for VR gaming. The new VR GO 2.0 system is somewhat smaller and marginally lighter than the one ZOTAC introduced back in 2016, though the only tangible performance upgrade versus the previous-gen backpack PC is Intel's six-core processor.
The manufacturer announced plans to release its second-gen VR GO back at Computex, but did not disclose its exact specs. This week ZOTAC finally revealed that the new VR GO 2.0 system is outfitted with Intel's six-core Core i7-8700T processor and paired with NVIDIA's GeForce GTX 1070 GPU with 8 GB of GDDR5, 16 GB of DDR4 memory, and a 240 GB M.2 SSD with a PCIe 3.0 x4 interface. The system also has a 2.5-inch bay for another storage device so to provide plenty of capacity to install more games. Technically, the system can accommodate other CPUs and GPUs, but due to thermal concerns ZOTAC will offer its new backpack PC with the aforementioned hardware only (at least initially).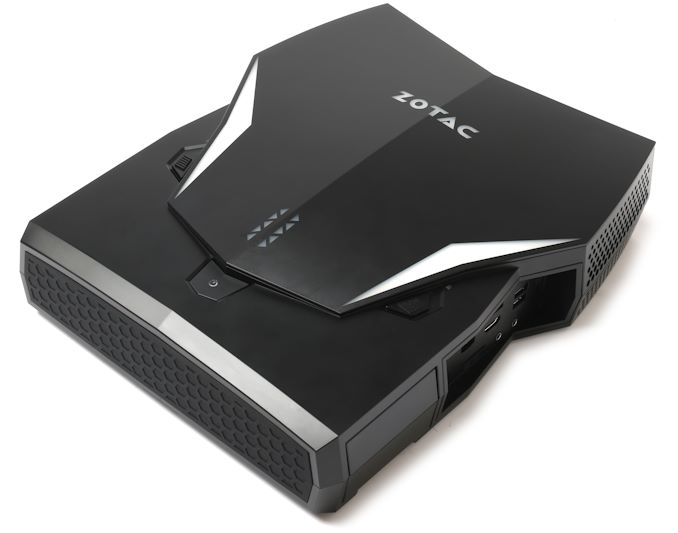 Just like its predecessor, the second-generation ZOTAC VR GO has a rich set of I/O capabilities that includes an HDMI 2.0 output as well as three USB Type-A ports on top to connect a VR headset as well as three additional USB 3.0 Type-A ports, a USB 3.0 Type-C header, two display outputs (one HDMI 2.0, one DP 1.3), an 802.11ac Wi-Fi + BT 5 module, one GbE port, an SD card reader, as well as two 3.5-mm audio jacks.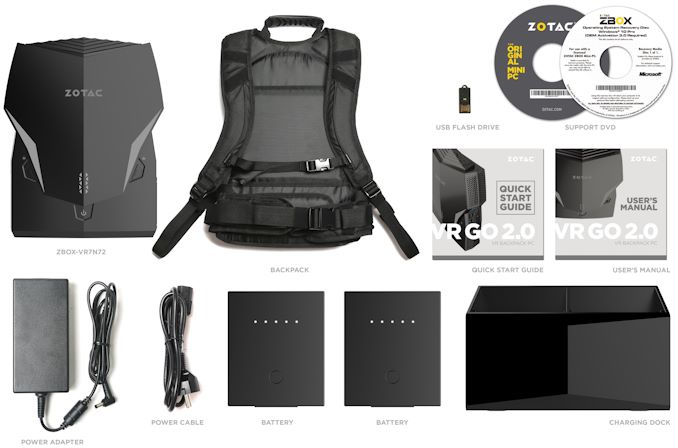 ZOTAC's VR GO 2.0 is equipped with two hot-swappable batteries that can enable about 1.5 hours of gameplay (according to the manufacturer), which is a tad lower than in case of the the original VR GO. Just like before, the batteries can be hot-swapped and charged separately. In the meantime, the form-factor of the system allows it to be used like a desktop computer as it can be placed on a desk either vertically or horizontally and all the ports will remain accessible.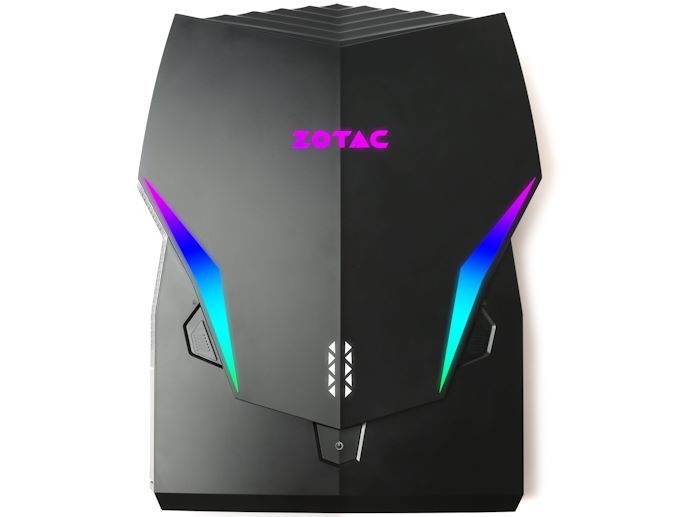 To make the system a bit more attractive to gamers and enthusiasts, the VR-GO 2.0 also has addressable RGB lighting on the back that can be used for customization.


ZOTAC has not officially disclosed pricing of the VR GO 2.0 wearable backpack PC so far, yet it is likely that it will cost around $2000, similar to the previous one. As for availability, the new system should hit the market sometime in late November or so, in time for holiday season in the U.S.
ZOTAC VR GO Comparison
VR GO
ZBOX-VR7N70-W2B/W4B-BE/J/U/K
VR GO 2.0
ZBOX-VR7N72-BE/J/U/K/AUS-W2C/W3C
CPU
Intel Core i7-6700T
4 cores/8 threads
2.8 - 3.6 GHz
8 MB cache
35 W
Intel Core i7-8700T
6 cores/12 threads
2.4 - 4 GHz
12 MB cache
35 W
PCH
unknown 100-series
unknown 300-series
Graphics
NVIDIA GeForce GTX 1070
2048 stream processors
128 texture units
64 ROPs
256-bit memory interface
8 GB of GDDR5 8 GT/s memory
NVIDIA GeForce GTX 1070
2048 stream processors
128 texture units
64 ROPs
256-bit memory interface
8 GB of GDDR5 8 GT/s memory
Memory
Two SO-DIMM slots
16 GB DDR4-2133 installed
compatible with up to 32 GB of DDR4-2133
Two SO-DIMM slots
16 GB DDR4 installed
compatible with up to 32 GB of DDR4
Storage
240 GB M.2/PCIe SSD
+ one extra 2.5"/SATA bay
+ SD card reader
Wi-Fi
802.11ac Wi-Fi + Bluetooth 4.2
802.11ac Wi-Fi + Bluetooth 5
Ethernet
2 × GbE ports (Realtek)
1 × GbE ports
Display Outputs
3 × HDMI 2.0
2 × DP 1.3
2 × HDMI 2.0
1 × DP
Audio
3.5 mm audio in and 3.5 mm audio out
USB
6 × USB 3.0 Type-A (5 Gbps)
6 × USB 3.0 Type-A (5 Gbps)
1 × USB 3.0 Type-C (5 Gbps)
Other I/O
DC12V-out for HTC Vive
Dimensions
410 mm × 270 mm × 76 mm
16.14 × 10.63 × 2.99 inches
347.5 mm × 280.4 mm × 87.1 mm
13.68 × 11.04 × 3.43 inches
Weight
4.95 kilograms
4.7 kilograms
PSU
External
Batteries
2 batteries, rated at 95Wh, 6600mAh
two batteries
OS
Windows 10 Home
Windows 10 Pro
Price
$1999.99
unknown
Related Reading:
Source: ZOTAC