Corsair 3200XL PRO
Corsair has introduced 3200 Xtreme Low Latency modules in both their regular Black or Platinum heatspreaders and as the PRO version with activity LEDs on top of the module. All 3200XL modules are double-sided 512MB DIMMs sold as a matched pair and rated at DDR3200 2-2-2-5. Corsair claims a very wide range of available overclocks to about DDR500 with typical DDR500 timings of 2.5-3-3-7.
Test DIMMs were a matched pair of 3200XL PRO with the activity LEDs.
We first saw the LEDs in our
review of Corsair XMS4000 PRO
. Corsair uses the PRO designation to indicate LED activity lights on the memory, but otherwise the 3 memories appear to be the same capacity and using the same Samsung memory chips.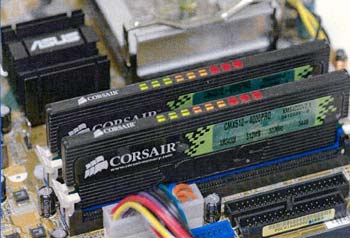 While the Samsung chips used in the new 3200XL are actually rated at DDR500, Corsair has chosen to highlight their outstanding 2-2-2 performance capabilities at DDR400. The SPD is also optimized for fast DDR400 performance.
Corsair 3200XL Specifications
Corsair 3200XL Memory Specifications
Number of DIMMs & Banks
2 DS
DIMM Size
Total Memory
512 MB
1 GB
Rated Timings
2-2-2 at DDR400
Rated Voltage
2.75V
The only specification that might prevent using 2-2-2 in all systems is the specified 2.75V rated voltage at DDR400. Most high-end motherboards can provide this voltage, but some mainstream motherboards do not have adjustable voltage, and default memory voltage is 2.5V on many boards. You should check your specifications to make sure that you can support the voltage needs of the new 3200XL modules.