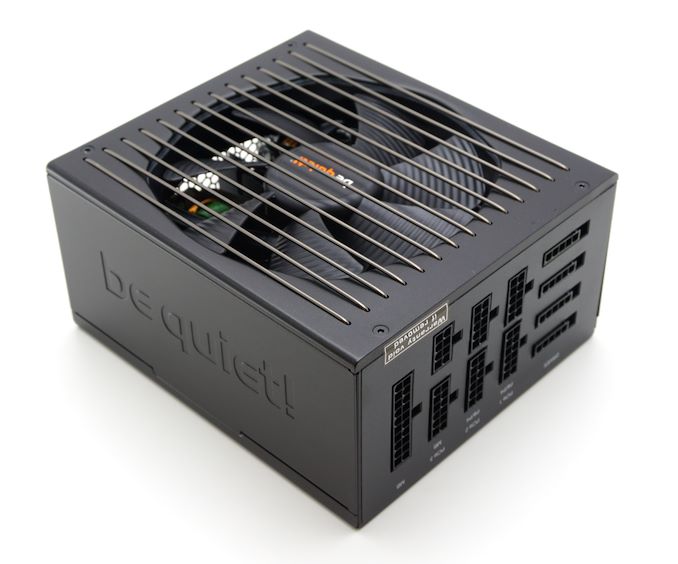 Be Quiet! is a German manufacturer that mainly produces PC cases, power supply units (PSUs), and cooling-related products. As the company's name suggests, their products are designed with quiet operation primarily in mind. The company is no stranger to the North American markets, slowly but steadily increasing their presence over the last few years. Their commitment to continue to increase their presence in the United States became apparent with the recent founding of a US-based service center at California for seamless after-sales support.
A quick look at the company's website hints that they are strongly, if not primarily, focused on the development and marketing of PSUs. Be Quiet! is currently offering over 30 different units that are divided into eight different series. In this review, we are taking a look at one of the company's most popular units, the Straight Power 11 750W PSU.
The Straight Power 11 series comprises six models, balanced between low-noise operation and high-power quality, all while trying to retain competitive price tags. Despite the designer's concept, the Straight Power 11 750W PSU currently retails for $140 plus shipping, a price that initially seems high for a unit that has an 80Plus Gold efficiency certification. The efficiency certification alone hardly says much about the overall performance and/or the quality of a PSU though, which we will thoroughly examine in this review.
Power specifications ( Rated @ 50 °C )
AC INPUT
100 - 240 VAC, 50 - 60 Hz
RAIL
+3.3V
+5V
+12V
+5Vsb
-12V
MAX OUTPUT
25A
25A
62.5A
3A
0.5A
150W
750W
15W
6W
TOTAL
750W
Packaging and Bundle
We received the Straight Power 11 750W PSU in an aesthetically minimalistic but very sturdy cardboard box. Only a subtle image of the PSU itself stands out of the all-black front side of the box. Be Quiet! limits the text on the front of the box to the basic features of the unit, but plenty of details can be found on the sides and rear. The thick walls of the box and the polystyrene foam packaging provide ample protection during shipping.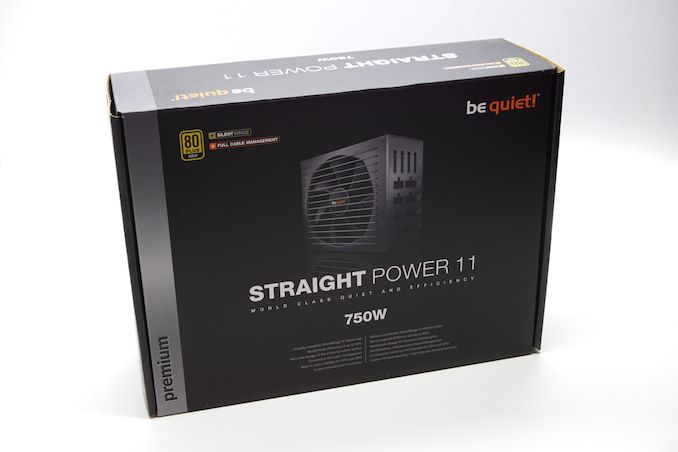 The bundle of the Straight Power 11 750W PSU is basic, limited to just the necessary AC power cable, four black mounting screws, a few cable ties, and a simple user's manual. Two cable straps are also included and are holding together the two bundles of modular cables that come with the unit. The Straight Power 11 750W PSU is an all-modular design, meaning that every cable is detachable, including even the main 24-pin ATX cable. Every wire and connector is black but also every cable is a classic cable with black sleeving covering it. There are no "flat", ribbon-like cables supplies with the Straight Power 11.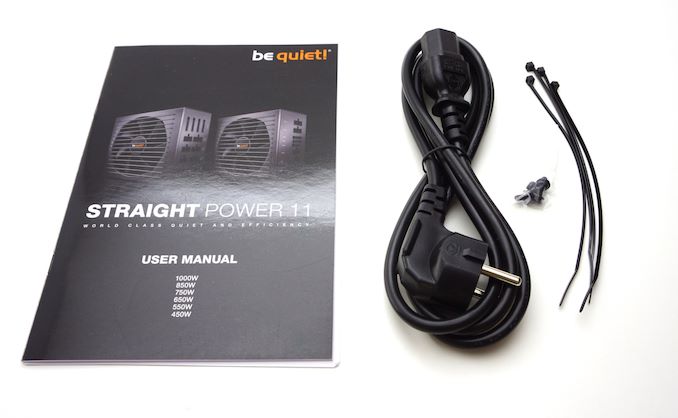 At this point we should also mention that Be Quiet! is offering an "upgrade check" via their website, allowing users to check whether their older Be Quiet! PSU has cables compatible with this (or any other) new unit. The company is trying to retain at least partial compatibility between the cables of different PSU series, so it is relatively easy to switch from a smaller and/or older PSU to a new model, especially when cable management/routing is an extensive job.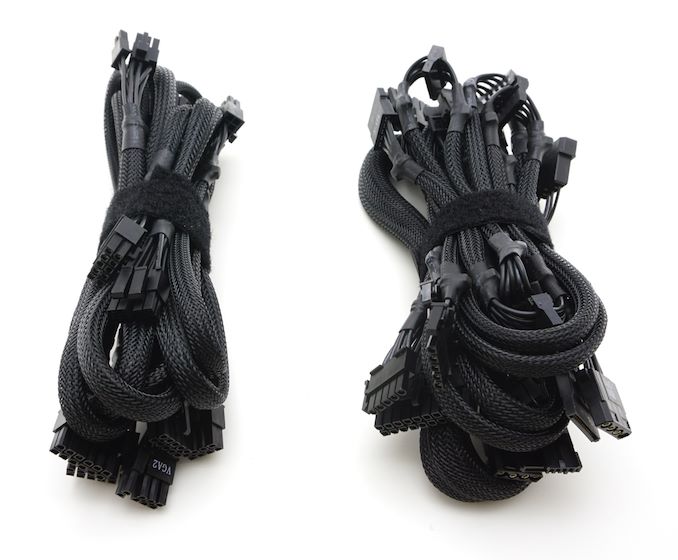 Be Quiet! Straight Power 11 750W
Connector type
Hardwired
Modular
ATX 24 Pin
-
1
EPS 4+4 Pin
-
1
EPS 8 Pin
-
1
PCI-E 6+2 Pin
-
4
PCI-E 8 Pin
-
-
SATA
-
11
Molex
-
4
Floppy
-
1