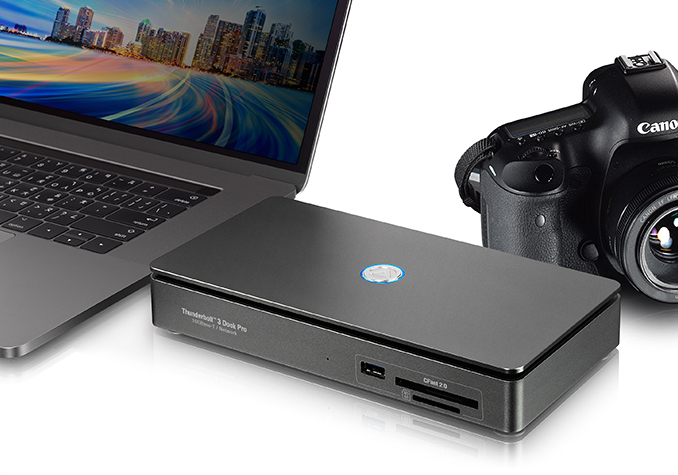 AKiTiO has announced its new Thunderbolt 3 dock for high-end mobile workstations. AKiTiO's Thunderbolt 3 Dock Pro features a 10 GbE port enabled by an Aquantia chip, along with multiple USB Type-A ports, card readers, eSATA, and other connectors.
The Thunderbolt 3 Dock Pro from AKiTiO is aimed at creative professionals who happen to use 10 GbE Ethernet (or other multi-Gig options), so the vast majority of its owners right now will be from corporate space. In terms of connectors, the Thunderbolt 3 Dock Pro has three USB 3.1 Type-A ports (one on the front, two on the back), one eSATA header, a DisplayPort, a 10 GbE RJ45 port enabled by Aquantia's AQtion AQC-107 silicon, a 6-pin power input, and two TB3 connectors with 15 W and 60 W power delivery.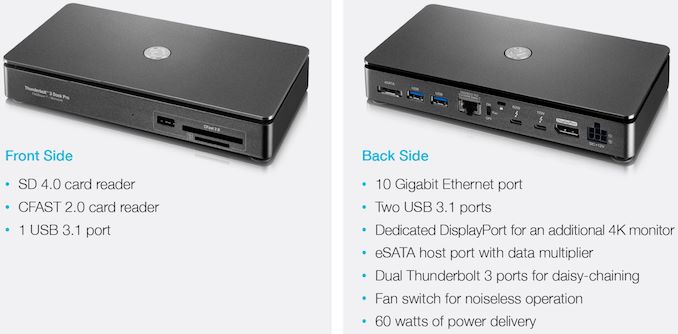 The complexity of AKiTiO's Thunderbolt 3 dock should be rather formidable as AQtion AQC-107 silicon connects using a PCIe interface, whereas eSATA requires a separate controller. To cool down the device, AKiTiO uses a fan that can still be turned off in a bid to make the dock whisper quiet.
AKiTiO has not announced details about pricing of its Thunderbolt 3 Dock Pro, but keeping in mind that this is the only TB3 docking solution for Apple's MacBook Pro and other high-end laptops, we expect the device to carry a premium price tag.
Related Reading