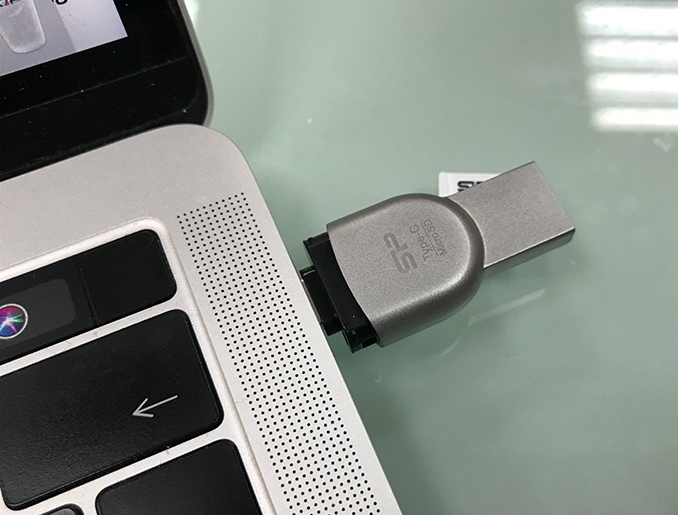 The USB Type-C interface yet has to become as ubiquitous as USB Type-A, but as there are laptops that only have USB-C ports, a number of manufacturers already produce flash cards with dual (or even triple) interfaces. Silicon Power appears to be the first maker to produce a microSD card reader that has two interfaces and therefore supporting a host of various devices. In addition, the company is prepping several USB-C peripherals, such as dongles and docks.
Silicon Power's USB Type-A/USB Type-A microSD card reader supports microSDXC cards, up to 5 Gbps bandwidth as well as OTG capability that makes the device compatible with various mobile gadgets in addition to regular computers.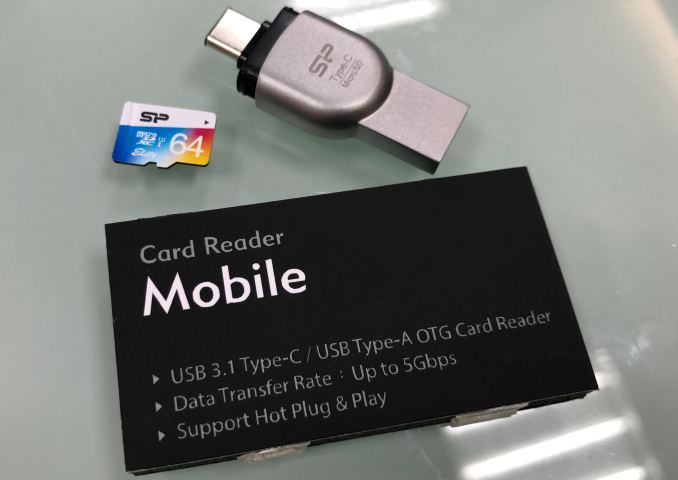 Given the fact that microSDXC cards are available in capacities up to 512 GB, Silicon Power's card reader may be used to build a high-capacity miniature external storage device for a MacBook/MacBook Pro. Obviously, such storage device will be rather expensive, but it will very small and compatible with both new and legacy PCs.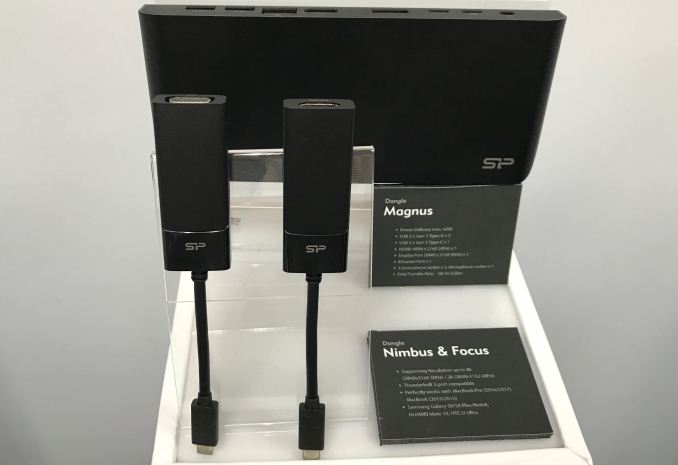 In addition to the universal USB-A/USB-C microSD card reader, Silicon Power has two USB-C dongles and two docking stations. All of Silicon Power's USB Type-C products feature USB 3.1 Gen 1 (5 Gbps) interface, which emphasizes their positioning: miniature MacBook notebooks as well as various inexpensive laptops that do not support USB 3.1 Gen 2 transfer rate (10 Gbps).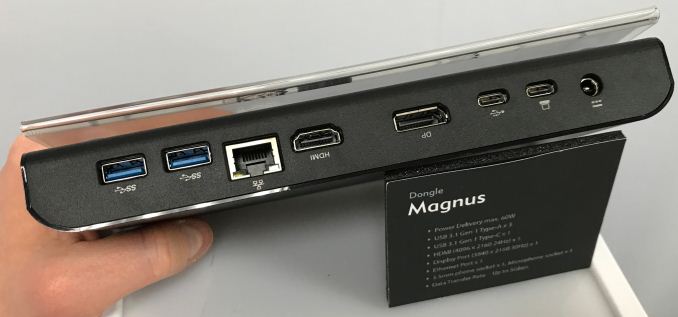 Silicon Power's lineup of USB-C devices includes Nimbus (D-Sub/VGA) and Focus (HDMI 1.4, so, up to 4Kp30) display dongles as well as Magnus and Stratus docking stations (check out their specs below). The more expensive Magnus supports power delivery, so it can be used to charge laptops during usage (important for MacBooks that only have one USB-C port used for data and power), whereas the Stratus will be able to boast with a competitive price that Silicon Power is known for.

Silicon Power will release its USB-C devices in the coming months, so stay tuned for more details regarding prices and launch dates.
Silicon Power's USB-C Peripherals
Magnus
Stratus
Focus
Nimbus
Mobile Card Reader
microSD
-
1
USB Type-A
3 (Gen 3)
1 (Gen 2)
1 (Gen 3)
-
-
USB Type-C
1
1
D-Sub
-
D-Sub (up to 2048x1152 at 60 Hz)
-
D-Sub (up to 2048x1152 at 60 Hz)
DisplayPort
DP 1.1 (up to 3840x2160 at 30 Hz)
-
HDMI
HDMI 1.4 (up to 4096x2160 at 24 Hz)
-
Ethethet
1 GbE
-
Audio
3.5-mm out
3.5-mm in
-
Power Delivery
Up to 60 W
-
Data Transfer Rate
5 Gbps
Related Reading:
Want to keep up to date with all of our Computex 2018 Coverage?

Laptops

Hardware

Chips
Follow AnandTech's breaking news here!