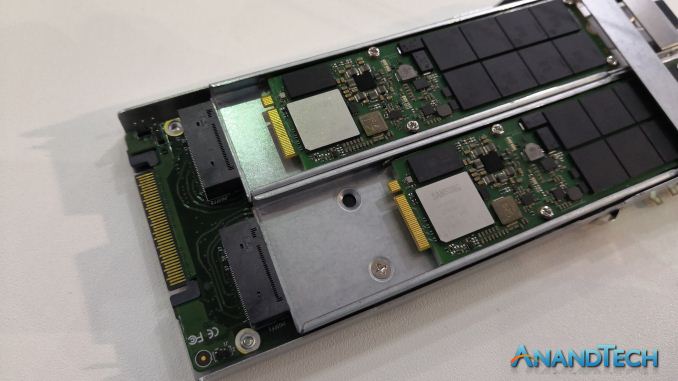 After the official announcement last week of Samsung's new 8TB NF1 drive, I went back through my Computex photo kit to dig out a couple of images I snapped at AIC's booth. AIC, a sizeable server OEM, was one of the first to show a storage server (with ADATA) targeted at 5G with Samsung as a customer. But at the booth at Computex, I bumped into a small add-in for current U.2 enabled servers.
Each one of the NF1 drives is within its own bracket that can be removed easily from the drive, and the backplane of the U.2 conversion drive we were told lets the system see each drive as a separate drive in the system (U.2 is essentially PCIe, so as long as it can support the correct bifurcation modes). We were told that despite each NF1 drive being a PCIe 3.0 x4 drive, because U.2 only supports four lanes, each drive will be knocked down to a x2 drive.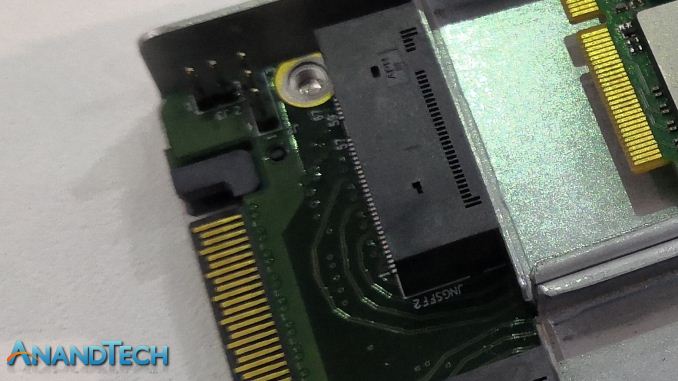 One interesting thing to note is that the traces from the adaptor are not simple straight lines: we saw curved traces like this previously with the first generations of Thunderbolt controllers several years ago.
Obviously the combined U.2 drive is longer than a standard U.2 slot in a server, but AIC didn't touch on how that issue was approached. It might mean drives hanging out of servers, or new servers built with U.2 slots for NF1 in mind.
Want to keep up to date with all of our Computex 2018 Coverage?

Laptops

Hardware

Chips
Follow AnandTech's breaking news here!