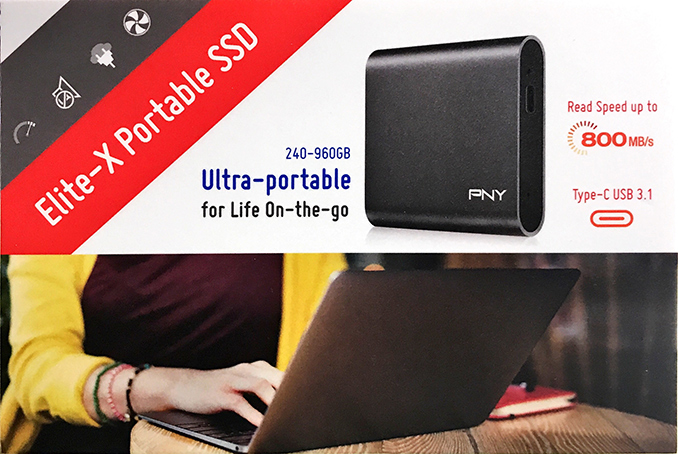 PNY demonstrated its new external SSD at Computex earlier this month. The new Elite-X Portable SSD uses a USB 3.1 Gen 2 interface and a USB Type-C connector, thus providing higher performance when compared to the company's existing portable drives.
PNY's Elite-X Portable SSDs will be available in 240 GB, 480 GB, and 960 GB configurations. The manufacturer specs the drives for up to 800 MB/s sequential read speed, which indicates that there is an SSD with a PCIe 3.0 interface inside that communicates with the host via a PCIe-to-USB bridge (ASMedia's first-gen bridges could barely hit 10 Gbps). Keeping in mind that PNY specifically chose USB Type-C instead of Thunderbolt to maintain compatibility with Apple's MacBooks and other ultra-thin laptops with 5 Gbps USB 3.0 connectors, 800 MB/s does not really seem as a major performance bottleneck of the drive.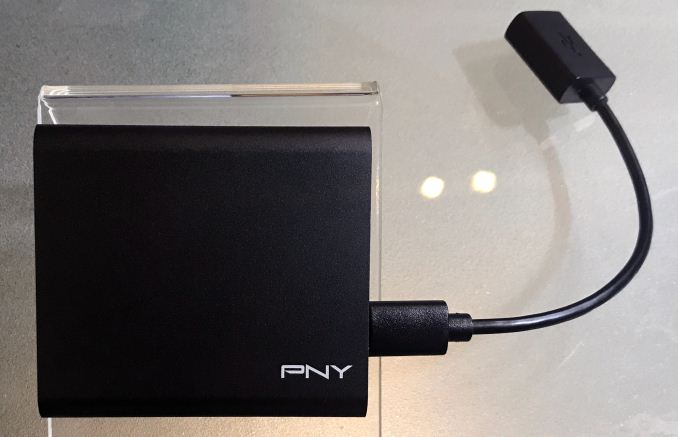 The manufacturer does not explicitly disclose what drive it uses is inside the Elite-X Portable SSD. Meanwhile considering the fact that PNY works closely with Phison, it is highly likely that the Elite-X Portable SSD uses a Phison PS5008-E8 controller as well as Toshiba's BICS 3D NAND.
Since the combination of Phison's PS5008-E8 and Toshiba's 3D NAND is relatively widespread in the industry, PNY will not have to spend a long time validating the work of the design. Therefore, expect the Elite-X Portable SSDs to hit the market in the coming months. Prices will depend on multiple factors, but expect them to be comparable to the current-generation PNY Elite Portable SSDs: between $90 and $280.
Want to keep up to date with all of our Computex 2018 Coverage?

Laptops

Hardware

Chips
Follow AnandTech's breaking news here!