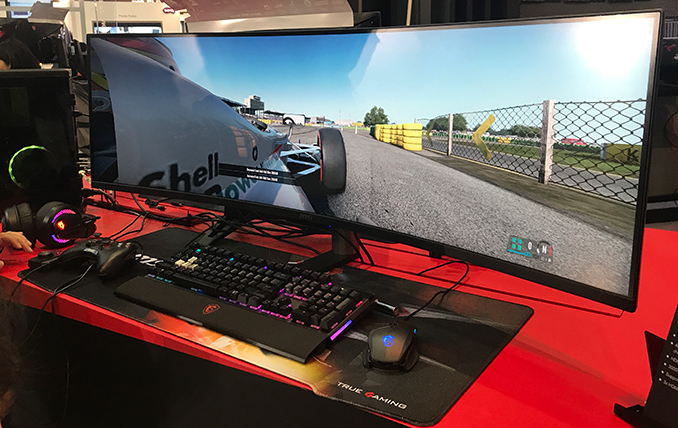 Earlier this month MSI demonstrated its ultrawide curved 49-inch gaming display at Computex. The unit uses a mass-produced panel and already has a model number, so its launch is imminent. Apparently, just like ASUS and Samsung, MSI believes that ultrawide displays with a 32:9 aspect ratio are going to become popular among gamers going forward.
The specifications of MSI's Optix MAG491C are pretty straightforward: the LCD is based on Samsung's 49-inch curved VA panel featuring a 3840×1080 resolution, a 400 nits brightness, a 3000:1 contrast ratio, an 1800R curvature, a 4 ms GtG response time, and a 144 Hz maximum refresh rate. However while Samsung appears to be supplying the panel, we've seen no sign that the company is offering quantum dot-enhanced backlighting technology to other makers. As a result, ultrawide monitors from ASUS and MSI are shipping with narrower color gamuts than what we've seen in Samsung's own products.
Meanwhile in terms of features and connectivity, MSI's ultrawide gaming monitor supports AMD's FreeSync dynamic refresh rate as well as comes with VESA's DisplayHDR400 badge. Input is provided by three HDMI 2.0 ports as well as a DisplayPort 1.2 connector.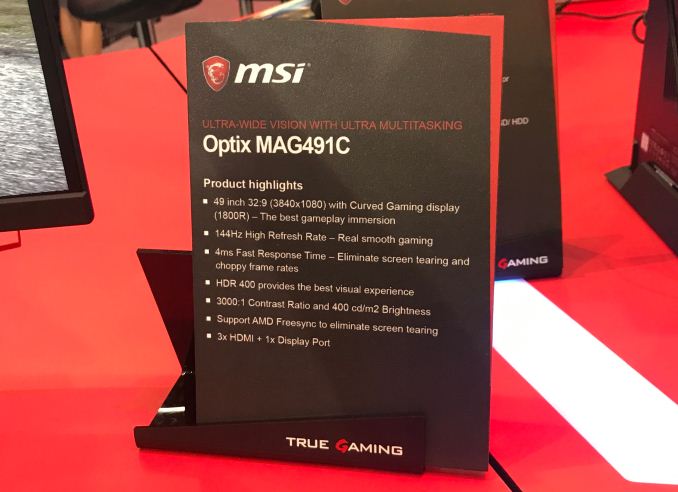 When I visited MSI's booth earlier this month, I tried to play a couple of racing games (including a Formula 1 game) on this 49-inch ultrawide display and can confirm that everything feels extremely impressive with a very wide field of view. It is still not like driving a real car, but it is significantly better than gaming on a 16:9 LCD. A wide FOV and an ability to turn your head to observe surroundings are among the key features of VR headsets. To a certain degree, 49-inch displays allow to do the same, but without motion sickness and other negative effects.
That said, ultrawides still have a room to grow: to become taller and even wider, but even existing models perform rather well in games that actually support their ultrawide resolution (which many consider an odd resolution that does not work in all games). Still, because of experiences like these, it's not surprising to see companies like ASUS and MSI pursuing these designs and offering them to their customers.
Meanwhile, there are other reasons why the two renowned gaming brands might want to launch their 49-inchers this summer. Samsung is the only company to offer 32:9 panels right now and it plans to expand the lineup in the coming months (according to TFTCentral). Therefore, by launching their 49-inchers this summer, ASUS and MSI will not only address a potentially lucrative market segments, but will also learn more about demands of their clients, and will get experience with ultrawide panels from Samsung, which will be important if they decide to expand their lineups of ultrawide LCDs.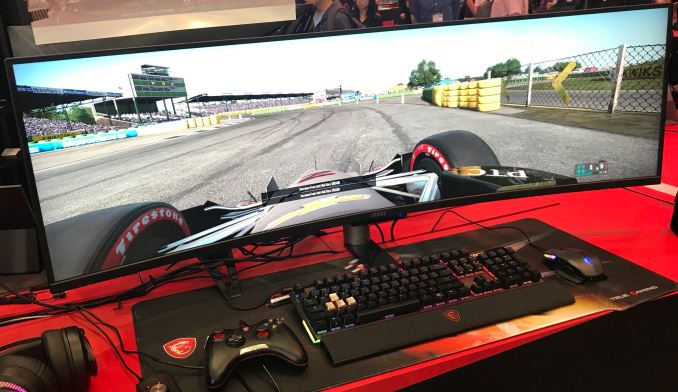 MSI yet has to price its unit and set the launch date, but expect the product to hit the market in the coming weeks or months. As for pricing, Samsung's CHG90 is available for around $1000 from Amazon today, so expect 49-inchers from ASUS and MSI to be cheaper because of the lack of FreeSync 2 and QLED backlighting.
Related Reading:
Want to keep up to date with all of our Computex 2018 Coverage?

Laptops

Hardware

Chips
Follow AnandTech's breaking news here!