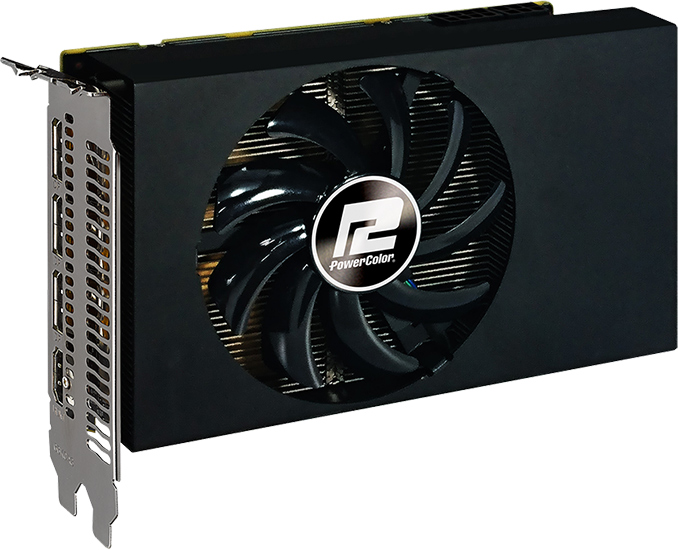 Over the past few months, we have seen two makers of video cards laying the groundwork for Mini-ITX graphics adapters based on the Radeon RX Vega GPU. This week PowerColor confirmed that its small form-factor Radeon RX Vega is incoming and will be showcased next month at Computex.
PowerColor's RX Vega 56 Nano Edition will be based on a PCB that resembles the one used for the Red Dragon RX 56 card introduced in late March. The new graphics adapter will feature four display outputs: three DisplayPort 1.4 and one HDMI 2.0b. As for power connectors, it will have one 8-pin and one 6-pin header.
The board will be outfitted with a dual-slot cooler featuring one large fan and heat pipes. Keeping in mind that the main draw of AMD's original Radeon R9 Nano was its compact size as well as lower TDP, we certainly expect PowerColor's Mini-ITX RX Vega 56 to go the same direction. AMD's reference Vega 56 has a 210 W TDP, so PowerColor would need only to turn the card down to 175W to match AMD's previous card and similarly keep heat dissipation in line with what AMD's cooler could do.
The biggest differences/unknowns right now are that whereas AMD's Radeon R9 Nano used a fully-enabled Fiji GPU - fully embracing the idea of going wide and slow - PowerColor is using a cut-down Radeon RX 56-class Vega GPU. So it will be interesting to see what actual performance is like; PowerColor faces a smaller need for power savings, and there are numerous signs that AMD pushed the reference Vega voltages a bit hard to hith higher clockspeeds, so PowerColor may only need to back off clockspeeds slightly to hit their goals.
Production of AMD's Radeon RX Vega GPU is in full swing, so expect PowerColor to start sales of the product shortly after its first demonstration at Computex. Pricing of the RX Vega 56 Nano Edition adapter is unknown and given the market situation, it is not a good business to make predictions here.
Specifications of PowerColor and Reference Radeon RX Vega Cards
PowerColor Red Devil Radeon RX Vega 64

PowerColor Red Devil Radeon RX Vega 56
PowerColor
Red Dragon Radeon RX
Vega 56
PowerColor
Radeon RX
Vega 56
Nano Edition
AMD
Radeon RX Vega 64
AMD
Radeon RX Vega 56
Stream Processors
4096
3584
?
4096
3584
Base Clock
1417 MHz
1308 MHz
1177 MHz
?
1406 MHz (LCS)
1156 MHz
1247 MHz (Air)
Boost Clock
1607 MHz
1526 MHz
1478 MHz
?
1677 MHz
(LCS)
1471 MHz
1546 MHz (Air)
VRAM
Transfer Rate
1.89 GT/s
1.6 GT/s
?
1.89 GT/s
1.6 GT/s
Capacity
8 GB
Bus Width
2048-bit
Type
HBM2
Board Power
unknown
Lowered
345W (LCS)
295W (Air)
210W
Dimensions
316 × 150 × 55 mm
316×150×40 mm
152×112×40 mm
272×112×40 mm
Power Connectors
2 × 8-pin
1 × 6-pin
1 × 8-pin
1 × 6-pin
1 × 8-pin
2 × 8-pin
Outputs
2 x HDMI 2.0
2 x DP 1.4
1 x HDMI 2.0
3 x DP 1.4
1 x HDMI 2.0
3 x DP 1.4
Launch Price
unknown
unknown
$699 (LCS)
$499 (Air)
$399
Related Reading:
Source: PowerColor