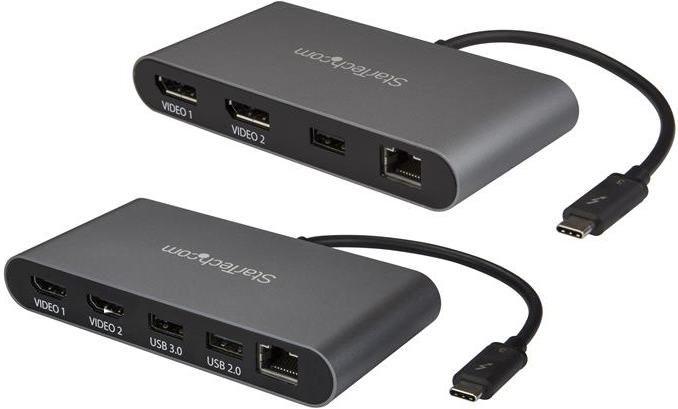 StarTech on Thursday announced two new Thunderbolt 3 miniature docking stations that the company made more affordable than existing 4-in-1 docks. The Mini Thunderbolt 3 Docks feature two 4Kp60-capable display outputs, a USB Type-A header, and a Gigabit Ethernet controller.
StarTech's family of Mini Thunderbolt 3 Docks consists of two models: the TB3DKM2DP with two DisplayPort 1.2 outputs enabled by the TI TPS65983 controller and the TB3DKM2HD with two HDMI 2.0 outputs enabled by the Parade PS176 controller. In addition to display outputs, the mini docks feature one USB 3.0 connector driven by ASMedia's ASM1042A as well as a GbE header controlled by Intel's WGI210AT chip.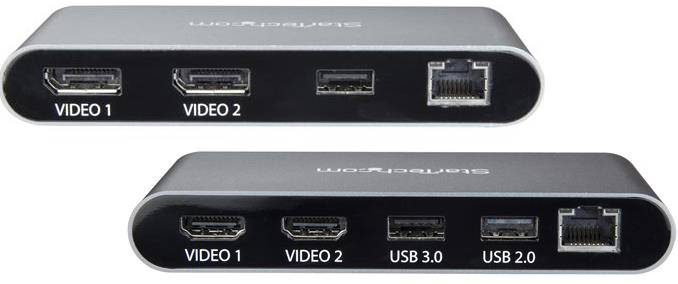 Unlike higher-end Thunderbolt 3 docking solutions from StarTech and other suppliers like OWC and Promise, the TB3DKM2-series cannot charge notebooks (which means that these laptops will need to use an extra TB3 port for charging). Furthermore, since the mini docks are based on Intel's Alpine Ridge controllers, it's also worth noting that they only compatible with TB3 host ports and can't fall back for pure USB Type-C hosts.
A clear advantage of StarTech's Mini Thunderbolt 3 Docks over full-fledged docking stations are their miniature sizes as well as lower prices. Their obvious disadvantages are a limited number of USB-A ports and the lack of a model featuring both DisplayPort and HDMI outputs in the lineup (both limitations are conditioned by BOM and production costs).
StarTech's Mini Thunderbolt 3 Docks at a Glance
TB3DKM2DP
TB3DKM2HD
Thunderbolt
Controller
Intel Alpine Ridge JHL6540
Port
1 × TB3 connector (input)
USB
Controller
ASMedia ASM1042A
Port
1 × USB 3.0 Type-A
Ethernet
Controller
Intel WGI210AT
Port
1 × GbE port
Display Output
Controller
Texas Instruments TPS65983
Parade PS176
Port
2 × DisplayPort 1.2
(up to 4Kp60)
2 × HDMI 2.0
(up to 4Kp60)
MSRP
$164
$183
Additional Details
Link
Link
StarTech.com's Mini Thunderbolt 3 Docks will be available directly from the company as well as from leading retailers like Amazon, CDW, and other. The TB3DKM2DP mini dock with two DisplayPort 1.2 headers costs $122 from Amazon and $164 when bought directly, whereas the TB3DKM2HD with two HDMI 2.0 outputs will be available for $183 in the coming weeks when acquired from the manufacturer.
Related Reading: