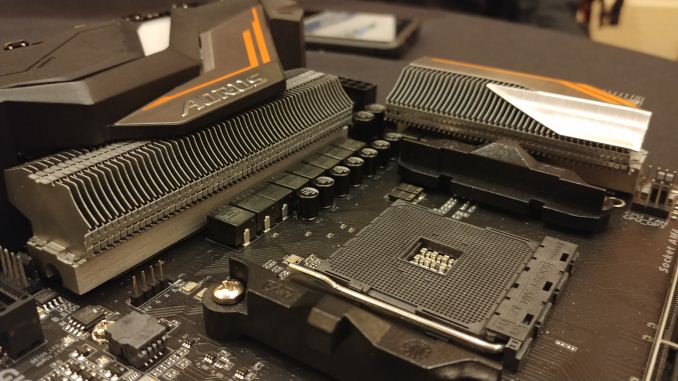 LAS VEGAS, NV – One of the announcements from AMD's Tech Day prior to CES was that of a new chipset coming to the Ryzen market. The purpose of the new chipset, called X470, was for iterative updates: better memory support, lower power consumption, and a couple of other things to be announced closer to launch around April.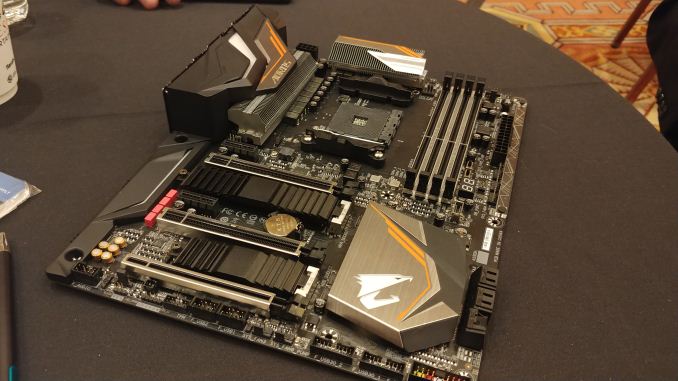 At GIGABYTE's suite, they had to hand an 'X470' Aorus Gaming 7 WiFi, with the chipset name bit taped over. The initial view of the motherboard was that of a standard high-end AM4 motherboard, using M.2 heatsinks, PCIe reinforcement, DRAM slot reinforcement, LEDs between the DRAM slots, the plastic LED section near the 24-pin connector, a few buttons for overclocking, and heatsinks indicative of GIGABYTE's Aorus brand. With an iterative update, we were not expecting much change.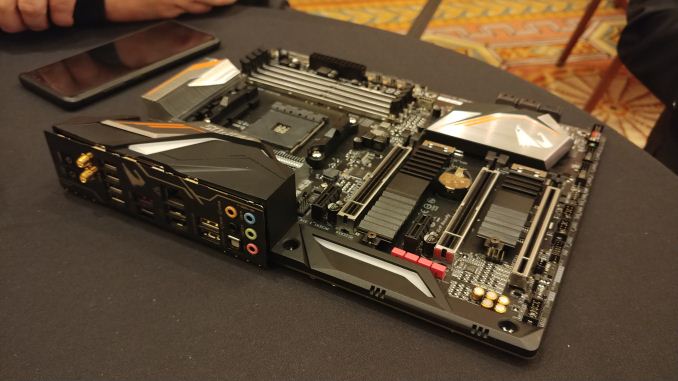 The change most obvious out of the few was the heatsink – GIGABYTE is set to go back to a bare-metal many-finned design for the power delivery heatinks. This might not be the most aesthetically pleasing design, however it is one that offers better power delivery cooling than the plastic shrouds we sometimes see on high-end motherboards hiding a small metal mass. GIGABYTE stated that they will be using the latest International Rectifier solution for the power delivery, and are ready for users to crank up the frequency when they want to. To add to the story on power and heatsinks, the rear of the motherboard also has a retention/rigidity plate around the power delivery, which may provide additional support.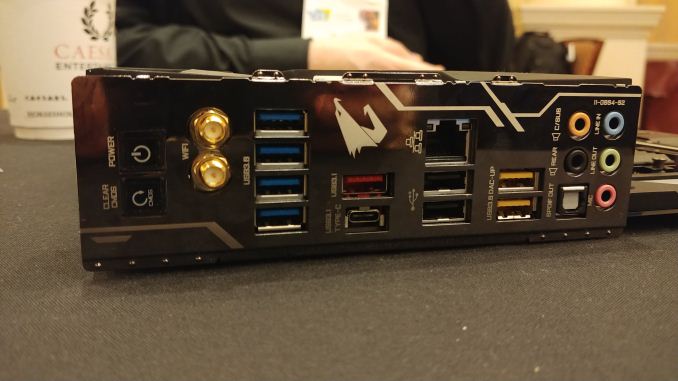 GIGABYTE also has an integrated rear-panel backplate on this X470 design, to save users the embarrassment of having to disassemble the PC having forgotten about it after the fact. On this rear panel there is a power switch, 802.11ac Wi-Fi, and the usual sets of USB and Ethernet connections. It is worth noting that there are two USB 3.1 (10 Gbps) ports here, plus one header on the board as well. We were told that these were all native, which would suggest that there is an increase in USB 3.1 support on the X470 chipset.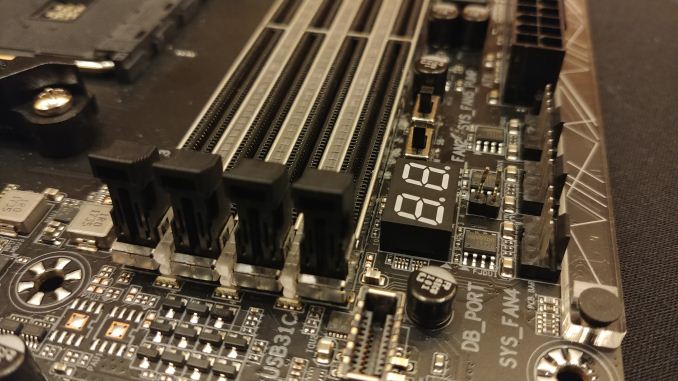 In April we will see the launch of AMD's second generation Ryzen processors based on Zen+ cores and built on GloFo's 12nm process, and while X470 will be optimized for these parts, the motherboards will still accept first generation Ryzen (and 300-series motherboards will accept second generation with a BIOS update). It would appear that there is no specific NDA/embargo around X470 for the motherboard manufacturers, however, GIGABYTE was the only one to be comfortable showing hardware at CES. When asked, the other manufacturers stated that with the launch several months away, they were not ready to show anything.
Related Reading