MSI's has released information about three new updated lines from their Gaming Desktop segment. The Trident 3 Arctic, revealed in March 2017, The Infinite X, and the Aegis Ti3 will all get bumps in performance due to the use of Intel 8th Generation processors as well as graphics card support up to NVIDIA Geforce GTX 1080 Ti with the Trident 3 Arctic able to house a full GTX 1080 in its diminutive chassis.
Trident 3 Arctic
When the Trident 3 Arctic came out in early 2017, at the time MSI dubbed this unit as the world's smallest true gaming PC. The intent was to pack in a lot of high-performance gaming components in a compact case. The white vertically oriented case stood out of the crowd from many of the cube-shaped competitors looking more like a gaming console than a PC. Fast forward to today and the Trident 3 Arctic gets an increase in performance by moving up to an 8th Generation Intel Core i7-8700 processor along with an NVIDIA Geforce GTX 1080 (from 7th Generation CPU and GTX 1070). With its small footprint, it can be a good gaming solution for those with space constraints offering a powerful punch in a small package.

The Trident 3 Arctic support up to 16GB (2x8GB) of DDR4 SO-DIMMs rated for DDR 2400 and is expandable to 32GB. Storage comes in the form of a 256GB PCIe SSD as well as a 2.5" 1TB SATA HDD. Wireless duties are handled by the Intel AC3168 supporting 802.11b/g/n/ac + Bluetooth 3.2 with LAN functionality handled by an Intel I219-V Gigabit Ethernet. There are a total of eight USB ports with one USB 3.1 (5 Gbps) Type-C on the front panel along with two USB 3.0 ports. On the back is another USB 3.0 port along with two USB 2.0 ports. There is one HDMI port for video output.
Infinite X
The Infinite X gaming desktop features a more traditional tower design than the Arctic but still has some unique features. The chassis uses dual steel or dual tempered glass side panels, Mystic Light RGB LEDs, and MSI's Silent Storm Cooling 3 Pro liquid cooling. Like the Trident 3 Arctic, the Infinite X now uses Intel 8th Generation CPUs and a GTX 1080 Ti for improved CPU and graphics performance. In the air of portability, the chassis has a built-in carrying handle as well as orienting the video card vertically so as not to put extra pressure on the PCIe slot. The exterior design stands out from the rest with its sharp angular design and circuit board RGB LED pattern on its brushed aluminum finished front panel.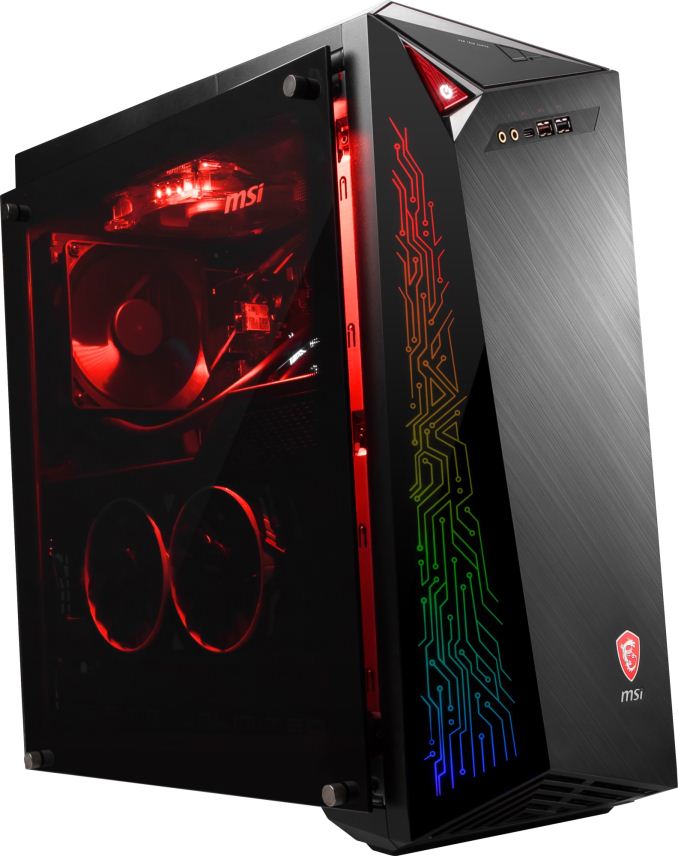 The Infinite X uses the 8th Generation Intel Core i7-8700K processor paired with its NVIDIA Geforce GTX 1080 Ti for high-end performance. Out the box, the unit comes with 16GB (2x8GB) DDR4 2400 which is expandable to 64GB through its four DDR4 UDIMM slots. The storage configuration comes in the form of 2x M.2 NVMe PCIe SSDs for a total of 512GB. It also includes a 2TB 3.5-inch SATA HDD. In total, users have room for two 3.5-inch HDD, one 2.5-inch HDD/SSD, and two M.2 SSD. Wireless duties are handled by the same Intel AC3168 device offering 802.11b/g/n/ac along with Bluetooth 4.2. Wired LAN functionality is through an Intel I219-V Gigabit Ethernet. On the USB side of things, the Infinite X gives users a total of nine ports. On the front, there is one of each, USB 3.1 (5 Gbps) Type-C, USB 3.0, and USB 2.0. The back has four more USB 3.0 ports and two USB 2.0 ports. Display outputs consist of HDMI and DisplayPort on the back.
Aegis Ti3
The Aegis Ti3 is another MSI desktop line which is getting the 8th Generation Processor treatment as well as a GTX 1080Ti for upgraded graphics. The Aegis Ti3 is the flagship in MSI's Gaming desktop lineup and intended for gamers who want 'the very best'. Although the hardware inside is a selling point in itself, part of its charm has to do with the unique chassis which sits at an angle and has fairly aggressive styling looking almost like the head of a transformer on a pedestal.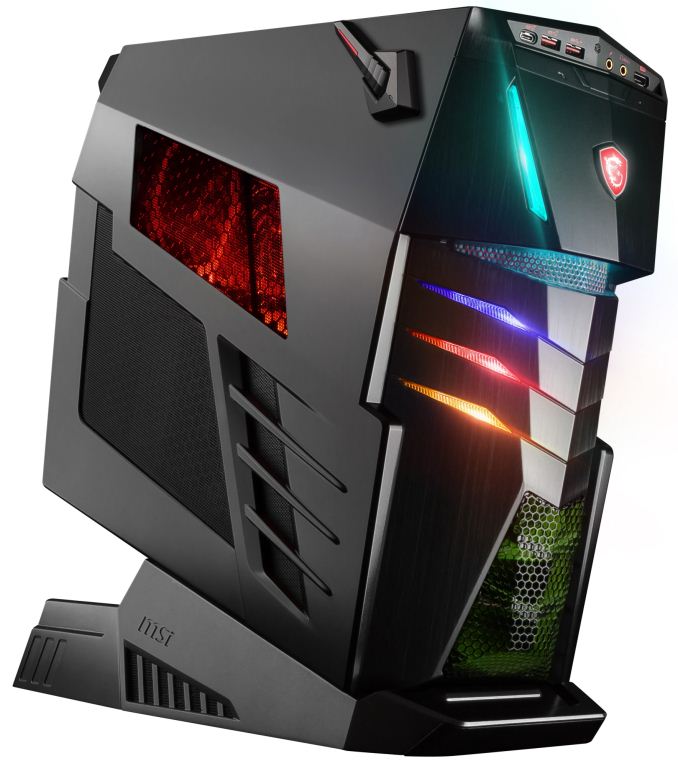 The Ti3 is based on the Intel Z370 chipset and will use up to an Intel Core i7-8700K and up to the GTX 1080 Ti mentioned earlier. System RAM is in the form of 2x16GB (32GB total) of DDR4 2666 SO-DIMMs expandable to 64GB. Storage options include a 512GB RAID 0 setup using M.2 PCIe SSDs, while mass storage is a 3TB SSD. It also has another 512GB PCIe M.2 SSDs in RAID0 via PCIe extension Gaming storage card to put your games on ultra-fast storage. Networking, both wired and wireless is handled by Killer E2500 Gigabit Ethernet and Killer Wireless-AC 1435 respectively. There is a slew of USB ports with USB 3.1 (10 Gbps) Type-A and Type-C ports as well a USB 3.0 slot on the front, while on the back is another six USB 3.0 ports and two USB 2.0 ports.
Neither pricing nor availability was mentioned with any of these new units, but we do expect this to cost a bit more considering it is using a better video card and upgraded CPU.
MSI Gaming Desktops (2018)
Trident 3 Arctic
Infinite X
Aegis Ti3
Processor
Intel Core i7-8700
Intel Core i7-8700K
Up to Intel Core i7-8700K
Chipset
Intel Z370
Graphics Card
NVIDIA GTX 1080 8GB
MSI GTX 1080 Ti 11GB
Memory
16GB DDR4 2400 MHz, Expandable to 32GB
16GB DDR4 2400, Expandable to 64GB (4 U-DIMMs)
32GB DDR4 2666, Expandable to 64GB
Storage
m.2 2280 256GB PCIe SSD
1.5" 11TB SATA HDD
256GB x2 RAID0 M.2 PCIe NVMe
2TB 3.5" SATA
512GB M.2 PCIe SSD (2x256GB)
3TB 3.5" HDD
512GB M.2 PCIe SSD (2x256GB via PCIe extension card)
Audio
Realtek ALC1150
Realtek ALC892
7.1 ch HD Audio w/ Nahimic Audio Enhancer
(possibly Realtek ALC1220)
Network
802.11 b/g/n/ac (Intel AC3168)
Intel I219-V Gb LAN
802.11 b/g/n/ac (Intel AC3168)
Intel I219-V Gb LAN
Killer E2500 Gb Ethernet
Killer Wireless-AC 1425 Combo
USB
1 x USB 3.0 Type-C (F)
3 x USB 3.0 (2x F, 1x R)
4 x USB 2.0 (R)
1 x USB 3.0 Type-C (F)
5 x USB 3.0 (1x F, 4x R)
3 x USB 2.0 (1x F, 4x R)
1 x USB 3.1 (10 Gbps) Type-C
8 x USB 3.0 (2x F, 6x R)
2 x USB 2.0 (R)
Power Supply
330W
550W 80 Plus Bronze
550W 80 Plus Bronze
Related Reading:
Source: MSI