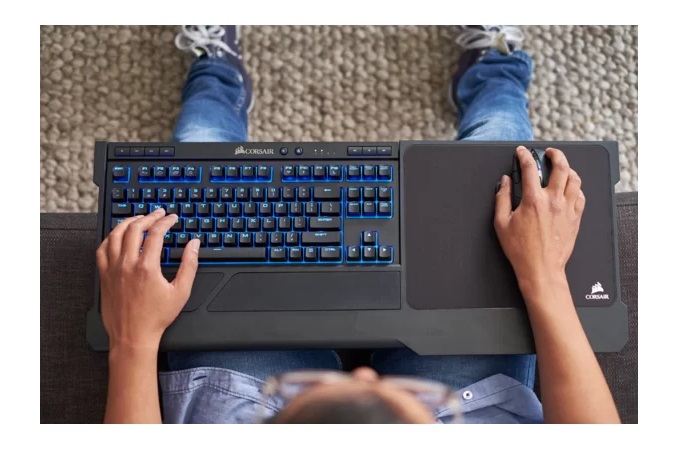 LAS VEGAS, NV — Corsair has announced a companion to the K63 Mechanical keyboard with a wireless K63 version and a new lapboard accessory. The K63 wireless adds 2.4 GHz Bluetooth connectivity and 75 hours of battery life (without backlighting - 15 hours with). Though not an exclusive, Corsair touts the use of 128-bit AES encryption to help keep the transmissions safe. Apart from that, the K63 wireless has blue backlighting instead of the wired K63's red are both controlled by the Corsair CUE software. Carrying over from the wired version are the full Cherry MX Red switches, media keys, and full n-key rollover.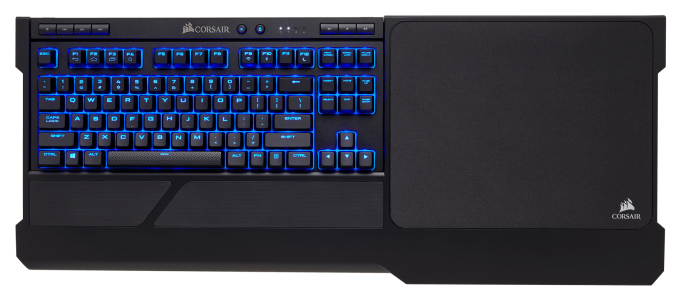 Realizing the need for a compact wireless mechanical keyboard would be good for living room gaming, they have included a lapboard with it. While it is similar to the Corsair's own lapdog, that is a wired solution. The lapboard here is wireless which saves a lot of space where the cables were placed allowing room for a wrist rest. The entire setup is also lighter weighing in at almost 6.5 lbs./2.94 kg (2.4 lbs./1.09 kg for the keyboard itself), compared to 5.8 lbs./2.63 kg for the Lapdog alone.
The Cherry MX Red keys themselves keep the 1000 Hz report rate and the keyboard retains the MUTE, VOL UP/DOWN, STOP, PREV, PLAY/PAUSE, and NEXT media keys. Wired connectivity goes through USB 3.0/3.1 Type-A connector, is 6' long, and charges its Lithium-ion battery through there as well.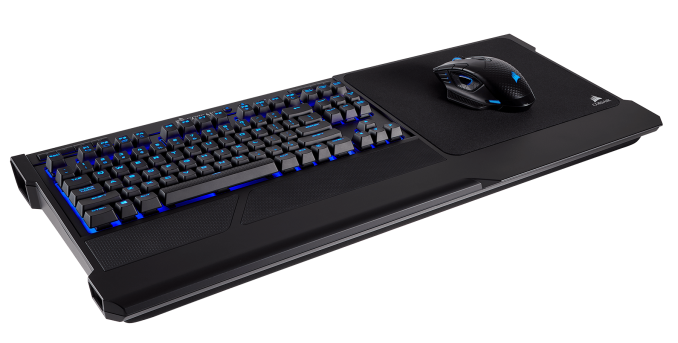 The K63 wireless keyboard is available now for $110 (keyboard only), or $160 with the keyboard and lapboard.
Corsair K63 Wireless Mechanical Keyboard
Warranty
2 Years
Dimensions / Weight
366mm x 173mm x 41mm / 2.94kg (6.48 lbs.)
Key Switches
Cherry MX Red
Keyboard Backlighting
Blue LED (CUE Software Enabled)
Report Rate
1000 Hz
Matrix
100% anti-ghosting with full key rollover
Wired Connectivity
USB 3.0 or USB 3.1 Type-A
Wireless Connectivity
1ms 2.4 GHz or Bluetooth 4.2 + LE
Wireless Encryption
128-bit AES
Keyboard Size
Compact
Media Keys
Dedicated (MUTE, VOL UP/DOWN, STOP, PREV, PLAY/PAUSE, NEXT)
Wrist Rest
Full-length with soft-touch finish, detachable
Cable Type
1.8 m / 6 ft, tangle-free rubber, detachable
Keyboard Layout / WIN Lock
NA / Yes
Battery Type
Built-in lithium-ion, rechargeable
Battery Life / Charging
Up to 15 hours (w/LED on), 75 hours w/out / USB Cable to PC
Related Reading:
Leon Chan contributed to this report.