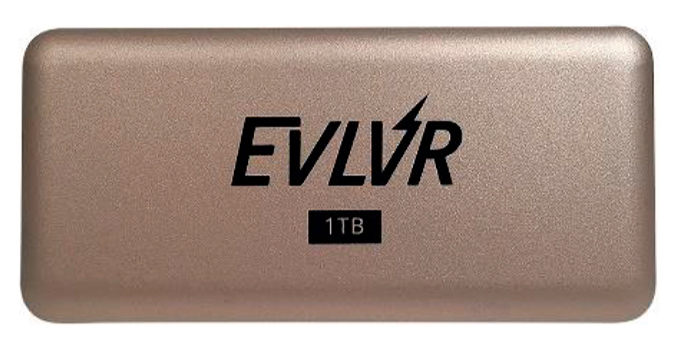 LAS VEGAS, NV — Patriot has introduced a rather rare product, an external SSD with a Thunderbolt 3 interface. The Patriot EVLVR offers up to 1 TB capacity, up to 1.5 GB/s sequential read speed and is bus powered, making it a nice optional storage upgrade for modern laptops.
The Patriot 'Evolver' EVLVR Thunderbolt 3 Portable drive comes in a relatively compact metallic chassis (which measures around 85×40 mm if my calculations are correct) with rounded edges, a LED indicator and a TB3 connector. The enclosure packs an SSD based on the NVMe 1.2-compliant Phison PS5008-E8 controller with a PCIe 3.0 x2 interface as well as Toshiba's 256 Gb BiCS3 3D TLC NAND memory.
Patriot's EVLVR drives will be offered in 256 GB, 512 GB and 1 TB configurations that will provide up to 1.5 GB/s sequential read speed as well as up to 1 GB/s sequential write speed. A good thing about the 'Evolver' is that because a TB3 interface can supply up to 15 W of power, the external SSD it is completely bus powered and does not require any additional cables.

External storage solutions featuring a Thunderbolt 3 interface are not very rare, but most TB3 SSDs are aimed at various performance-demanding professionals and are therefore very expensive. For example, the Sonnet Fusion Thunderbolt 3 1TB drive costs $999, whereas the LaCie Bolt3 2 TB retails for $1752. Extreme pricing is not going to be a feature of Patriot's EVLVR: the most affordable 256 GB version will be priced at $199.99, the mid-range 512 GB configuration will carry a $289.99 price tag, whereas the most capacious 1 TB variant will cost $489.99. The manufacturer plans to start sales of its Patriot EVLVR Thunderbolt 3 Portable SSD sometimes this March.
Patriot's EVLVR Thunderbolt 3 Portable SSD Specifications
Capacity
256 GB
512 GB
1 TB
Dimensions
~85 × ~40 × ? mm (not confirmed!)
Controller
Phison PS5008-E8
NAND Flash
Toshiba's 256 Gb 64-layer BiCS3 3D TLC
Form-Factor, Interface
Candybar, Thunderbolt 3
Sequential Read
up to 1500 MB/s
Sequential Write
up to 1000 MB/s
MSRP
$199.99
$289.99
$489.99
Related Reading:
Source: Patriot Memory