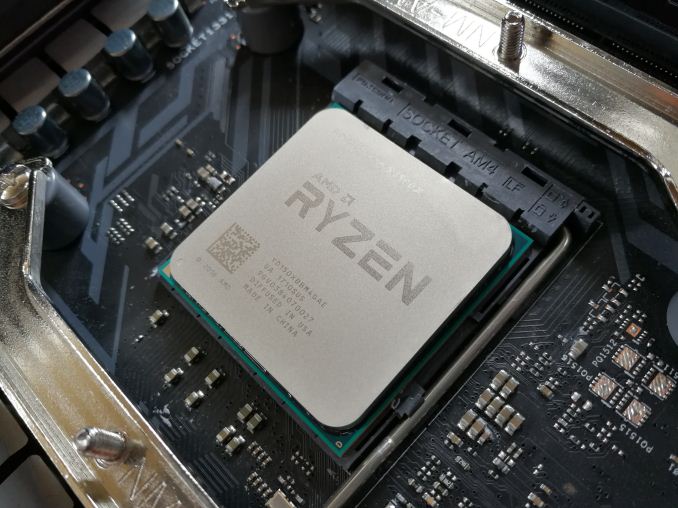 LAS VEGAS, NV — 2017 was by many measures a breakout year for AMD and some of the first news out at the beginning of 2018 is its plans to update 'suggested etailer pricing' across most of its Ryzen processor SKUs. This affects the spectrum of the Ryzen 3, Ryzen 5 and Ryzen 7 range of desktop processors and even a Threadripper variant. Perhaps the biggest surprise is the price drop of AMD's highest Ryzen 7 1800X, coming down from its original launch price of $499 to $349.
Also tying in with the price drops is the listing of the two Raven Ridge APUs, the Ryzen 3 2200G ($99) which features four cores of Zen and Vega 8 integrated graphics, and the Ryzen 5 2400G ($169) with four cores, eight threads, and Vega 11 integrated graphics. This translates as 512 and 702 streaming processors respectively.
A full list of the new wave of AMD Ryzen pricing can be found in the table below.
AMD Ryzen New Pricing
Processor
Cores/Threads
Old SEP
New SEP
Ryzen TR 1950X (TR4)
16c/32t
$999
N/A
Ryzen TR 1920X (TR4)
12c/24t
$799
N/A
Ryzen TR 1900X (TR4)
8c/16t
$549
$449
Ryzen 7 1800X (AM4)
8c16t
$499
$349
Ryzen 7 1700X (AM4)
8c/16t
$399
$309
Ryzen 7 1700 (AM4)
8c/16t
$329
$299

Ryzen 5 1600X (AM4)

6c/12t
$249
$219

Ryzen 5 1600 (AM4)

6c/12t
$219
$189

Ryzen 5 1500X (AM4)

4c/8t

$189
$174

Ryzen 5 1400 (AM4)

4c/8t
$169
N/A

Ryzen 5 2400G (AM4)

4c/8t
N/A
$169

Ryzen 3 2200G (AM4)

4c/4t
N/A
$99

Ryzen 3 1300X (AM4)

4c/4t
$129
N/A

Ryzen 3 1200 (AM4)

4c/4t
$109
N/A
The only Threadripper to see a price drop is the 1900X, from $549 to $449. The 1700X gets a $90 drop, while the popular 1600X/1600 are reduced by $30. It is worth noting that retailer pricing for Ryzen chips has been coming down anyway since the launch, however, this is the first move from AMD to adjust the Suggested Etailer Pricing (SEP).
The clear direction of AMD's wave of cuts ties into their heavy focus on getting better multithreaded performance at every price point. With these cuts, each model dropped in price in line with the relative and similarly priced Intel options. The pick of the bunch, however, has to be the Ryzen 7 1700X ($309) which gets a massive reduction of $90 which puts it into direct competition price-wise with the Intel Core i7-7700K ($350) 4c/8t - at this price the AMD chip boasts four more cores and eight more threads. This difference in core/thread count makes this a very attractive option for not only gamers but power users looking to make the most from applications optimized for multi-threaded processes. The Ryzen 7 1700X ($309) is now only a $10 premium over the Ryzen 7 1700 ($299) 8c/16t, gives users an extra 400MHz base clock on top of the added 100MHz at its max turbo core speed. This is however at the cost of TDP as the Ryzen 7 1700X has a TDP of 95W as opposed to 65W on the slightly cheaper Ryzen 7 1700.
Here are our Cinebench R15 results from our benchmark database from the chips we've tested, plus Intel chips, with updated pricing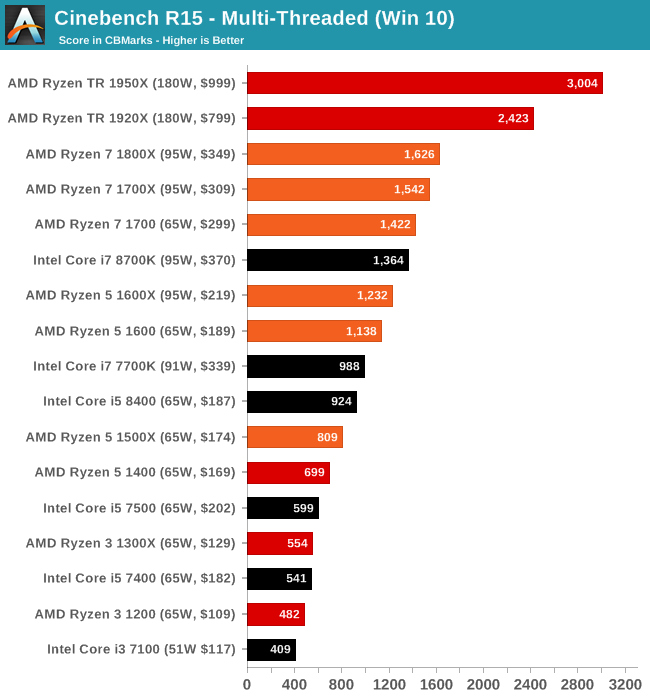 Performance wise, the Ryzen 7 1800X ($349) offers the best multi-threaded performance in Cinebench R15 MT, and the Intel Core i7-8700K ($370) makes an appearance just between the Ryzen 7 1700 ($299) and the cheaper Ryzen 5 1600X ($219). The 1600X works out to around $150 cheaper, albeit featuring the same core/thread count, same TDP, but with a lower core clock speed and slightly worse IPC performance than Intel's flagship 6 core 12 thread desktop Coffee Lake processor.
At the bottom end of the spectrum, the budget focused AMD Ryzen 5 1500X ($174) nestles right above the more expensive Intel counterpart, the Core i5 7500 ($202). This shows AMD is keen on offering good multi-threaded performance at a lower price point to counteract Intel's dominance on IPC performance. AMD's aim is in cornering the market on the best multi-threaded performance at each price point, and with these price drops expected to hit distributors as of now, users can expect pricing to start filtering through to local and national etailers as soon as the current stock starts depleting.
This is a direct win for consumers as not only are AMD's Ryzen range of processors competitive in multi-threaded performance but with the new price drops, they offer even better performance per dollar than ever before.
Related Reading:
Source: AMD