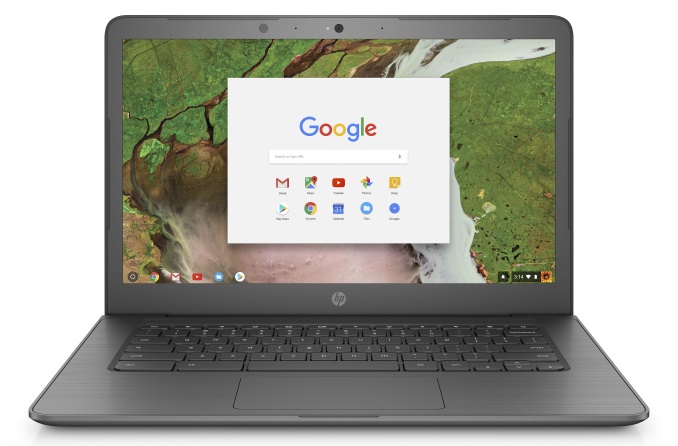 This year at 2018 CES, HP will be announcing a few new and updated products to their laptop lineup, displays, and other productivity-related items. In the days leading up to it, they have released information about two new Chromebook offerings, the HP Chromebook 14 G5 and Chromebook 11 G6 Education edition. The latest Chromebooks will offer updates to its Celeron based CPU, use of USB Type-C ports, as well as some styling changes to improve upon past iterations.
Both Chromebooks will receive a generational upgrade on the CPU to the 7th Generations Intel Celeron N series N3350 or N3450. The N3350 is a dual core two thread CPU as was in previous versions, but uses slightly less power with a TDP of 6W. The N3450 steps up to a quad-core with four threads, a first in a Chromebook, and also has a TDP of 6W. Clocks on the N3450 burst to 2.2 GHz while the N3350 reaches a higher speed of 2.4 GHz. Another difference between the two processors is the upgrade on the integrated GPU. Where the previous generations were running HD Graphics for Atom processor Z3700 series, the latest CPUs now use Intel HD Graphics 500, a small bump up in performance. No details for battery capacity or run times were included.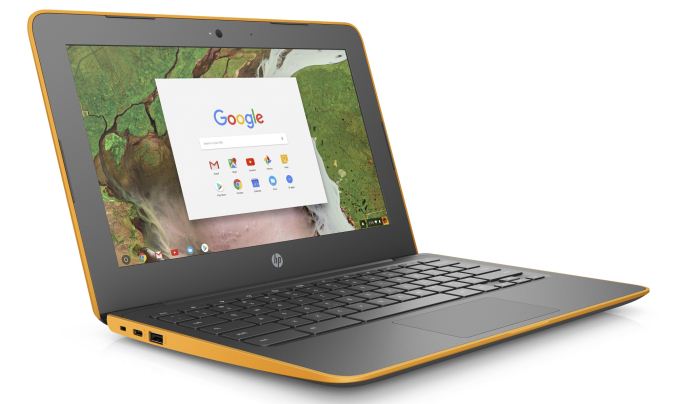 The Chromebooks will again support up to 8GB of DRAM, however, they were scant on details as to the specific type with the CPU able to use DDR3L/LPDDR3 (to DDR3 1866) or LPDDR4 (to DDR4 2400). I'd expect the latter though. For storage purposes, the Chromebook uses eMMC (embedded Multi-Media Controller) and will support up to 64GB capacity.
In the release, HP did not mention any panel changes from the previous 14-inch 1366x768 resolution in the Chromebook 14 G5. The Chromebook 11 G6 does have an optional HD IPS touchscreen and an included 180° hinge which lays flat for easy collaboration. The 11-inch Chromebook does include a USB Type-C port for charging. No mention of this in the larger G5, but we do expect it to be on there as well. Other specifications are not listed but the basics should still carry over including Wi-Fi, USB ports, camera, and an SD card expansion slot as they had in previous generations.
Aesthetically, not many changes have been made, however, the obvious we can see are changes to the color of the keyboard, touchpad, and surrounding areas. On previous versions, they keys were black with a silver trackpad, surround, and palm rest area. On the G5 and G6, they are all the same color, a dark grey/black brushed aluminum finish making for a more refined and modern appearance. The 11 G6 Education edition is also more ruggedized using co-molded rubber contact points with strengthened corners to help with the rigors of student use. There also appears to be options for other colors, at least a "delicate orange" as it is shown in the picture above.
Pricing was not listed, but the last generation started around $200 and went up depending on options selected. HP says these new Chromebooks will be available in February of 2018.
Related Reading:
Source: HP