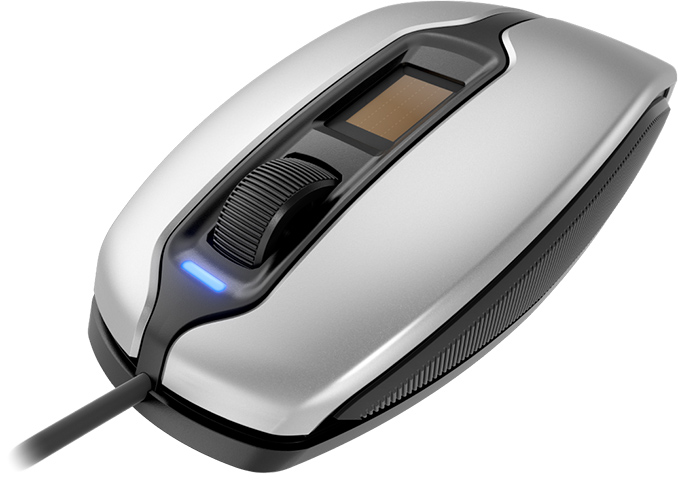 Nowadays Cherry is known primarily for its mechanical switches for keyboards, but the company also manufactures its own range of peripherals and accessories as well, some of which are unique. This week Cherry introduced its MC 4900 mouse that features an integrated fingerprint reader compatible with Microsoft's Windows Hello aiming individuals and organizations concerned about security that want to take advantage of easy biometric authentication.
The Cherry MC 4900 (JM-A4900) is an ambidextrous mouse for office and other business environments. The pointing device does not feature the extravagant design or tailored ergonomics found on premium and gaming mice, but it still features rubberized side panels and a wide scroll wheel for added comfort. The Cherry MC 4900 uses an optical sensor with a sampling rate of 1375 DPI, which is nearly in line with the performance offered premium office/professional mice by other manufacturers (e.g., Logitech's MX Master has a 1600-DPI sensor). But while performance is important, is not the key feature of the product.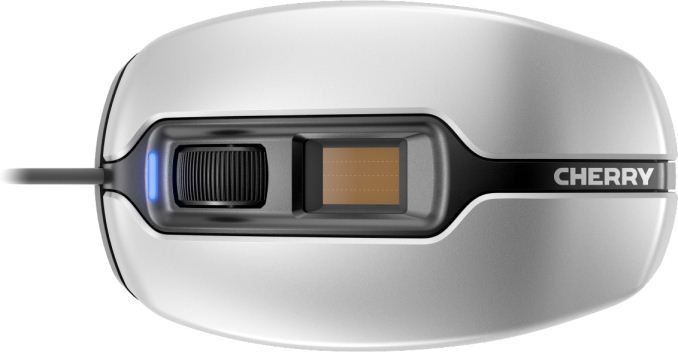 The main advantage of the Cherry MC 4900 over competing mice is the integrated Crossmatch TouchChip TCS2 fingerprint sensor that uses capacitive sensing technology. The sensor has a 508 DPI resolution and can capture fingerprints ta a rate of 12 FPS. The TouchChip TCS2 supports AES128 to encrypt fingerprint data when it is transferred over the USB bus, but it is unknown whether Crossmatch's software uses secure environments such as those enabled by the Intel SGX and Microsoft Windows 10 VBS to process fingerprint data.
Cherry's MC 4900 mouse is compatible with Windows Hello and Windows Biometric Framework, but there is an SDK that can enable the biometric authentication on other platforms, including Apple's MacOS or Linux.

Cherry said that the MC4900 mouse is available now with silver or black finish from select retailers at a recommended retail price of €110/$130/£100.
Related Reading
Source: Cherry